I know..I know...but the Black Friday Sales were too tempting to pass on. I'd bought a box of this product before and pulled a Kyrie Irving Auto Redemption. Now it was $27 less than I paid 4 months ago, so at $40 a box with 4 hits a box, I thought it was definitely worth taking another shot at this. Here's how I did.
Box 1

Base RC
R.J. Hunter
Pat Connaughton
Bobby Portis
Montrezl Harrell
Kevon Looney

Prestigious Picks
Montrezl Harrell
Kevon Looney
Delon Wright

Prestigious Pros
Chris Paul
Kenneth Faried

Playmakers
Chris Paul

Prestigious Passers Checkerboard
Chris Paul (#30/99)

Stat Stars
Kevin Durant

Bonus Shots Red
Brook Lopez (#166/199)
Markeef Morris (#109/199)
Sam Dekker RC (#139/199)

Bonus Shots Blue
Marvin Williams (#63/99)

Bonus Shots Gold
Ben McLemore (#5/10)

NBA Materials Jersey
Larry Bird

Distinctive Ink
Mason Plumlee (#182/199)


Prestigious Premieres Signatures
Jerian Grant (#116/299)


Old School Autographs
Ricky Pierce
Box #2


Base RC's
Kristaps Porzingis
Trey Lyles
Rashad Vaughn
Stanley Johnson
Justin Anderson

Prestigious Picks
Anthony Brown

Prestigious Pros
Blake Griffin
Rudy Gay

Playmakers
Klay Thompson

Franchise Favorites
Kobe Bryant

Prestigious Passers
Damian Lillard

Stat Stars
Jerry West

Stat Stars Checkerboard
Bill Russell (#18/99)

Bonus Shots Red
Steven Adams (#124/199)
Nicolas Batum (#121/199)

Bonus Shots Blue
Andrew Wiggins (#55/99)

Bonus Shots Purple
Pierre Jackson RC (#33/49)
DeMar DeRozan (#03/49)

NBA Materials Jersey
Derrick Rose

Prestigious Premieres Signatures
Tyler Harvey (#190/299)
Branden Dawson (#206/299)

Distinctive Ink
Andrew Wiggins (#4/49)
Box #3

Base RC's
Kristaps Prozingis
Rashad Vaughn
Stanley Johnson
Justin Anderson

Stat Stars
John Wall

Playmakers
Blake Griffin

Franchise Favorites
Hakeem Olajuwon

Prestigious Passers
Ty Lawson

Prestigious Picks
Justin Anderson

Prestigious Pros
Russell Westbrook
Anthony Davis

Bonus Shots Red
Khris Middleton (#97/100)
Michael Kidd-Gilchrist (#137/199)
Jeremy Lin (#171/199)

Bonus Shots Blue
Brandon Jennings (#1/99)

Bonus Shots Purple
Aaron Afflalo (#2/49)

Bonus Shots Green
Pat Connaughton RC (#5/5)

Prestigious Premiers Signatures
Josh Richardson (#181/299)
Dakari Johnson (#271/299)
KARL ANTHONY TOWNS (#101/299)!!!

Freshman Fabrics Jumbo
Terry Rozier
Overall Thoughts: SLUMP....BUSTED!!!! Man I had been in a rut probably since September when I pulled that Terry Bradshaw auto and after sooo many duds I FINALLY got some magic back! First of all, I got my first Wiggins auto, which is nice. It's a sticker auto, but regardless, it's numbered to #49. The KAT though is AMAZING! What makes it this one better than the KAT I pulled earlier in the year, is this one is ON CARD! I think the Prestigious Premiers Signatures auto set is really underrated (and I'm not just saying that because I pulled the KAT). The design is simple and nice, and of course it's an on card auto. Great combo. So THIS is really the only way Panini boxes can bring in value. If you can get them at severely discounted prices. Admittedly that first box was a dog, even at $40 bucks but the next two boxes more than made up for it and my track record overall with this product has been pretty damn good with 3 of my 4 boxes yielding autos of Kyrie, Wiggins, and KAT. What I also like is that it seems like 3 of your 4 hits will be autos, not jersey cards. I feel like I kinda lucked out that I pulled 6 on card rookie autos. Anyways, if you want a cheap mid end box to rip with last year's star studded rookie class at an affordable price, I would definitely recommend this. It's up to $44.11 a box at Blowout, but that's still a fine price to try out a box or two. Here's pics of the hits.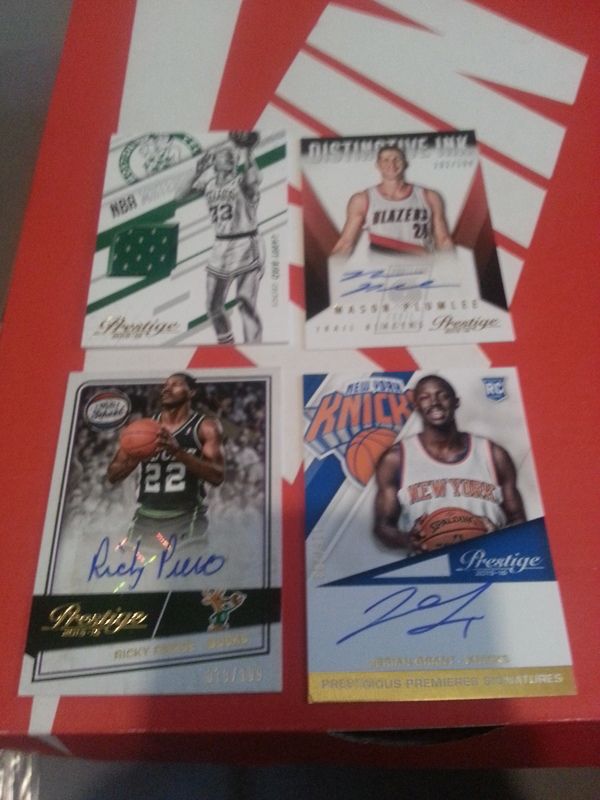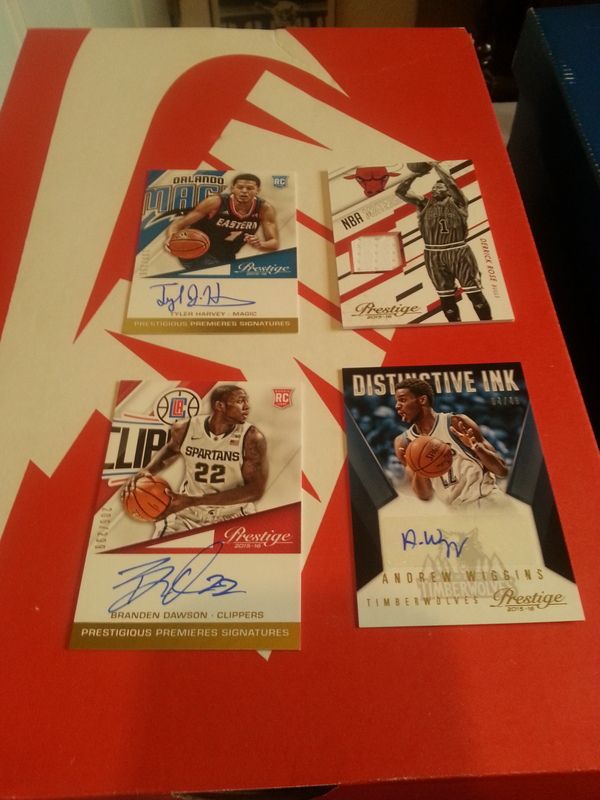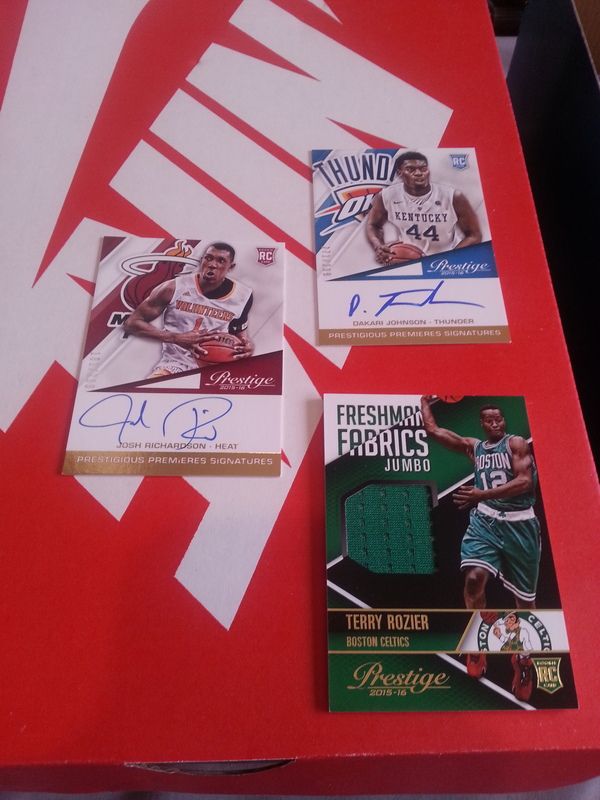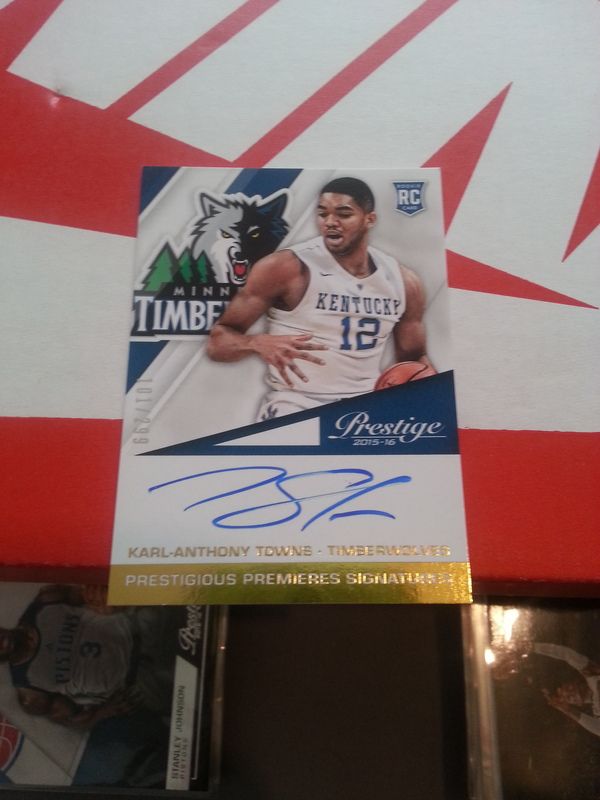 Top 5 Pulls of 2016
#1- 2016 Topps Tribute Superfractor Autograph Alex Gordon (#1/1)
#2- 2015-16 Panini Prizms Rookie Signatures Silver Prizms Kristaps Porzingis (#25/25)
#3-15/16 Prestige Prestigious Premieres Signatures Karl Anthony Towns (#101/299)
#4- 2016 Topps Tribute Milestone Relic Game Used Ball Kris Bryant (#5/10)
#5-2016 Topps Strata Signatures Ken Griffey Jr. Redemption