Here's something I'd like to do that I've been toying with for a while. I thought it'd be fun and years ago I actually used to do this and kept it up for about 2 years. I'll present my top 20 cards every week, which could change depending on a variety of factors. New cards, on field/off field issues etc. I really think it would be fun to do! It's kind of take of Beckett's "Hot List" they do. So without further ado, the countdown!
#1 2014 National Treasures Notable Nicknames Tom Brady Autograph
#2 96-97 Topps Finest Gold Refractor Kobe Bryant PSA 9
#3 2016 Panini Flawless Greats Aaron Rodgers Auto/Patch
#4 03-04 Topps Chrome LeBron James RC BGS 9
#5 08-09 UD Black Russell Westbrook Auto/Jersey RC BGS 9
#6 06-07 UD Reflections Mirror Images Michael Jordan/LeBron James Dual Patch
#7 2015 Topps Strata Mike Trout Auto/Patch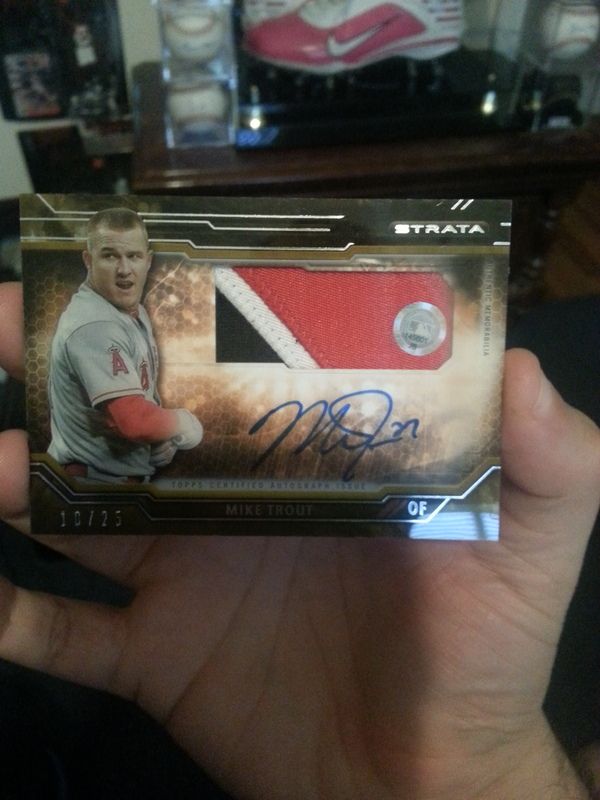 #8 15-16 Gala Red Carpet Signatures Kobe Bryant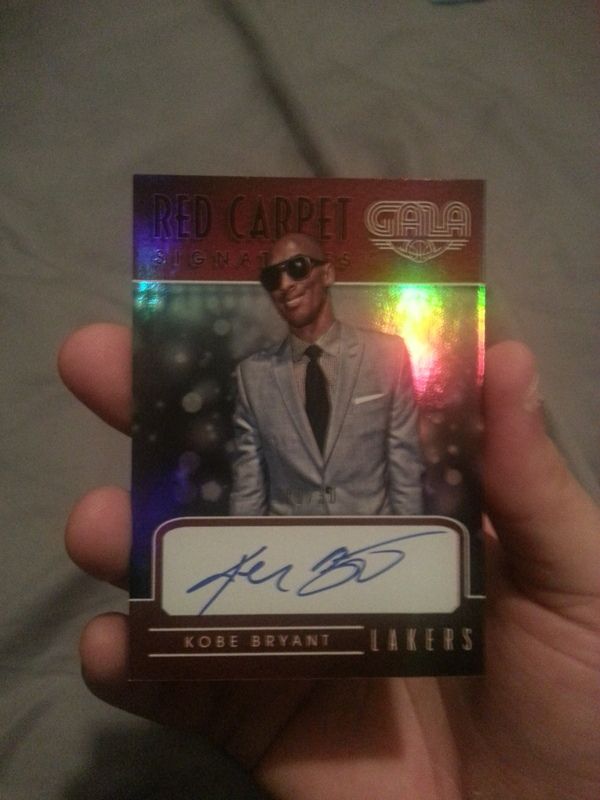 #9 95-96 Flair Hot Numbers Michael Jordan BGS 9.5
#10 2016 Donruss Optic Ezekiel Elliott Blue Holo Autograph RC
#11 2016 Flawless Kris Bryant Autograph Game Used Patch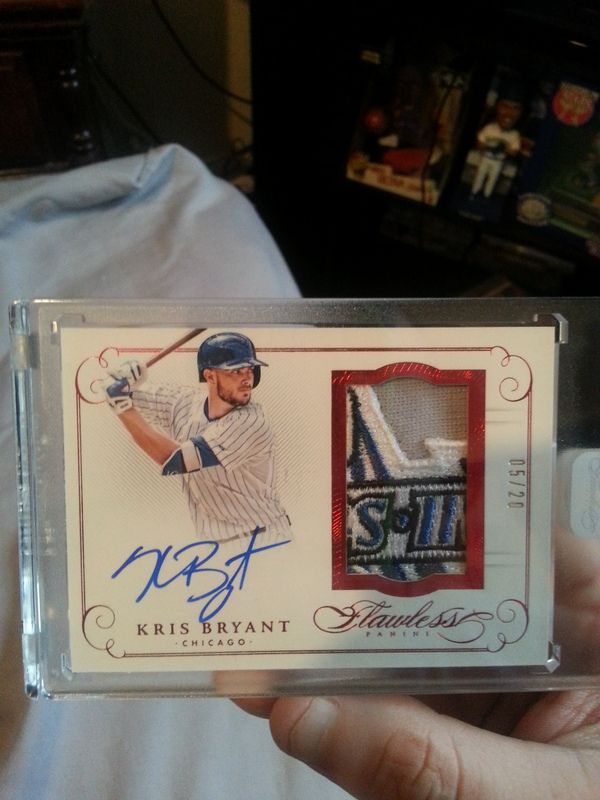 #12 15-16 Immaculate Collection Jersey Numbers Patch LeBron James
#13 15-16 Flawless Kobe Bryant Patch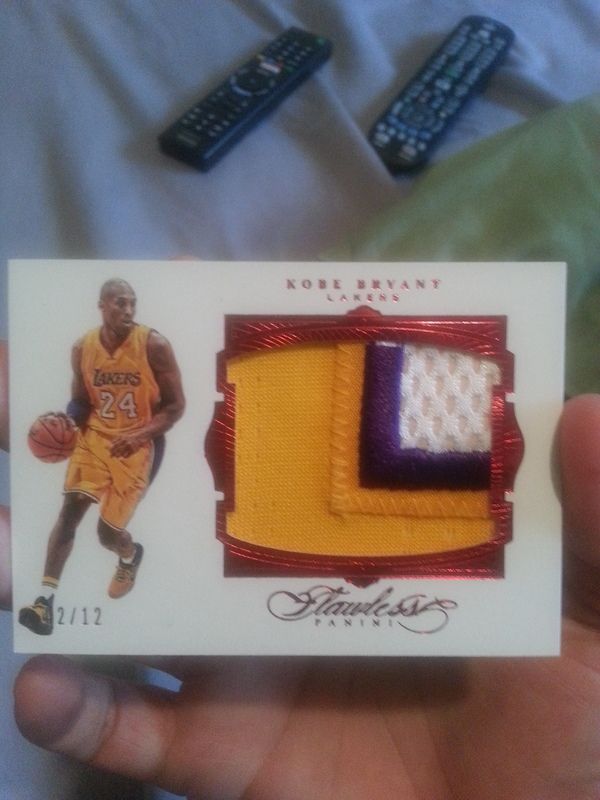 #14 97-98 Skybox Premium Competitive Advantage Michael Jordan BGS 9.5
#15 93-94 Fleer Ultra Scoring Kings Michael Jordan BGS 8.5
#16 97-98 Topps Chrome Tim Duncan RC BGS 9.5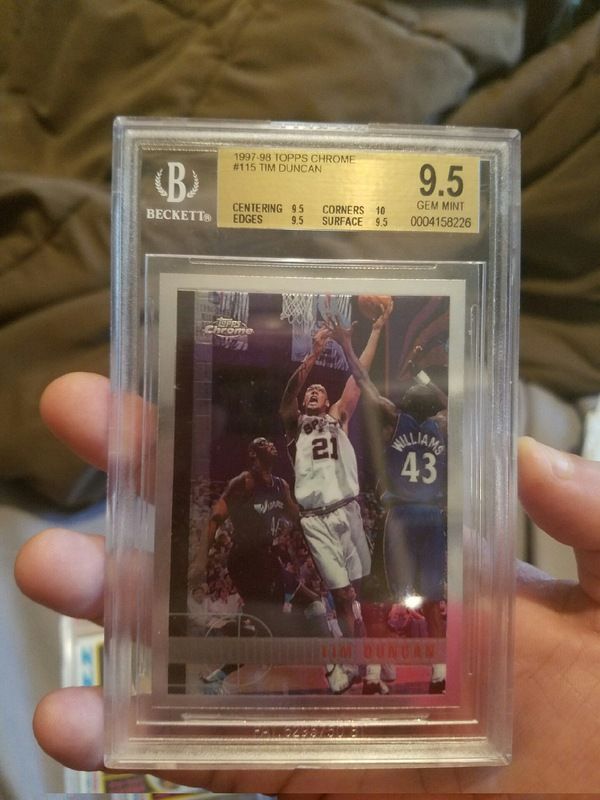 #17 13/14 Flawless Ruby Patches Kareem Abdul Jabbar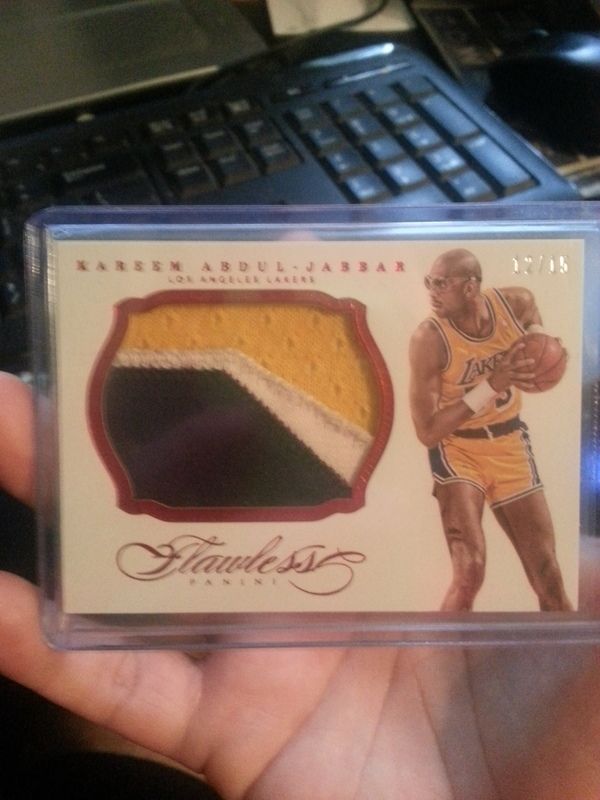 #18 14/15 Flawless Patrick Ewing Dual Game Used Patch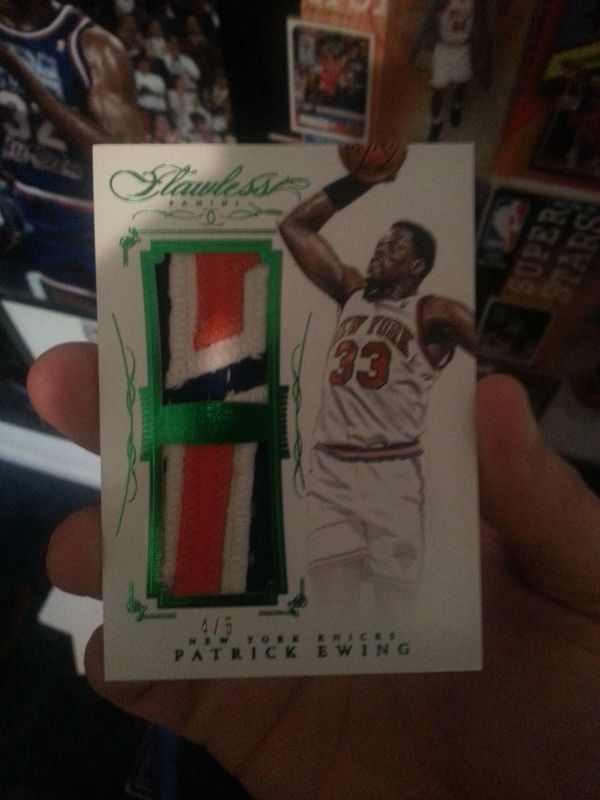 #19 2016 Prime Signatures Auto Patch Ezekiel Elliott
#20 2016 Strata Signatures Ken Griffey Jr.
Overall Thoughts: Well...here we are with the inaugural top 20. Some quick facts, very basketball heavy with basketball occupying the 13 of the 20 spots and very MJ heavy with MJ being in 4 of those spots. Though football only owns 4 spots total, it takes 2 of the top 3 spots (including #1). The Brady is going to be a tough one to beat. It's going to take a budget breaking kind of card to knock it off the #1 spot..heck even the #2 spot (had I started this countdown back in July when I got the Kobe, it would've been the #1 card in my collection until I got the Brady in February) will be hard to beat. The Russ rookie is a card I haven't even showcased yet, as I having posted a mailday yet to show it off, but since he's my favorite player he shoots up to the top 5. The LeBron Chrome is a beauty and again, there's a good chance it stays top 5 for a long while. Baseball's only represented once in the top 10, but it's a Mike Trout on card auto/patch so it's not like that'll leave anytime soon. Kobe actually has 3 cards on the countdown, a rookie card, an auto, and a patch. Lebron's also on here 3 times, sharing a dual patch card with MJ. My Cowboys are represented by Zeke who's on here twice, with his Donruss Optic On Card Blue Holo Rookie and his Auto/Patch from Signatures. Timmy's Chrome is must have on this list as well, as well as old school good looking patches of Kareem and Patrick Ewing. Rounding out the top 20 this week is a pack pulled autograph of my favorite baseball player of all time, Ken Griffey Jr. It's not always about dollar value, as I left out some other cards that are worth more, I just absolutely love the card. How long will this list stick? We'll see, there will probably be weeks where the list is stagnant and looking at the cards on the list..it's going to take a really good card just to get to #20. Should be a fun ride to say the least!!