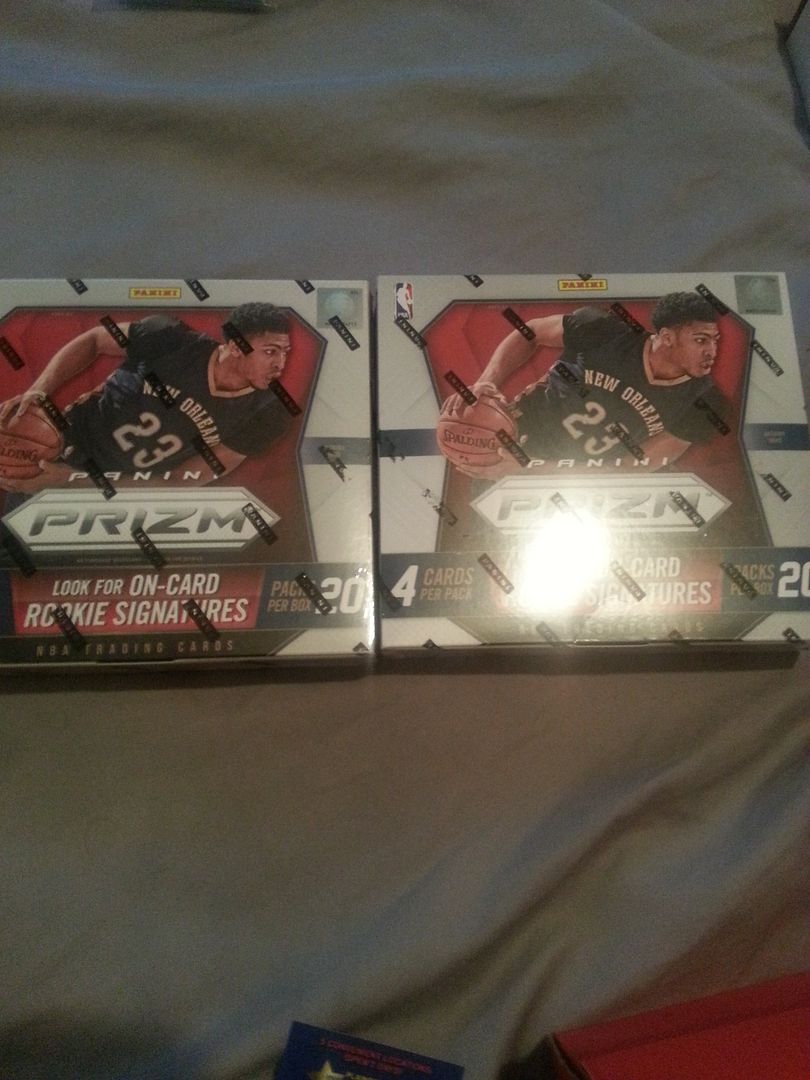 I know I know i said my last break would be my last in a while but Prizm has been sooooo hot recently, it sparked my interst to give it a whirl. The stuff has skyrocketed back up in price (Blowout has it now for $64.99). I was lucky to order mine at The Baseball Card King's website and they were still $49.99. Cheap plug for them, I love ordering from them because free shipping is for orders of $100 (it takes $200 for Blowout and Dave and Adams) and they have pretty competitive prices that sometimes are actually cheaper than Blowout as was the case here. I took the plunge on a couple boxes and here are the results!
Prizm Jumbo were the first boxes I bought when I got back into collecting, and with the recent Prizm craze going on, I decided to give Prizm another whirl and was able to get these still for $49.99 a box. Figured the risk was low enough to see what happens. Glad I did! Here's what I got

Box 1


Emergent
Delon Wright

Fireworks
Kawhi Leonard
Andrew Wiggins

USA Basketball
Klay Thompson


Silver Prizms
Stanley Johnson RC
Dion Waiters
Alexis Ajinca
Tarik Black

Flash Prizms
Jonas Valanciunas
Khris Middleton


Ruby Red Prizms
Al Horford All Star (#224/350)
T.J. Warren (#204/350)
Kris Humphries (#27/350)


Purple Prizms
Tyler Harvey RC (#3/99)
Dennis Rodman (#44/99)

Gold Prizm
Matthew Dellavedova (#1/10)

KRISTAPS PORZINGIS SILVER PRIZM ON CARD AUTO #25/25!!!


Box #2

Fireworks
Tony Parker
Kawhi Leonard


Emergent
Justin Anderson

USA Basketball
Anthony Davis

Silver Prizms
Lebron James All Star
Karl Malone
Darryl Dawkins
Sam Bowie
Antonio McDyess

Flash Prizms
Trevor Booker
Ben Mclemore


Ruby Red Prizms
Tracy McGrady (#263/350)
Nikola Jokic RC (#307/350)
Tiago Splitter (#280/350)


Blue Prizms
Carmelo Anthony (#112/199)

Purple Prizms
Trey Lyles RC (#28/99)


Orange Prizm Autograph
Vinny Del Negro (#56/65)
Overall Thoughts: Since this is a set I've previous bought boxes for before, I won't get into details about the cards and just talk about the hits....and once again WHAT A HIT I GOT!! Since I've been back in the hobby this is the 4th Porzingis auto I've pulled, but this is by far the best one as it's A) On card and B) From a Super Hot set in Prizm. Being #25/25 is not too bad either! The other cool card I pulled was a Prizm gold of Matthew Dellavedov which is numbered #1/10. It's a real good looking card and though he's not a superstar, it should still bring back a modest return. Thank goodness for Box #1, because box 2 wasn't the greatest. It's kinda crazy that pulling base rookies of the top guys is tough. I've bought 4 total boxes of this stuff and STILL haven't pulled the base rookies of Devin Booker and Porzingis and have only pulled KAT once. This time, my best base rookie was D'Angelo Russell. I got some nice prizms of veterans (Lebron, Melo, McGrady) and rookies (Stanley Johnson, Trey Lyles) and though the Del Negro auto was a let down, for the price point, once again it was a totally fun break. If you're a basketball fan and want a low risk high reward product I recommend getting some boxes of these and going to the Baseball Card King's website to pick some up at $49.99. Here are pics of this hits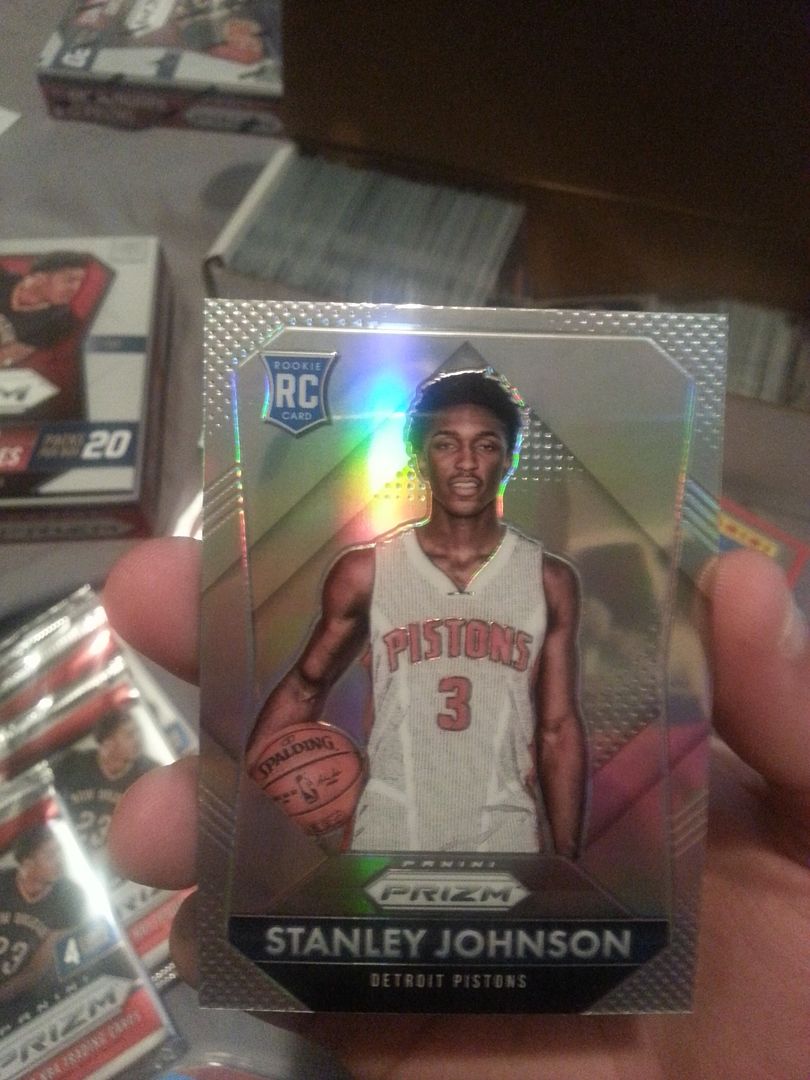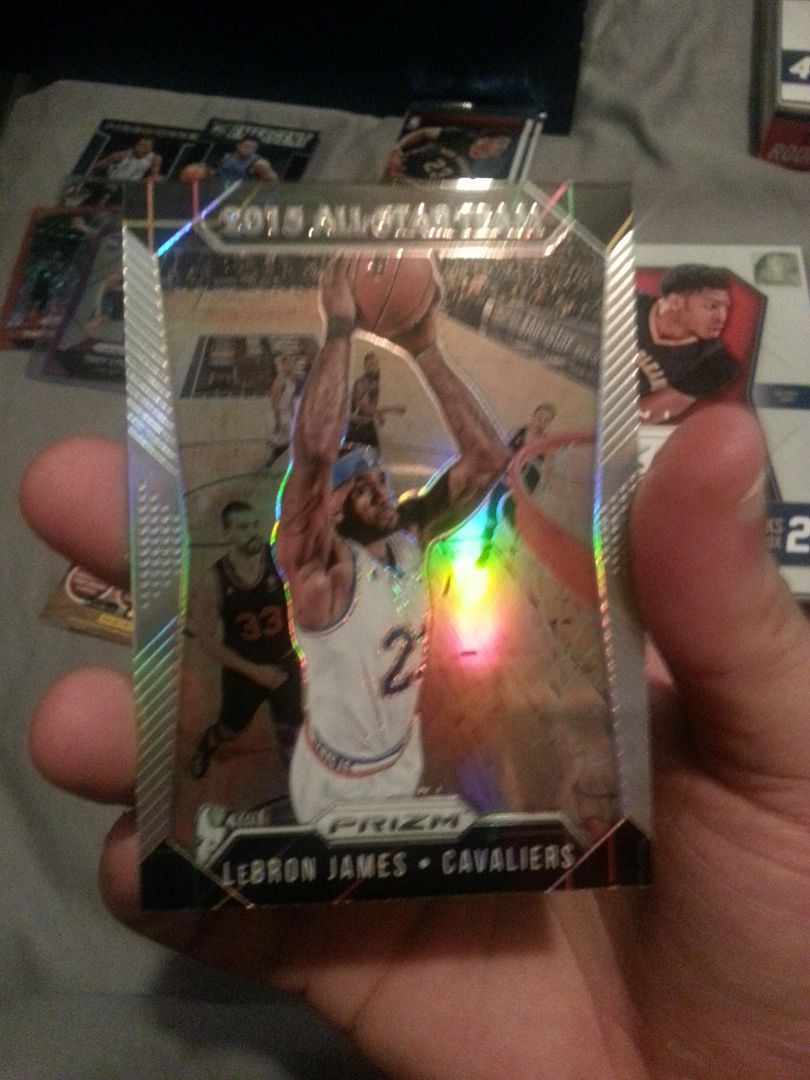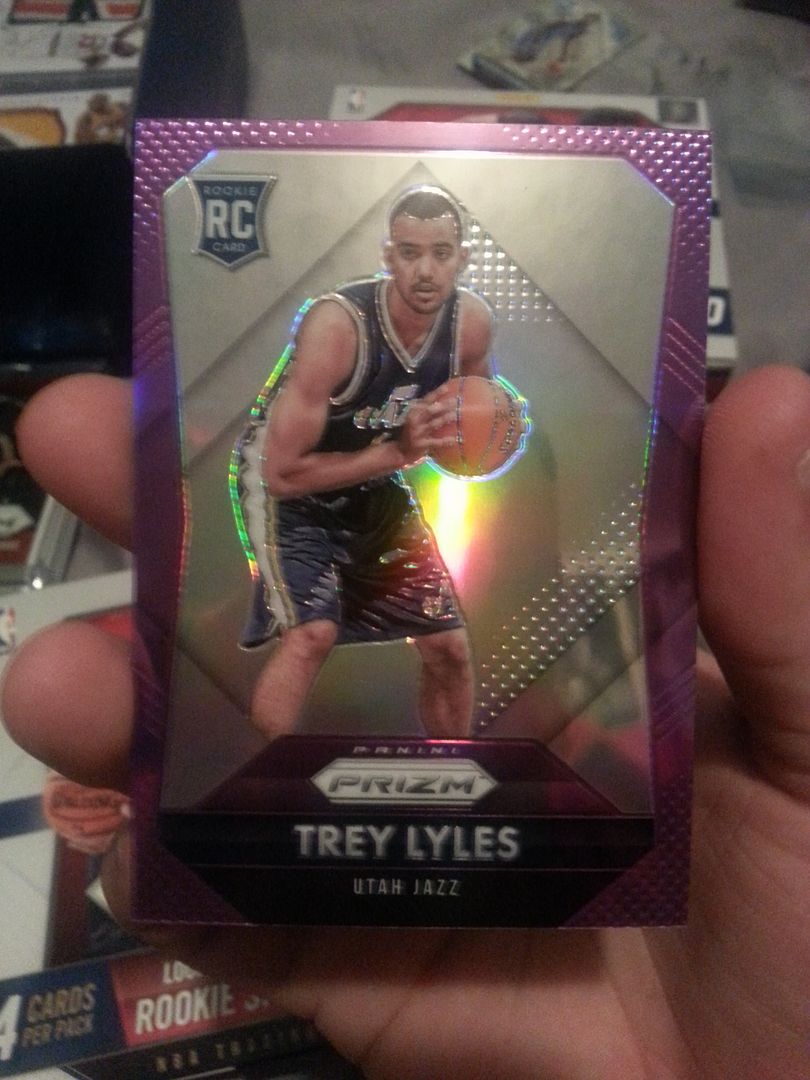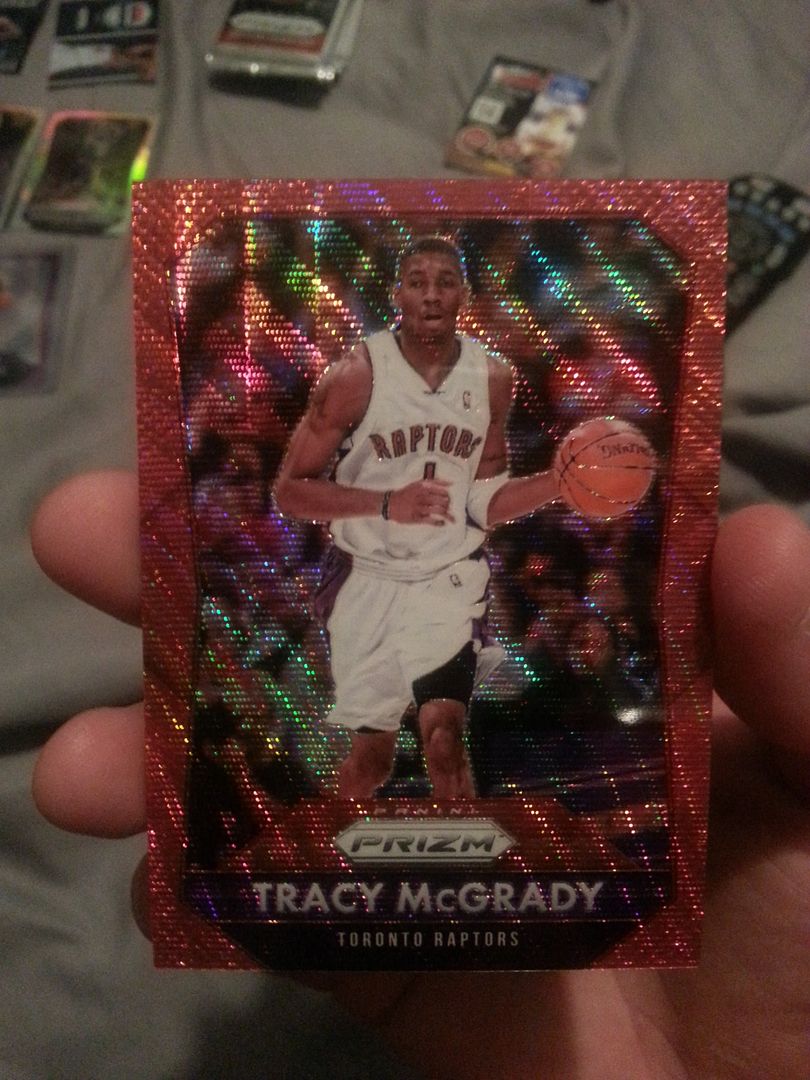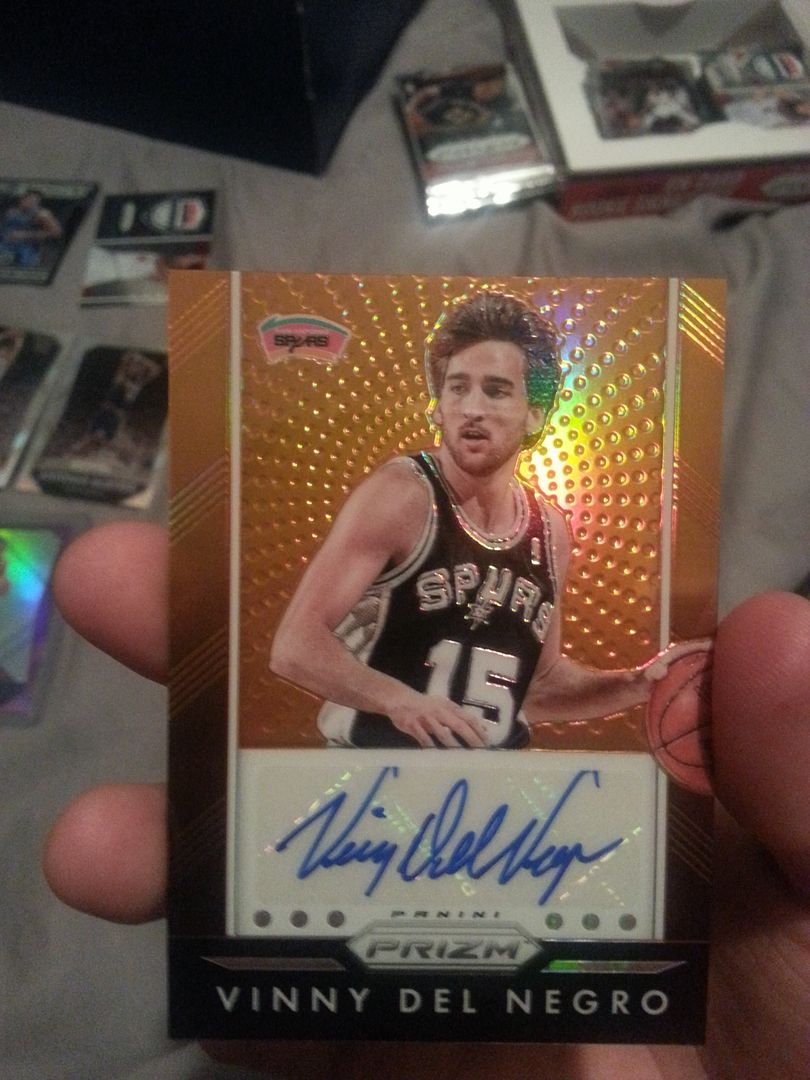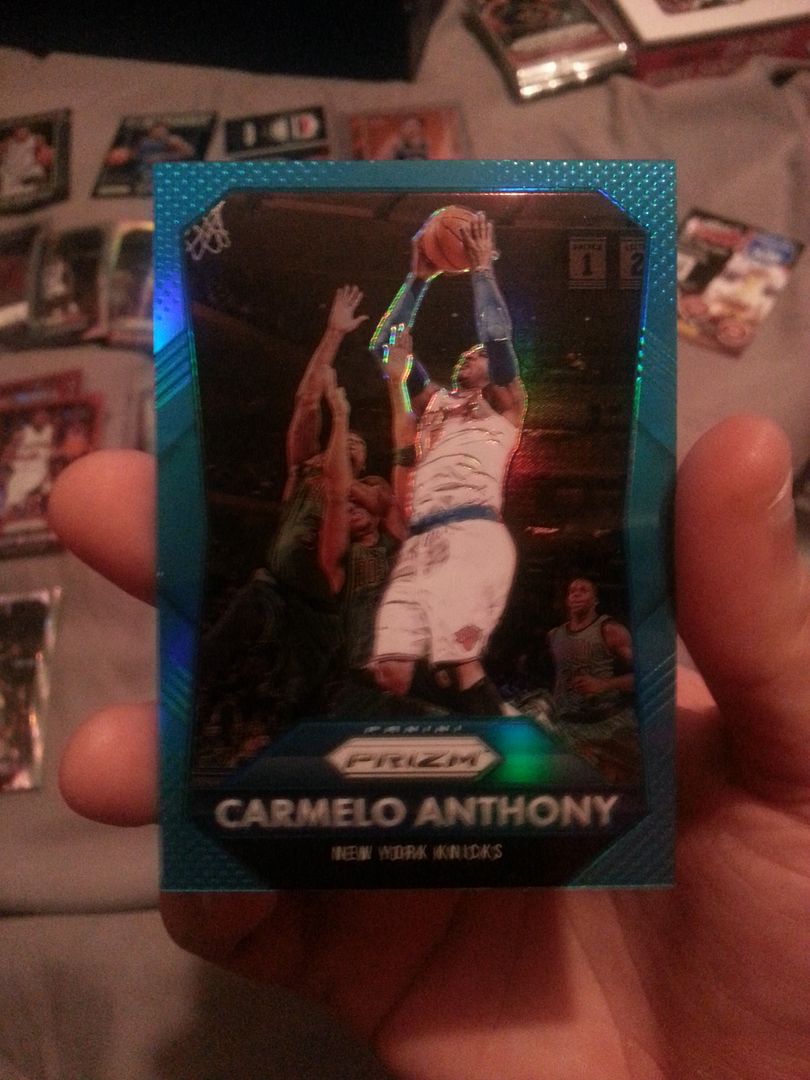 And herrrrrrrrrrrrrrre it is!! Kristaps Porzingis On Card Rookie Signatures Silver Prizms #25/25! Best Porzingis yet!
Top 5 Pulls of 2016
#1- 2016 Topps Tribute Superfractor Autograph Alex Gordon (#1/1)
#2- 2015-16 Panini Prizms Rookie Signatures Silver Prizms Kristaps Porzingis (#25/25)
#3- 2016 Topps Tribute Milestone Relic Game Used Ball Kris Bryant (#5/10)
#4-15-16 Limited Gold Spotlight Dual Signatures Kristaps Porzingis/Jerian Grant (#8/10)
#5-15-16 Gold Standard Stephen Curry/Klay Thompson Golden Pairs Dual Patch (#12/25)