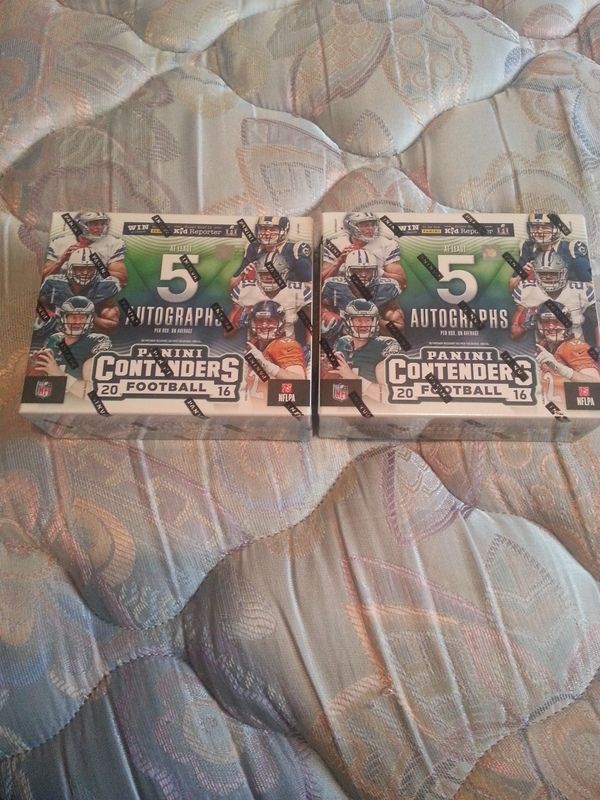 One of the most hyped products of the year, Contenders is popular year in and year out, but with Dak and Zeke leading the way this year, this year's offering was as hot as ever. Boxes quickly escalated from $130 a box to nearly $170 a box. I had to give into the hype and bought a couple of boxes at the $130 price (luckily I got mine at still pre sale price). The boxes came in yesterday and I got to open them today and here's what I got.
Box 1

Rookie Of The Year Contenders
Dak Prescott
Joey Bosa
Christian Hackenberg

MVP Contenders
Blake Bortles
A.J Green

Touchdown Tandems
Andrew Luck/T.Y. Hilton

Touchdown Tandems Gold
Eli Manning/Odell Beckham Jr. (#185/199)

Round Numbers
Corey Coleman/Josh Doctson
Jordan Payton/Rashard Higgins

Legendary Contenders
Dan Marino
Barry Sanders

Championship Ticket
Andrew Luck (#83/99)

Digital Contenders Gold Ink Signature
Jalen Richard

250 Panini Rewards Points (absolutely HATE this program and that these stupid things replace a hit)

Rookie Season Ticket Autographs
Vonn Bell


Rookie Playoff Ticket Autographs
David Morgan (#59/199)


Rookie Championship Ticket Autographs
Jonathan Bullard (#56/99)

Rookie Ticket Autographs RPS
Paul Perkins


Box 2


Touchdown Tandems
Tony Romo/Dez Bryant


MVP Contenders
Derek Carr
Todd Gurley

Rookie Of The Year Contenders
Jared Goff
Paul Perkins
Braxton Miller

Round Numbers
DeAndre Washington/Wendell Smallwood
Jordan Payton/Rashard Higgins

Legendary Contenders
Archie Manning
Brett Favre


Playoff Ticket
Tyrod Taylor (#66/249)

Digital Contenders Gold Ink Signature
Tavon Young

Rookie Season Ticket Autographs
Robby Anderson
Johnny Holton
Vonn Bell (Again..you gotta be kidding me)


Rookie Playoff Ticket Autographs
Nick Vannett (#61/99)

Rookie Ticket Autographs RPS
Devontae Booker
Overall Thoughts: Gross...pathetic....frustrating...yeah notice "fun" isn't an adjective I'm using to describe this break. Pardon my language, and honestly, this is all on me, I KNOW how this works, yet I give in anyway, but holy shit does Panini love to BUTTFUCK their customers. Two boxes...two boxes..that's all I opened, and the rookie autograph checklist is absurdly large, full of no name scrubs, and I get the SAME NO NAME SCRUB TWICE...that's inexcusable in my book. On top of that..a shitty Panini Rewards card replaces one of my hits. I bought these boxes for CONTENDERS AUTOGRAPHS..not Panini Rewards Cards..which are by far the biggest crock of shit there is in this hobby. Rewards cards should be bonus hits not replace hits in my opinion. I seriously don't get Panini's rationale..I know they gotta make money and for the billionth time, I understand not every box is a "winner", but when you spend this much on these boxes...just wow. I'm not blaming Panini for the spike in prices (that's not their deal, but THANK GOD I didn't pay $170 a piece for these shits), but even at $130...this stuff is god awful. I got my Optic and Contenders fix now, and I can honestly say this was the last football I'll be breaking in a long while (I don't break football much to begin with, so I know this is a promise I can keep, lol). These breaks are looking more and more like they are going to drive me to just going back to picking up singles and avoiding box breaking altogether, even though that's supposed be part of why I love collecting so much. I just can't keep taking these giant losses on these breaks at the prices I'm paying for this crap. Just beyond disappointed. Here's a look at the cards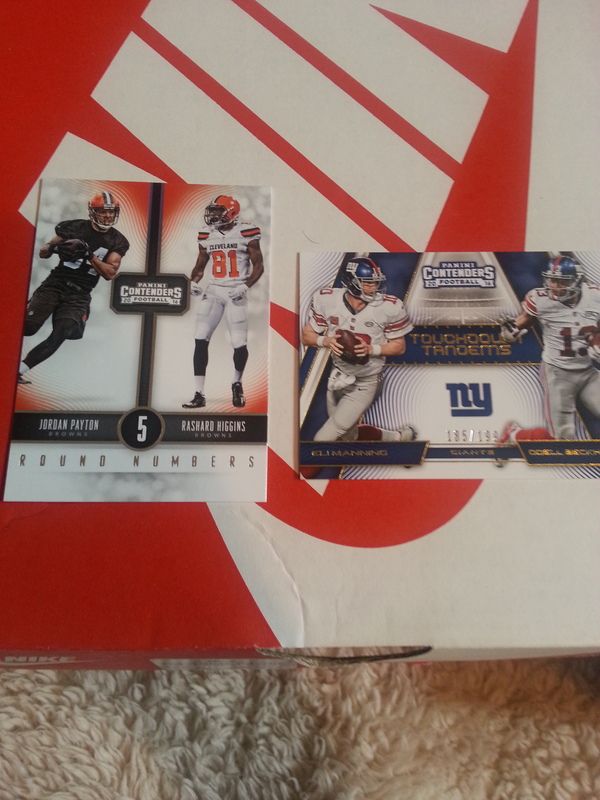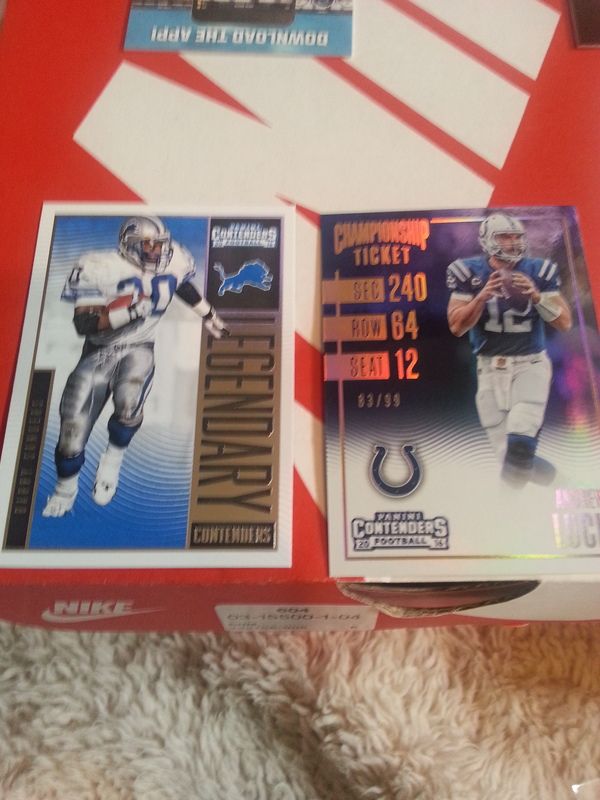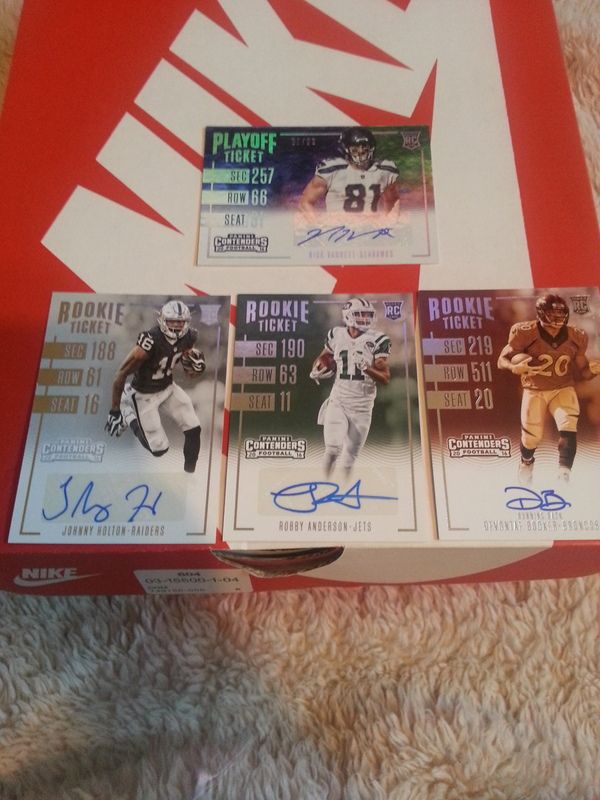 Seems like I forgot to take a picture of the rest of the autos..but I'm NOT going back to do that..ain't worth the time.
Top 5 Pulls of 2017
#1- 2016 Donruss Optic Gold Vinyl Cam Newton 1/1
#2- 2016 Donruss Optic Derrick Henry Rated Rookie Autograph (#43/150)
#3- 2016 Donruss Optic Kenneth Dixon Rated Rookie Holo Autograph Redemption (# to 99)
#4- 2016 Panini Contenders Rookie Ticket Autographs RPS Devontae Booker
#5- 2016 Panini Contenders Rookie Ticket Autographs RPS Paul Perkins