Well, after getting a little fed up with today's current product, both the price of boxes and content, I decided to go a little old school and pick up a box of 1996 SPX Football. Why SPX Football? Well, one it was relatively cheap, and two, the SPX brand was one of my favorite brands of the 90's and I thought it'd be fun to bust a box of something that back then when I was a kid, could only afford a pack or two of at a time. We'll start with a little background history on this product.
Some Background: When Upper Deck came out with it's SPX brand across all sports in 1996, it definitely was a game changer and to me, one of the predecessors to the Super High End cards that we see today. At the time when super premium products were just starting to gain traction (products like SP, Topps Chrome) here came an offering that was an all holographic base set with the kicker being, the packs having one card per pack. This was relatively unheard back then and some people scoffed at paying $5 or more for a 1 card per pack product. I thought it was an awesome concept, and I couldn't wait until Basketball hit the shelves so I could try a pack. I've always been a sucker for Upper Deck's holograms, and that combined with a slick die cut design sold me on the risk of buying a 1 card per pack product. I remember paying $6 for a pack of basketball at my local shop and pulling a Hakeem Olajuwon base. I ended up buying the Penny base at a card show (still have it) because the cards were soooo cool. I never bought football and baseball SPX packs (though I do have a couple Griffeys I bought off Ebay) and the SPX series basically lasted 3 years before evolving into to something else (SPxFinite) but it definitely left a lasting impact on the hobby.
What To Look For: Remember that this is 1996, so the "chase cards" might not seem that awesome 20 years later. To me though, the "chase cards" were the base cards themselves (along with the gold parallel that falls 1 per 7 packs). Remember you only got 1 card a pack, so to me you're chasing the base cards of the superstars of that era. Emmitt Smith, John Elway, Dan Marino, Barry Sanders, etc. There were also two tribute cards that were seeded high, one of Joe Montana and one of Dan Marino. The "biggest" and most hard cards to get are autograph versions of the Marino and Montana, one of the earlier examples of early to mid 90's products having autographs inserted into packs. There's also a HoloFame insert set that falls at 1 in 24 packs. All in all though, the inserts are limited to the 1 per pack format of the set and the key base cards in the set seem to me at the time to be just as "coveted" as chase cards themselves.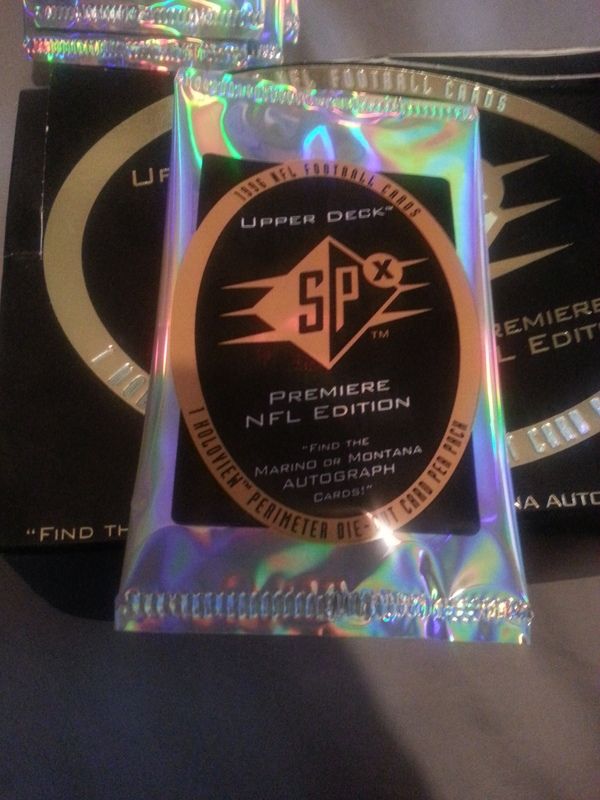 Basic Set Info
1996 SPX
50 Card Base Set
36 Packs Per Box
1 Card Per Pack
Inserts
Gold Parallel (1:7)
HoloFame (1:24)
Dan Marino Record Breaker (1:91)
Joe Montana Tribute (1:95)
Dan Marino Record Breaker Autograph (1:433)
Joe Montana Tribute Autograph (1:433)
Alrighty...enough typin, time to see what I got!
Notable Base Cards
Emmitt Smith (Cowboys fan so happy about this!)
Shannon Sharpe
Marshall Faulk
Warren Moon
Drew Bledsoe
Tim Brown
Steve Young
Jerry Rice
Joe Montana
Joey Galloway
Isaac Bruce

Gold Parallel
Kerry Collins
Sherman Williams
Ki-Jana Carter
Frank Sanders
Darnay Scott

Holofame Collection
Jerry Rice
John Elway
Overall Thoughts: So much fun...so many memories. Seeing guys like Ki-Jana Carter, J.J. Stokes, Tyrone Wheatley brings me back to a time where those were considered "hot players". Huge fan of the set design and the HoloFame cards (which I beat the odds and got 2!) are super nice. This is exactly why I bought this box. The memories and nostalgia alone make it worth it. I pulled an Emmitt Base which makes me happy! This was basically $1 a pack so it was well worth the price of the box. Here's some of the better cards as we stroll down memory lane!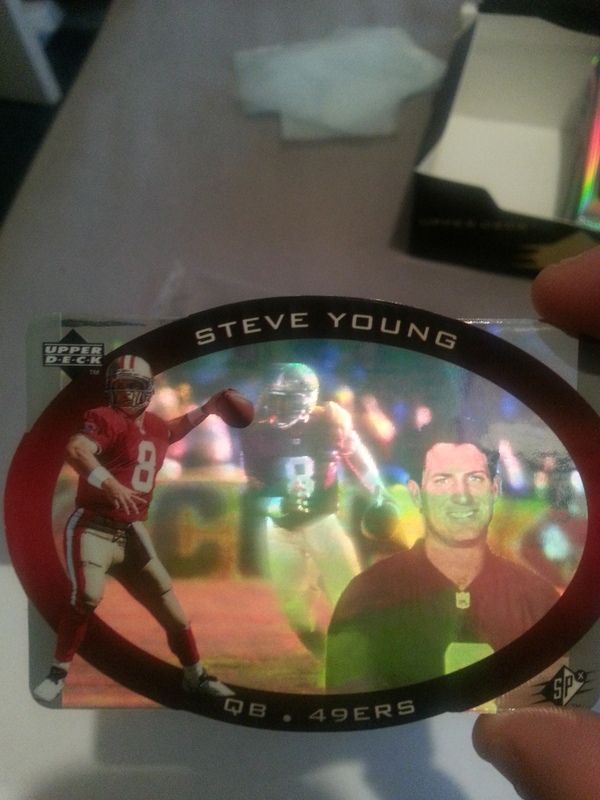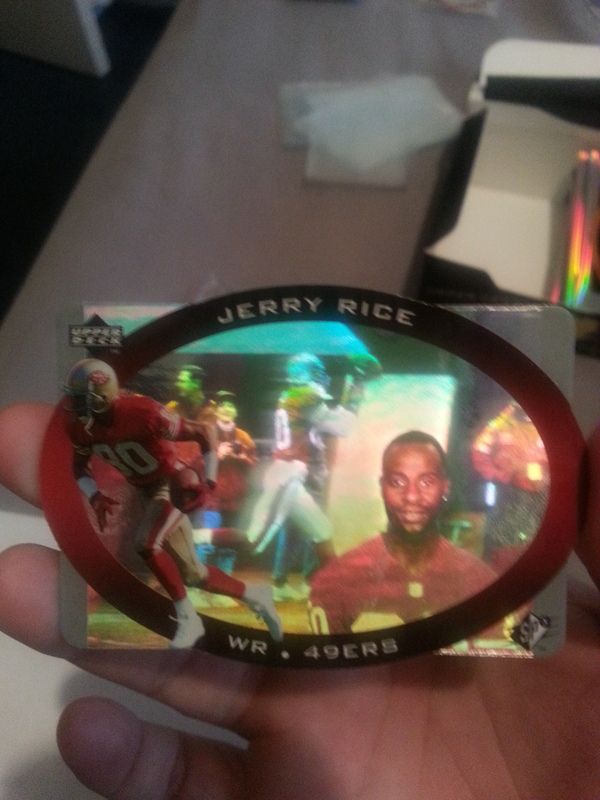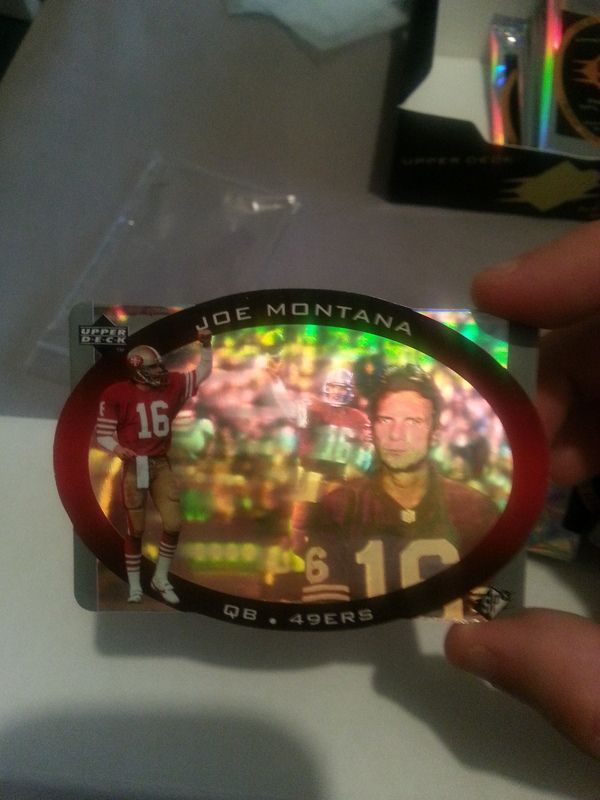 Top 5 Pulls of 2017
#1- 2016 Donruss Optic Gold Vinyl Cam Newton 1/1
#2- 2016 Donruss Optic Derrick Henry Rated Rookie Autograph (#43/150)
#3- 2016 Donruss Optic Kenneth Dixon Rated Rookie Holo Autograph Redemption (# to 99)
#4- 2016 Panini Contenders Rookie Ticket Autographs RPS Devontae Booker
#5- 2016 Panini Contenders Rookie Ticket Autographs RPS Paul Perkins