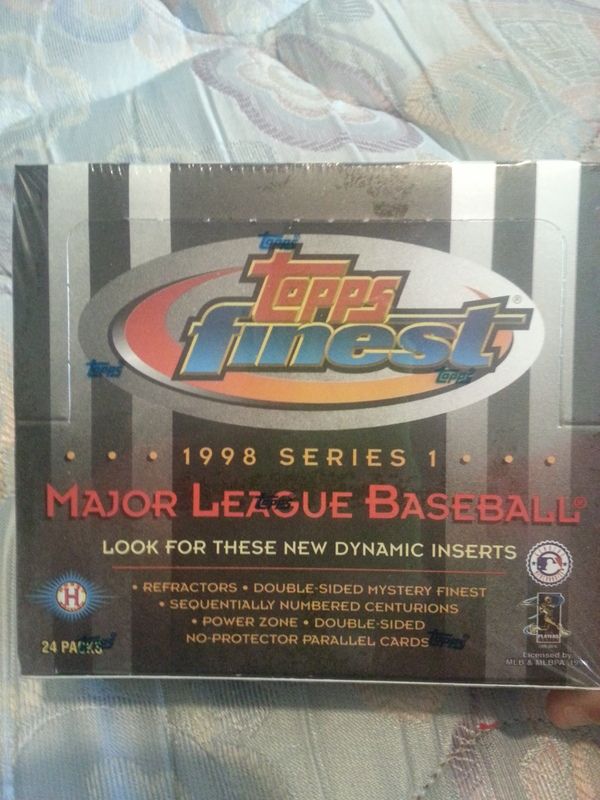 So, here is box #2 in my trip down memory lane. 1998 Topps Finest Baseball Series 1. Again the price was right to me ($35) and it'll be fun busting what was a premium product back around the height of baseball's popularity.
What To Look For: What I love about these kind of breaks, is there are no memorabilia hits or autographs to chase. The cards you are looking for are insert cards. Obviously hitting a key player's refractor would be nice, and even better in the no protector version. Mystery Finest cards are always fun and there's the refractor counterparts of those too. Power Zone inserts are tough to find but the sequentially numbered Centurion inserts seem to be the hardest to pull. Even harder to pull are the Centurion refractors. Hitting one of those would definitely be super sweet.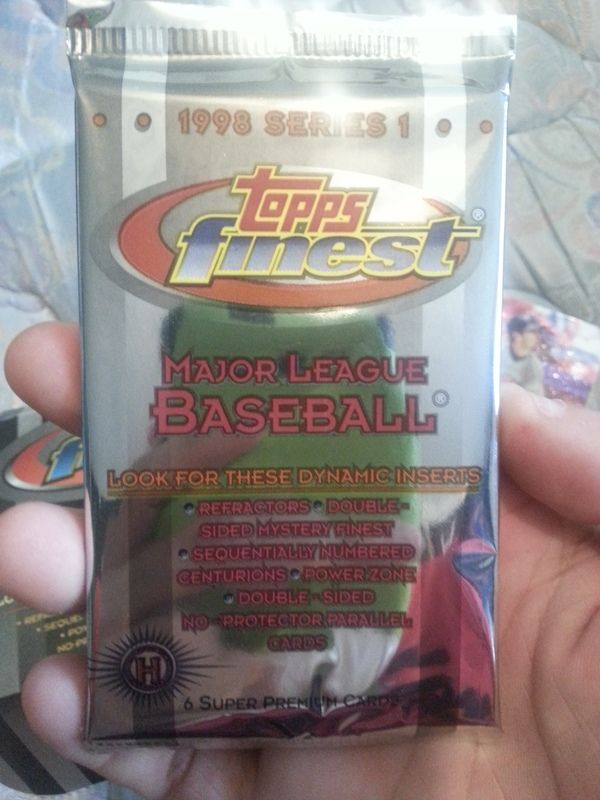 Basic Set Info
1998 Topps Finest Series 1
150 Base Cards
24 Packs Per Box
6 Cards Per Pack
Inserts
Box Topper (1 per 3 boxes)
No Protector (1:2)
No Protector Refractor (1:24)
Refractor (1:12)
Mystery Finest (1:36)
Mystery Finest Refractor (1:144)
Centurion (1:153)
Centurion Refractor (1:1,020)
Power Zone (1:72)
Here we go!
Box Topper (1 Out of 3 Boxes)
Nomar Garciaparra
No Protector (1:2)
Brad Radke
Ken Griffey Jr
Checklist
Willie Greene
Scott Erickson
Charles Nagy
Jeremi Gonzalez
Jeff Kent
Lance Johnson
Cal Ripken Jr.
Wally Joyner
Todd Jones
Refractor (1:12)
Livan Hernandez
Butch Huskey
No Protector Refractor (1:24)
Ugueth Urbina
Power Zone (1:72)
Jose Cruz Jr. (Would've been a really nice pull back in 98 lol)
Mystery Finest Refractor (1:144)
Tony Gwynn!!
Overall Thoughts: What a fun box to open!! The refractors weren't great, but the Gwynn hit more than makes up for it to me! Also that Cruz hit would've been a pretty solid hit back in the day, and the box topper surprised me as well, one of 3 boxes!! Also love pulling the non protectors of Cal Ripken and Griffey too! I like looking this from the 1998 perspective and to me this was a super solid box. It might not look like it from today's standpoint but regardless it brought back the fun of opening packs, ESPECIALLY the Mystery Finest insert, one of my favorite ideas. Peel the film to see who you got and I got a pretty good one! Overall, just like the SPX Football box, nostalgic alone made it worth opening this box, and to add to that fun, I love beating the odds on the inserts!! Here's pics of the cards!
Just a look at some of the base cards of the Superstars of the time
The Nomar Box Topper, larger than a standard card. You got one of these out of 3 boxes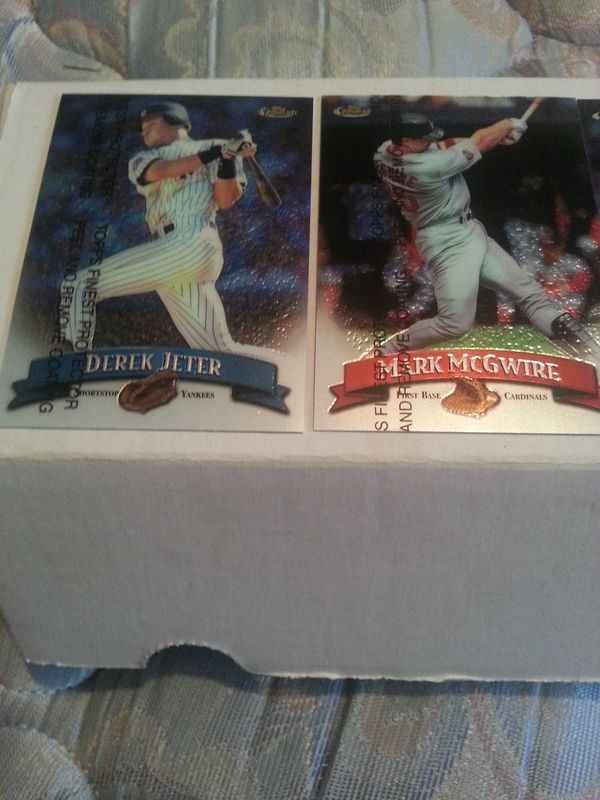 More Superstar Base Cards
More Base Superstar Cards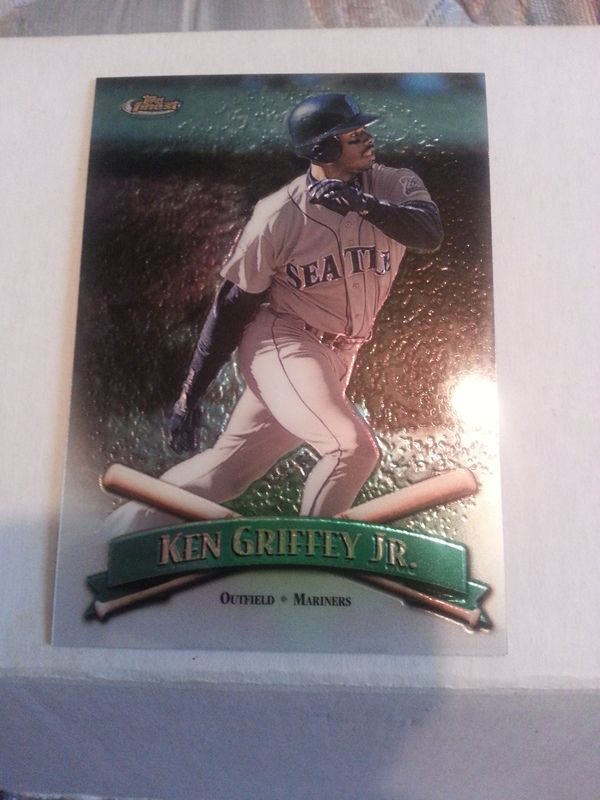 Front of the Griffey No Protector Parallel
Back Of The Griffey No Protector Parallel. The back of the No Protector Parallels have a chrome finish
One of the tougher inserts to pull. Power Zone's are pulled at a rate of 1:72 packs, or 1 in 3 boxes. At the time, Cruz was emerging superstar and his stuff sold pretty well. This would've probably been considered a pretty nice hit at the time.
Front of the Mystery Finest Refractor of Tony Gwynn. Each Mystery Finest card is double sided and either features two players on each side, or one on both side. The refractor parallels are hard to pull at 1:144 packs. The card is first covered with a black film on both sides of the card as to hide who's on the card thus the "mystery" aspect of the set.
Back of the Gwynn Mystery Finest Refractor
Top 5 Pulls of 2017
#1- 2016 Donruss Optic Gold Vinyl Cam Newton 1/1
#2- 2016 Donruss Optic Derrick Henry Rated Rookie Autograph (#43/150)
#3- 2016 Donruss Optic Kenneth Dixon Rated Rookie Holo Autograph Redemption (# to 99)
#4- 2016 Panini Contenders Rookie Ticket Autographs RPS Devontae Booker
#5- 2016 Panini Contenders Rookie Ticket Autographs RPS Paul Perkins