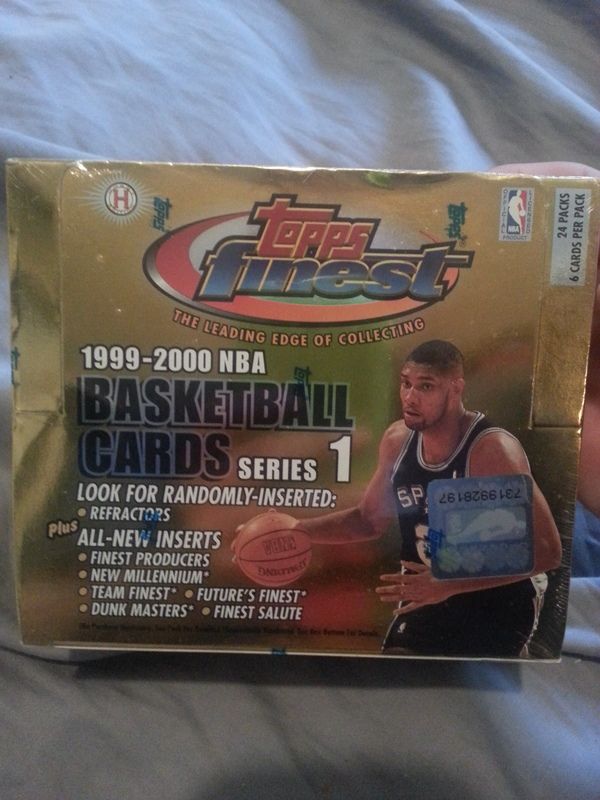 Time for Round 3 of Old School Box Breaks and it's time to bust open an old box of Basketball this time. Topps Finest has always been a favorite in mine, with the refractors and inserts and rookies. Although by 1999, Topps Finest had certainly lost a little bit of its luster with more and more super premium brands coming out, it's still in my opinion one of the better products out there for the 99-00 season.
Background: So a little background on why I'm busting 99-00 Finest. Back in 1999, my aunt and two cousins moved from San Angelo, Texas down here to Corpus Christi and ended up living with us for a few months until they got settled in. One of my cousins, was 3 years younger than me, and I basically got him collecting cards and Starting Lineup Figures because honestly, I spent every Saturday hunting for SLU's and going to our local cardshop in town, The Dugout. With my cousin's new found hobby my Aunt went bonkers and would only by him the "best" boxes i.e. more expensive. So for Christmas of 99, I'll never forget his mom getting him a box of 99-00 Skybox Premium AND a JUMBO BOX of 99-00 Finest Series 1. I was insanely jealous, because the box of Finest was just a pipe dream for me. Not because my parents couldn't afford it, there was just nooooo way they'd drop $150+ on a box of basketball cards. I was "stuck" with retail boxes, which was cool, but man was envious of someone who had barely started collecting, getting to bust a super expensive box. I remember him pulling a Lamar Odom rookie (which honestly was the BEST rookie you could pull at that timeframe as Odom was a pretty hot rookie out of the gate) and a Sweet looking Kobe Bryant Dunk Masters insert. So fast forward all the years later and since I've gone on this nostalgia kick, 99-00 Finest was a box I had targets. I didn't get a jumbo box, but I got a regular 24 pack box for $66 shipped. It took me 17 years, but I'll FINALLY get the thrill of opening a box of Topps Finest Basketball, lol.
What To Look For: So let's put our 1999 glasses for this. Obviously the big hits at the time are the rookies, refractors, and gold refractors. Despite a promising start, the 99-00 class actually isn't that great of a class. You've got solid guys like Elton Brand, Ron Artest, Shawn Marion, Jason Terry, Baron Davis and guys that had super hot starts but fizzled out like Steve Francis or had a ton of personal problems that destroyed his career like Lamar Odom. At the time though, Brand, Odom, Marion, Francis, and Baron Davis were pretty hot sellers. To my knowledge, Steve Francis rookies were held over to series 2, so you can't pull them in this series. To me, the best insert in this set (and one of the best insert sets of this era) is the Dunk Masters insert. They also have a refractor counterpart. I'm definitely hoping one of these pops up in my break.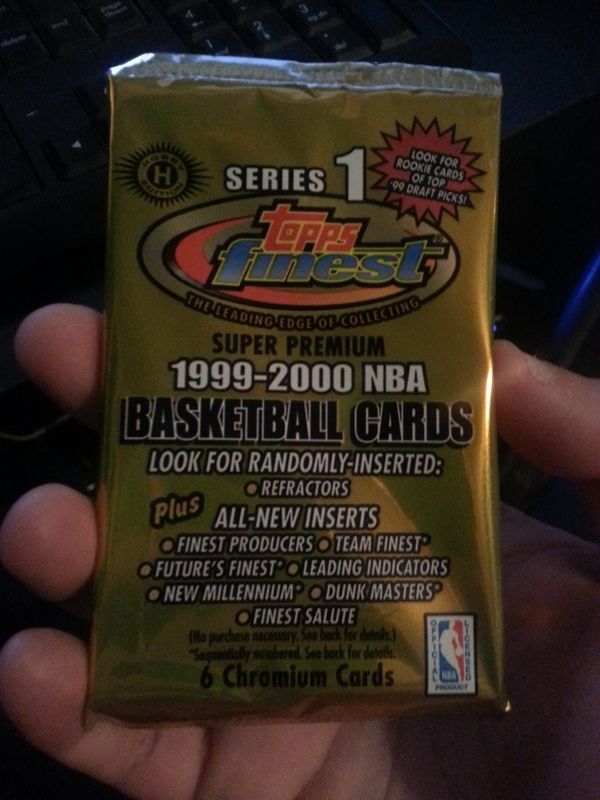 Basic Set Info
99-00 Topps Finest Series 1 Basketball
100 Base Cards
33 Bonus Base Cards (1 Per Pack)
24 Packs Per Box
6 Cards Per Pack
Inserts
Refractors (1:12)
Die Cut Gold Refractors (1:62)
Double Feature Non Refractor/Refractor (1:26)
Double Feature Refractor/Refractor (1/78)
Dunk Masters (1:73)
Dunk Masters Refractor (1:364)
New Millenium (1:55)
New Millenium Refractor (1:273)
Future's Finest (1:73)
Future's Finest Refractor (1:364)
Finest Producers (1:22)
Finest Producers Refractor (1:109)
Leading Indicators (1:30)
Finest Salute (1:108)
Finest Salute Refractor (1:5,054)
Finest Salute Gold Refractor (1:16,992)
Team Finest Blue (1:55)
Team Finest Blue Refractor (1:546)
Alright time to rip!
Notable Rookies
Elton Brand
Shawn Marion
Wally Szczerbiak
Baron Davis


Refractors (1:12)
Rex Chapman
Gary Payton


Double Feature Non Refractor/Refractor (1:26)
Tim Hardaway/Alonzo Mourning

Double Feature Refractor/Non Refractor (1:26)
Karl Malone/John Stockton


Double Feature Refractor/Refractor (1:78)
Mitch Richmond/Juwan Howard

Leading Indicators (1:30)
Jason Williams


New Millennium (1:55)

Paul Pierce (#882/1500)

Finest Producers (1:22)
Grant Hill

Future's Finest (1:73)
Cal Bowdler (#213/750)

Finest Producers Refractors (1:109)
Shareef Abdur Rahim
Overall Thoughts: Basketball breaks have always been my favorite out of all sports and this was no different. Again, just like the two other Old School Breaks I've done...SO MUCH FUN!! Grading this on the 1999 curve, I really think this was a solid box. Finest Rookies were still popular and when this product came out, Elton Brand and Shawn Marion were definitely two of the best rookies (along with Odom and Steve Francis) in this class. Baron Davis was also solid too and I think people forget about Wally Szczerbiak and his potential on that T'Wolves team (where he did make 1 all star team). Insert wise, beat the odds big time with the Shareef Producers refractor. The Pierce New Millennium is my favorite card out of the break, and the White Chocolate insert is pretty cool considering J-Will was coming off a hot rookie season and his cards were still in pretty high demand. Grant Hill was also a heavy hobby hitter at the time, so it's nice pulling a 1:30 insert of him. Overall I LOVE the Finest Inserts and designs, just so cool looking (even the Future Finest Bowdler). Another slam dunk break from back in the day! Here's the hits!
Top 5 Pulls of 2017
#1- 2016 Donruss Optic Gold Vinyl Cam Newton 1/1
#2- 2016 Donruss Optic Derrick Henry Rated Rookie Autograph (#43/150)
#3- 2016 Donruss Optic Kenneth Dixon Rated Rookie Holo Autograph Redemption (# to 99)
#4- 2016 Panini Contenders Rookie Ticket Autographs RPS Devontae Booker
#5- 2016 Panini Contenders Rookie Ticket Autographs RPS Paul Perkins