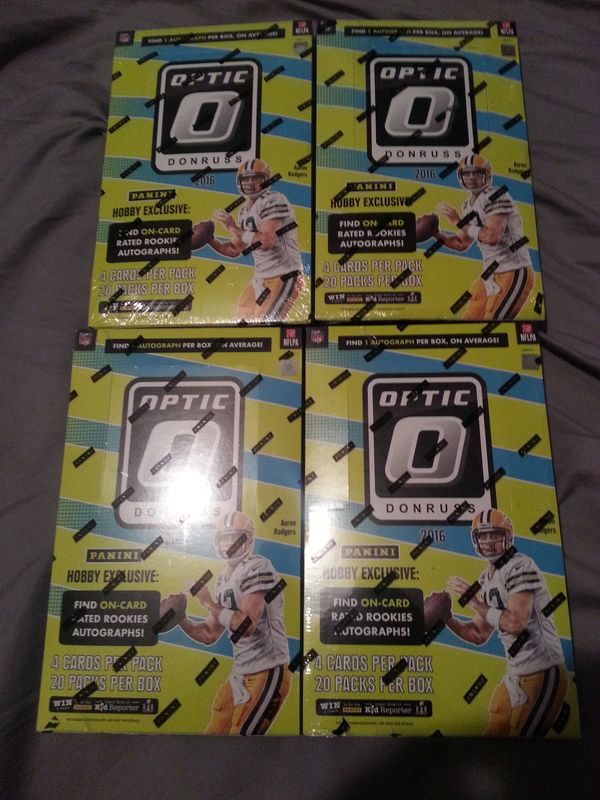 So here we go with my first box breaks of 2017. My football breaks have been limited and have been hit or miss for the most part. The last football product I busted was Prizm and that was GOD AWFUL. So this is Donruss Optic, which has caught FIRE recently for two reasons. 1) Collectors are equating it to Panini's version of Topps Chrome. Unlike Prizm, which is basically a standalone brand that has unique design and photography, Optic is a chrome version of Panini's flagship brand Donruss, which is why it's being compared more to Chrome than Prizm was. 2) On Card Rookie Autos. It's the one thing Prizm didn't have. The prices of these have spiked HUGE. I pre ordered my boxes for $75 a pop....they'll now cost you $105 a pop. Unreal, but that's what Zeke and Dak have done to the football market this year. So is it worth $105? Is it even worth it at $75? Here's what I got.
Box 1
Peyton Manning's Top Targets
Edgerrin James

Peyton Manning Tribute
#8
Gridiron Kings
Luke Kuechly
Devonta Freeman
Legends Of The Fall
Michael Irvin

Legends Of The Fall Blue Holo
Tom Brady (#134/149)

X-Factor
Russell Wilson

Prototype
Gronk
Demaryius Thomas
The Rookies
Paul Perkins
Cardale Jones
The Rookies Red Holo
Paxton Lynch (#95/99)
Base Holo
LeSean McCoy
Ameer Abdullah
DeMarco Murray
Todd Gurley
Cody Core RC
Austin Johnson RC
Will Fuller RC
Trevor Davis RC

Aqua Holo
Derek Watt (#175/299)
Orange Holo
David Johnson (#130/199)
Adolphus Washington RC (#57/199)

Blue Holo
Alex Smith (#14/149)
Red Holo
Roberto Aguayo RC (#31/99)

Rated Rookies Autos
Derrick Henry (#43/150)
Box 2

Fans Of The Game
Skylar Astin (WHO?! LOL)
Peyton Manning Tribute
#12
Gridiron Kings
Jameis Winston
Cam Newton
Gridiron Kings Blue Holo
Blake Bortles (#60/149)
The Rookies
Will Fuller
Sterling Shepard
Legends Of The Fall
Kurt Warner
X Factor
Carson Wentz
Prototype
A.J. Green
Larry Fitzgerald
Base Holo
Alex Smith
Victor Cruz
Justin Forsett
Jameis Winston
Nate Sudfeld RC
Keanu Neal RC
Jacoby Brissett RC
Derrick Henry RC
Aqua Holo
T.J. Green RC (#67/299)
Austin Hooper RC (#154/299)
A.J. Green (#243/299)
Orange Holo
Tyler Boyd RC (#124/199)
Blue Holo
Jordy Nelson (#87/149)
Carolina Blue Holo
Steve Smith Sr. (#41/50)
Rated Rookies Autograph
Braxton Miller Redemption

Box 3
Fans of The Game
Skylar Astin (Again)
X Factor
Carson Wentz (Again)
Peyton Manning Tribute
#7
Legends Of The Fall
Thurman Thomas
Legends Of The Fall Blue Holo
Steve Young (#29/149)
The Rookies
Braxton Miller
C.J. Prosise
The Rookies Blue Holo
Darron Lee (#26/149)
Gridiron Kings
Adrian Peterson
A.J. Green
Prototype
Joe Haden
DeAndre Hopkins
Base Holo
Doug Martin
Aaron Rodgers
Jeremy Langford
Latavius Murray
Kelvin Taylor RC
Vernon Davis RC
Trevor Davis RC (Again)
Will Fuller RC (Again)
Aqua Holo
Jeremy Hill (#258/299)
Wendeall Smallwood RC (#149/299)
Orange Holo
Sean Davis RC (#40/199)
Blue Holo
Jihad Ward (#33/149)
Rookie Auto Holo
Mackensie Alexander (#43/99)
Rookie Auto Blue Holo
Carl Nassib (#50/75)

Rated Rookie Auto Red Holo
Nick Vannett

Rated Rookie Autograph Holo
Kenneth Dixon (# TO 99)
AND
CAM NEWTON GOLD VINYL 1/1!!!
Pulled a Zeke Base RC too in this box
Box 4

Fans Of The Game
Marisa Miller
Peyton Manning Tribute
#10
Legends Of The Fall
Terrell Davis
X Factor
Doug Martin
Prototype
Andrew Luck
Kirk Cousins
Gridiron Kings
NaVorro Bowman
Matthew Stafford
Gridiron Kings Red
Matthew Stafford (#33/99)
The Rookies
Leonte Carroo
Malcolm Mitchell

The Rookies Blue Holo
Vernon Hargreaves III (#128/149)
Base Holo
Drew Brees
Doug Baldwin
Chris Ivory
Joe Flacco
Vonn Bell RC
Yannick Ngakoue RC
Ricardo Louis RC
Pharoh Cooper RC
Aqua Holo
Tom Brady (#133/299)
Ricardo Louis RC (#123/299)
Orange Holo
Michael Thomas RC (#67/199)
Red Holo
Brandon Marshall (#96/99)
Carolina Blue Holo
Tyler Ervin (#44/50)
Rated Rookie Auto
Malcolm Mitchell (#92/150)
Overall Thoughts: So first of all let's talk about the cards themselves. LOVE them...even more than Prizm honestly. I dunno, Chrome is my weakness and these cards look great. All the inserts, parallels, base cards. There is one minor gripe (though I've seen a lot of people say it's a MAJOR gripe for them), the posed Rated Rookie Cards. Using the chrome finish, I wish Panini could've used action shots for these cards, instead of the posed shots they used for their original Donruss set. I know it's supposed to be a direct parallel of Donruss, but it wouldn't have hurt to change up the pics for rookies. I think it would've made the on card auto'd rookies THAT much more awesome. So what do you typically get in a box? You get 10 rookies (which, for the most part, are the lesser known rookies) and 10 rated rookies (this is where you get the main guys like Dak, Zeke, Wentz, Goff Etc) per box. There's 50 of each in the set, plus the vet base set is only 100 cards. You also get 1 auto a box, with hot boxes of 4 autos randomly inserted in cases. I got a hot box, but it wasn't that hot honestly. Also, from what I've seen of hot boxes, most of them aren't. Of course that's going to be the main problem with football sets..the large ass rookie auto checklist. This set has 83 of them....which means with autos falling at 1 per box, there's a solid chance your auto can suck. For me, the autos ranged from average to bad. Getting autos of Derrick Henry, Malcolm Mitchell, and Kenneth Dixon (redemption) isn't TOO terrible. At least they are guys who seem to have some kind of upside. The rest of the graphs were pretty bad though and have little to no value on the secondary market. I was also disappointed to only pull 1 Zeke card and no Dak's out of 4 boxes. Not even a base Dak rookie, or insert. It's funny that I actually did pull a really nice card with a 1/1 Gold Vinyl Cam Newton (Basically Panini's version of a Superfractor, so my 2nd Superfractor pull) and still feel underwhelmed with the break. I think part of it is going to Blowout's message boards and reading box breaks and seeing all the good stuff people are getting. It's really a stupid and petty thing to complain about, I know, but I really wish more people would have the courage to post all their box breaks at Blowout, good and bad, not just the good ones. A lot of people tend not to, maybe embarrassed to plunk down so much money and have little to show for in return, I dunno, but it leads to really skewered results and false confidence in buying products. I post all my break from the very worst to the good ones. It's just when you read the breaks and you see your own break that's underwhelming, you ask yourself.."surely I don't have the worst luck in the world?". Honestly value wise, outside of the Cam (which could possibly recoup my costs of this break if I sell it) I think you can take the 7 autos I pulled from 4 boxes and you probably wouldn't even get the cost of a single box (and that's at the $75 price point). The parallels are either a)not numbered low enough to sell well b)low numbered but not of collectible players so you won't get much from those either. Don't get me wrong, it was a fun break..just finished the break feeling a little underwhelmed. I seriously can't believe I pulled a 1/1 Cam Newton and am sorta complaining lol, but I am. I was hoping at least one of the auto's would be decent enough to carry some weight, but it really doesn't look like that's the case. All in all, this is a very fun product to break.....at $75. If you can maybe wait a few months and see if the hype dies down and prices come back down to earth, I would recommend checking out a box or two. At $105 though..no freakin way would I buy box of this. If you ain't hittin Dak or Zeke (or a supertough Gold Vinyl of a superstar player) the value just isn't there at that price point in my opinion. Here's a look at the cards.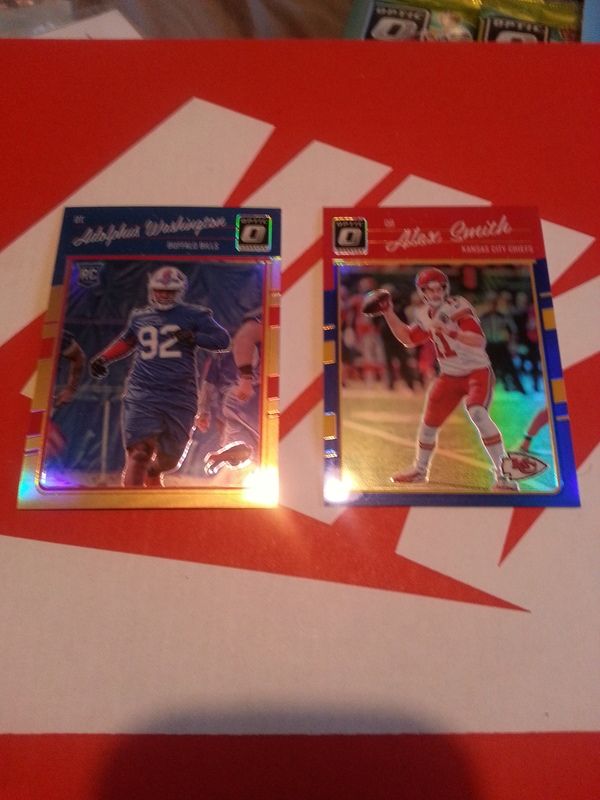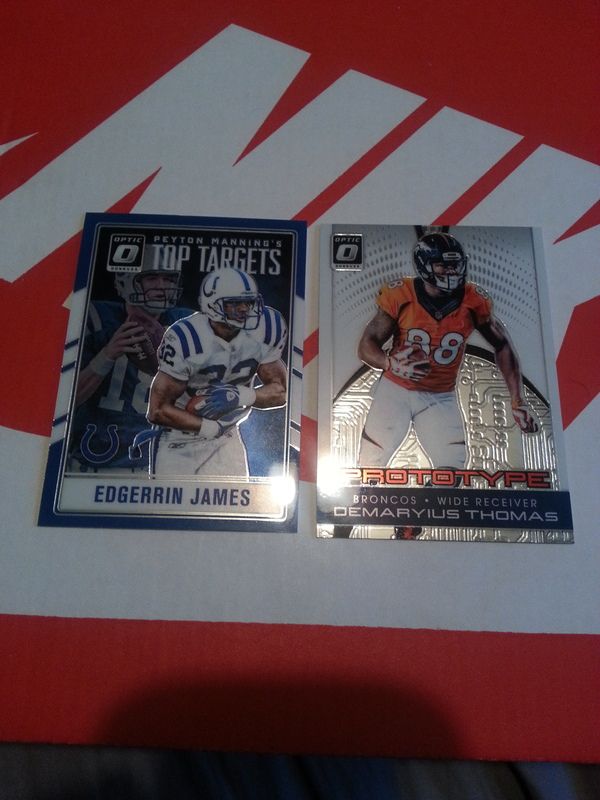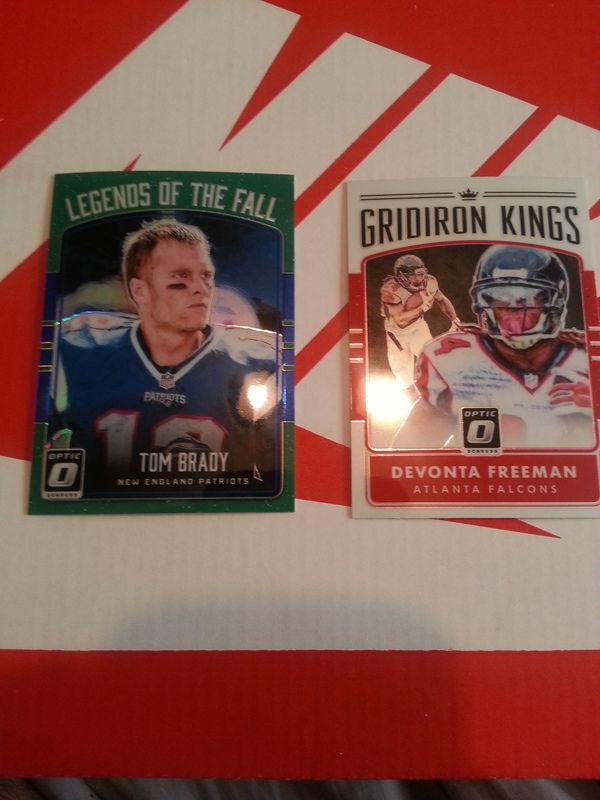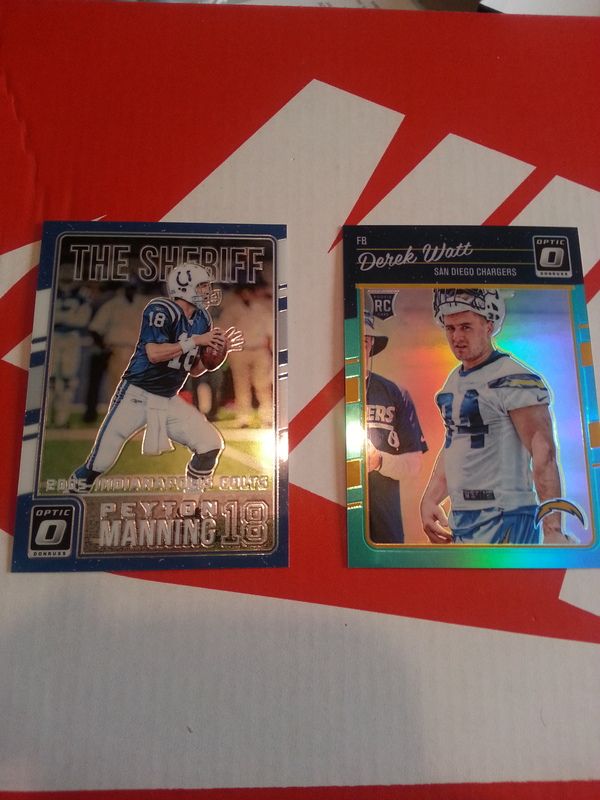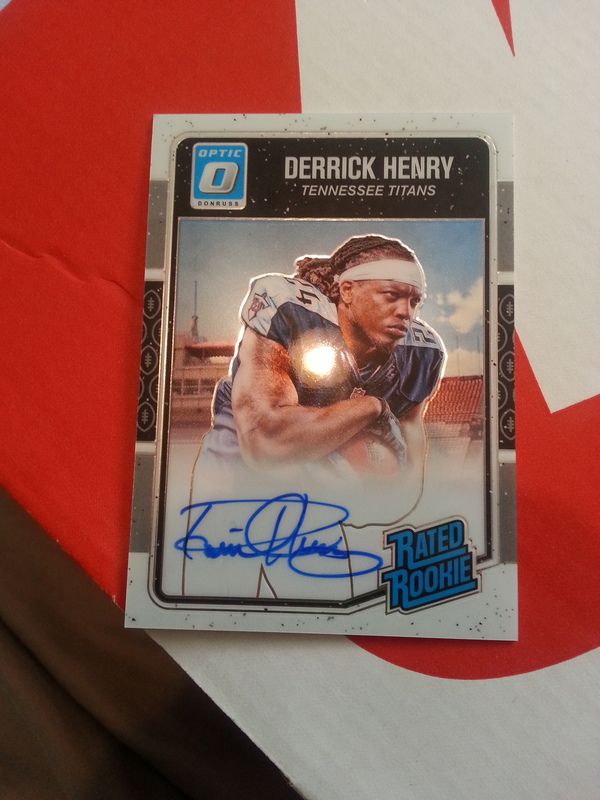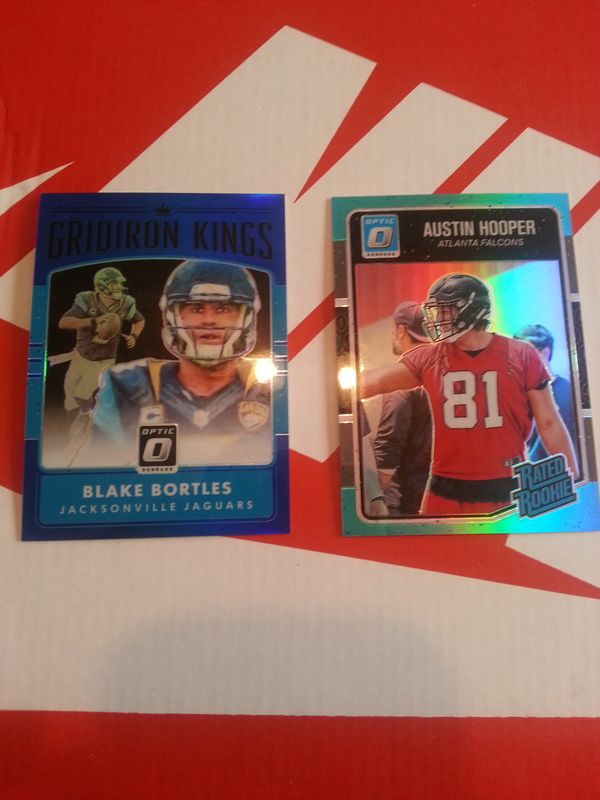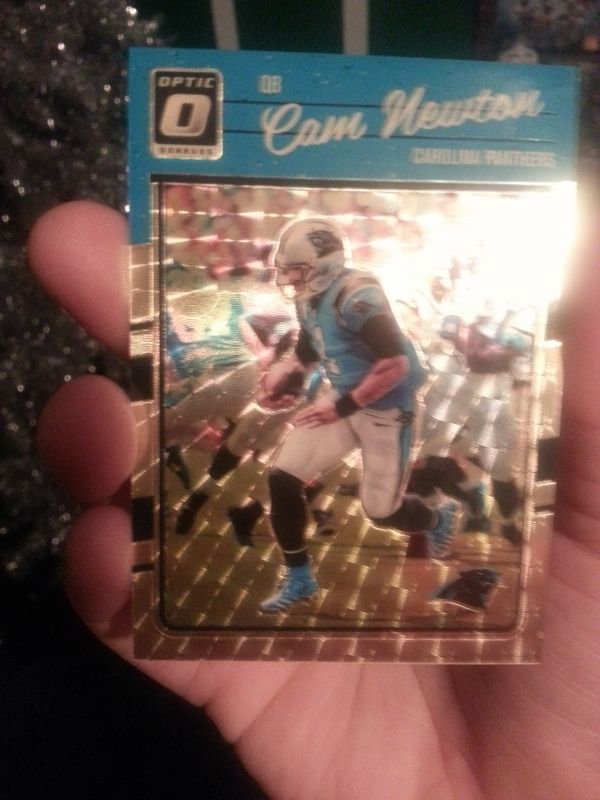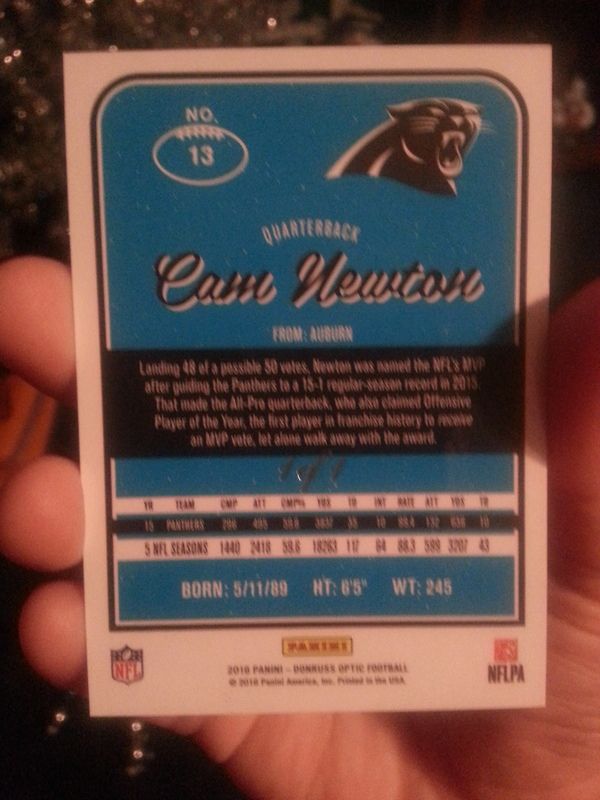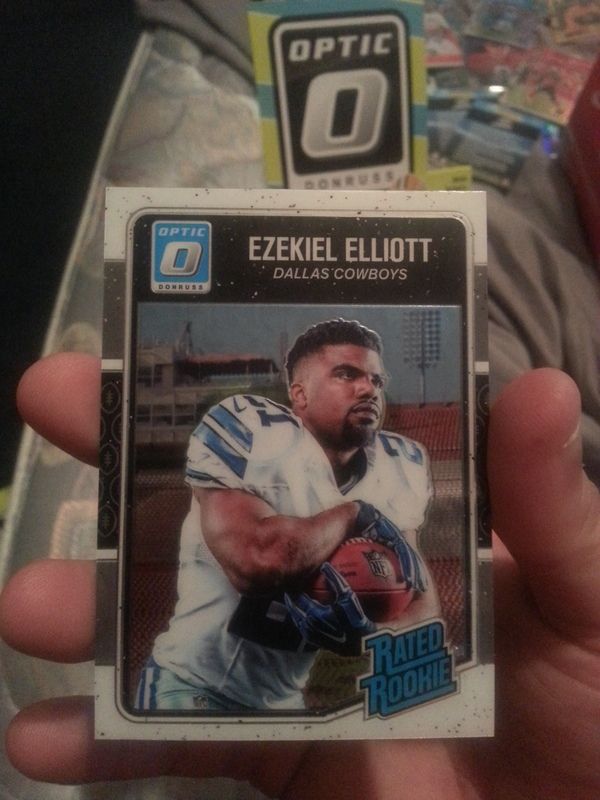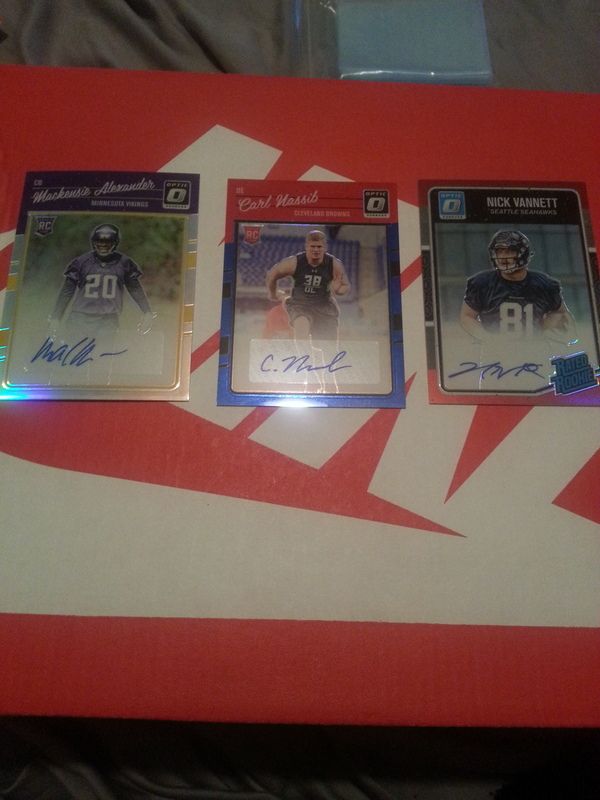 Top 5 Pulls of 2017
#1- 2016 Donruss Optic Gold Vinyl Cam Newton 1/1
#2- 2016 Donruss Optic Derrick Henry Rated Rookie Autograph (#43/150)
#3- 2016 Donruss Optic Kenneth Dixon Rated Rookie Holo Autograph Redemption (# to 99)
#4- 2016 Donruss Optic Malcolm Mitchell Rated Rookie Autograph (#92/150)
#5- 2016 Donruss Optic Ezekiel Elliott RC