So once I get going...I can't stop!! I decided to place another order with Blowout and try out a box of 15-16 Select and 15-16 Gold Standard. 15-16 Select seemed like it'd be fun because it had prizms in the set as well plus 3 hits, though it was definitely a tad on the expensive side for my tastes. Gold Standard was even riskier at it's price point because it's a "box" but that box consists of only 1 pack. How did I do?? Here are the results!
Select Box
Silver Prizms
Kenneth Faried
Nikola Vucevic
Andre Iguodala
Isaiah Thomas (Premier)
Justice Winslow (RC Premier)
Marcus Smart (Courtside)
Tri-Color Prizms
Jerian Grant RC
Al-Farouq Aminu
Larry Nance Jr RC (Premier)
Blue Prizm
Kyle Lowry (#114/249)
Red Prizm
Jahlil Okafor RC (132/149)
Copper Prizm
Langston Galloway Courtside (34/49)
Select Swatches
Stephen Curry (7/99)
Rookie Signatures
Jarell Martin (45/199)
Josh Richardson (78/199)
Overall Thoughts: Welp....pure definition of ya win some, ya lose some. I've noticed kind of a pattern, an underwhelming break followed by a great break. It happened in my first break with Prizm/Excaliber and I was hoping Gold Standard would end up saving this break. The cards are great looking, I love them, especially the color parallel prizms. I really overestimated the value of a Jahlil Okafor Red Prizm because I thought that was one of the better pulls of the box as he was a top rookie last season, but the ones I saw didn't even sell for 5 bucks. The jersey card was of Steph Curry and I like the design, but it's the dreaded plain white swatch..borrrrrring lol. Although Josh Richardson is intriguing, he's not even close enough to save this break. Not gonna sugar coat it...awful break, but the cards look fantastic. I least they feel premium. A few pics from the break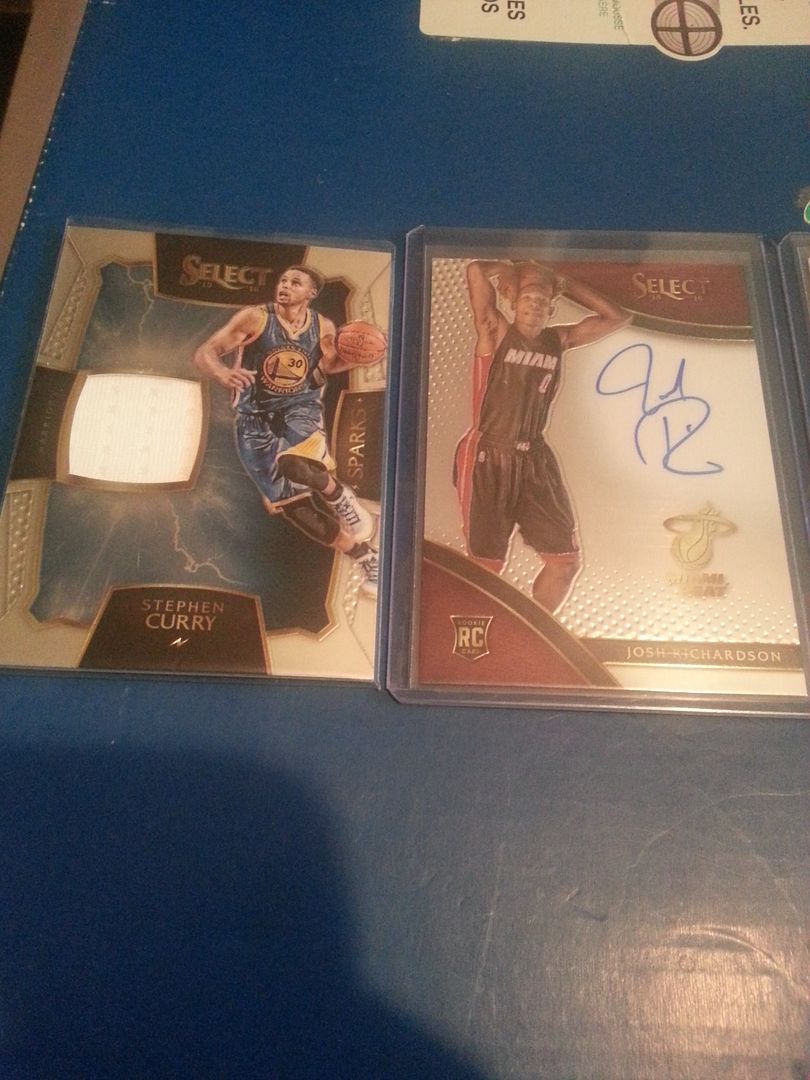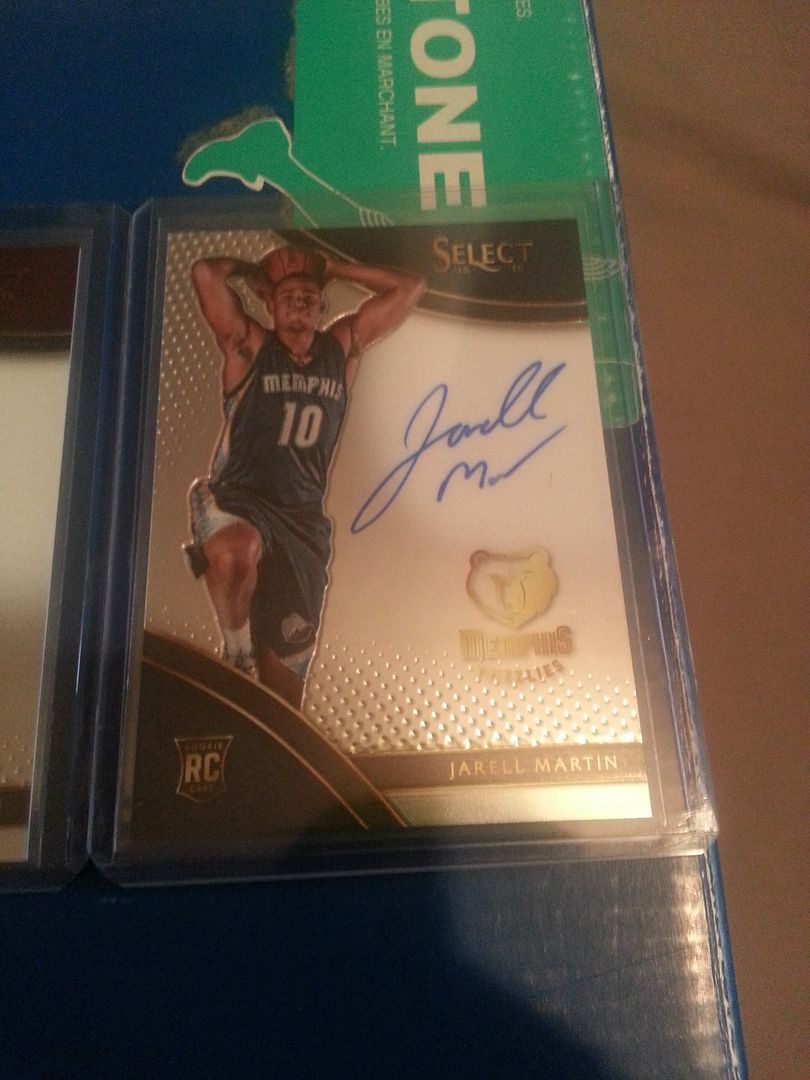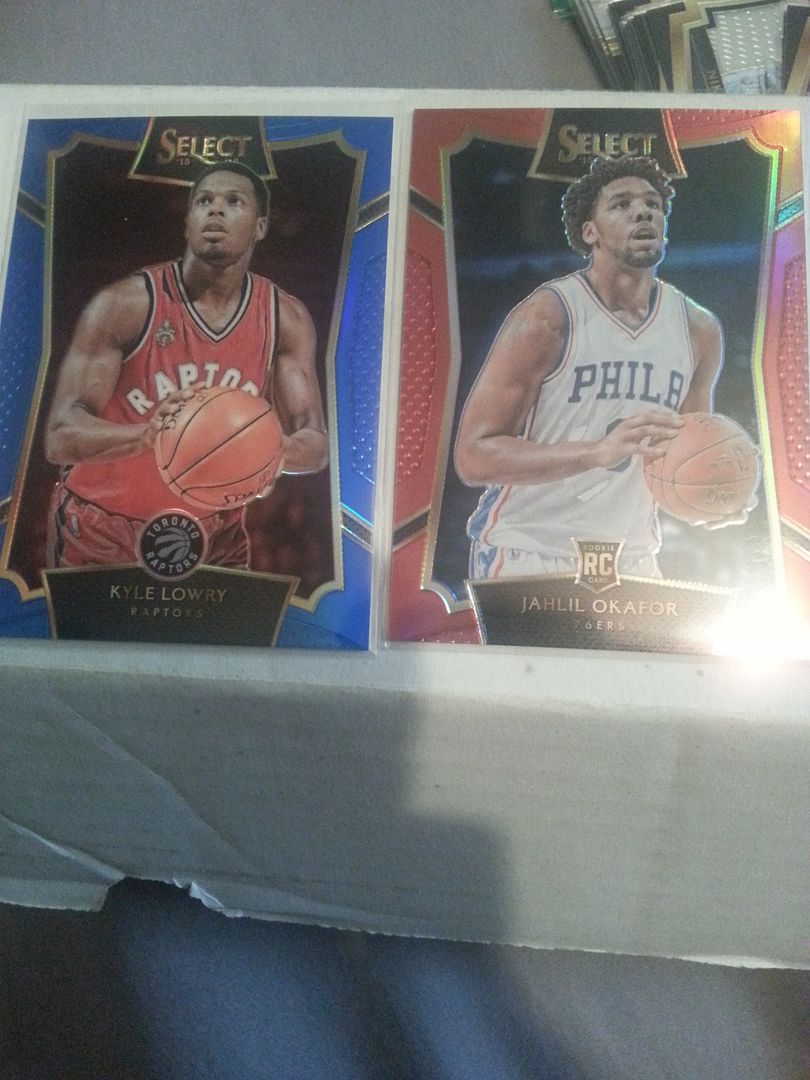 So now onto the riskier of the products. Gold Standard. 1 pack, 7 cards, 3 of them hits. I'm really going to need to hit a home run (a baseball analogy for basketball cards, go figure lol) on this box to save the break. How did I do? Well let's see....
Gold Standard
Base Cards
Brandon Knight (37/299)
Allen Iverson (95/299)
Hassan Whiteside (56/299)
AU Parallel
Paul Pierce (#51/79)
STEPH CURRY/KLAY THOMPSON GOLDEN PAIRS DUAL PATCH #12/25
(CURRY HAS A SWEET LOGO PATCH!!)
Myles Turner Patch On Card Auto RC #11/25!!
KRISTAPS PORZINGIS GOLD STRIKE AUTO/JERSEY #56/99!!!
Overall Thoughts: Oh I didn't just hit a home run...I hit a GRAND SLAM!! Gold Standard totally saved the day with all 3 hits being amazing! I was surpried how well the Turner sells, and as you'll see below, the Curry/Klay is STUNNING. To top it off a Porzingis Auto Jersey!! Even getting an Allen Iverson base and Paul Pierce parallel was cool. I have to say, put aside the hits, I love the look of Gold Standard! The cards are gorgeous and the hits are even better looking. I'm the type that quits while ahead so while I'm not gonna chance buying another box of this (I've seen quite a few box breaks, some of them are brutal, lol) I definitely wouldn't mind buying singles of this product off Ebay. Here are pics of the hits!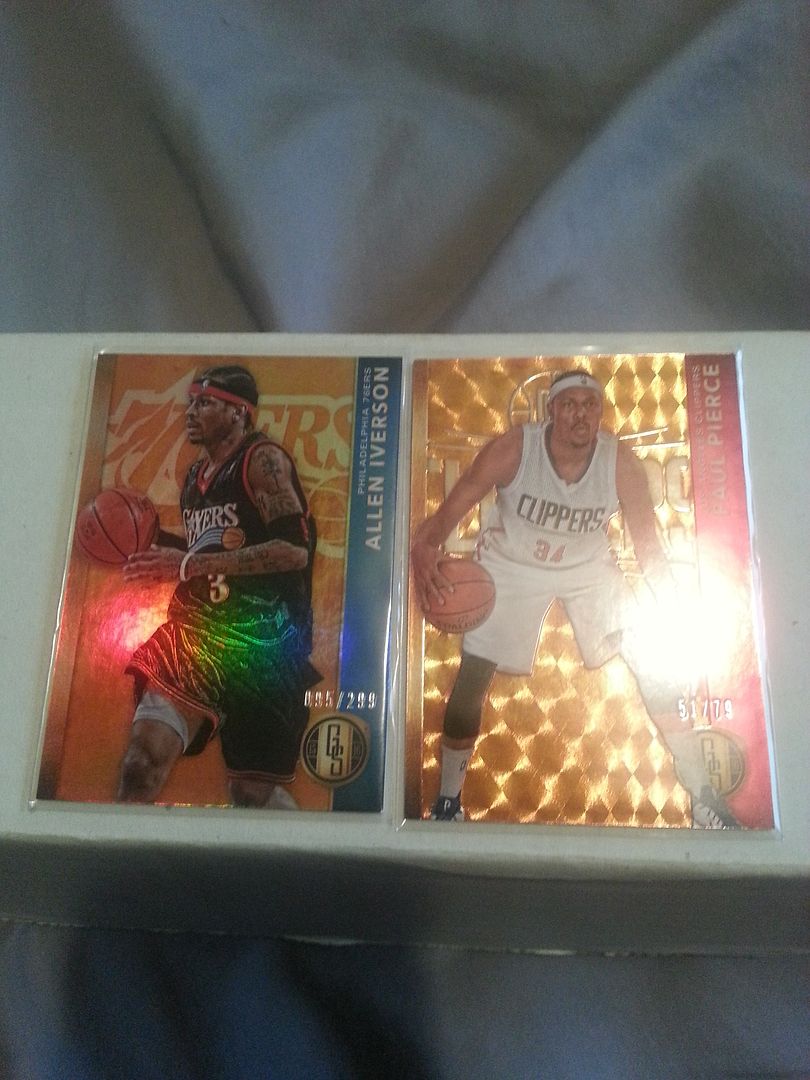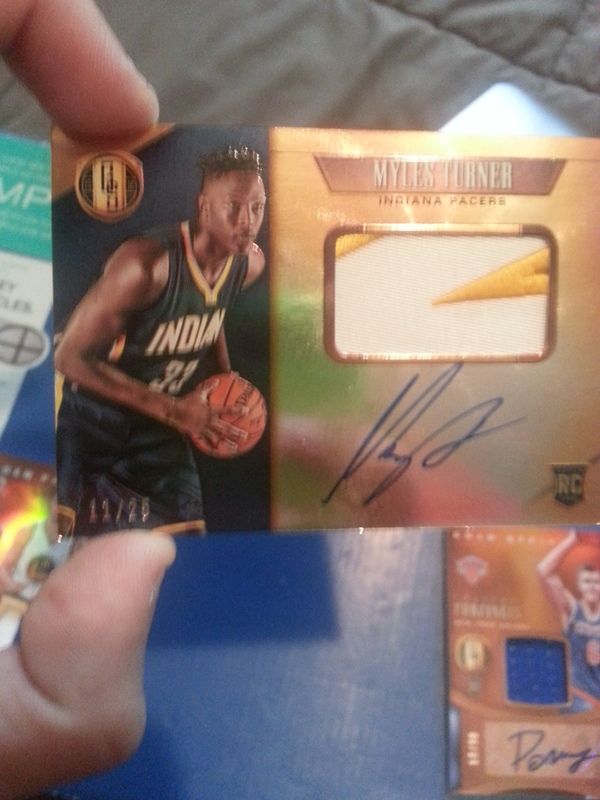 Overall Break Thoughts: The streak continues with a lousy break followed by a great break! The Gold Standard break was truly amazing. Any one of those 3 cards could anchor the break as the best card, so to hit on all 3 was such a cool feeling. That Curry/Klay Dual is so awesome looking. The patches and design just really stand out. There's definitely some changes right off the bat on my top 5 pulls list!
I broke 2 boxes of WWE product and 3 Boxes of Topps Stadium Club last week, so tomorrow I'll be posting the review of that!
Top 5 Pulls of 2016
#1-Stephen Curry/Klay Thompson Golden Pairs Dual Patch
#2-Karl Anthony Towns Rookie Rampage Autograph Jersey
#3-Kristaps Porzingis Gold Strike Auto/Jersey Rookie Card
#4-Myles Turner On Card Patch/Auto Rookie Card
#5-LeBron James Memorable Materials Jersey Card