Emmitt Smith, Anfernee Hardaway, and Ken Griffey Jr. Those were the 3 guys I considered my "heroes" growing up. I was very fortunate to see Emmitt get inducted to the Hall of Fame in 2010 (along with Jerry Rice) and it was one of the best sports experiences of my life. Today, Griffey gets inducted to the Baseball Hall of Fame (man I feel so damn old) and it's an honor well deserved. I'm so glad that he's never been linked to PED's like his modern counterparts and despite a few injury plagued season he STILL managed to put up amazing numbers. I've seen many tributes, but here's my personal tribute of "The Kid" as I highlight a few of my favorite cards/collectibles of Ken Griffey Jr.
1997 Ken Griffey Jr Starting Lineup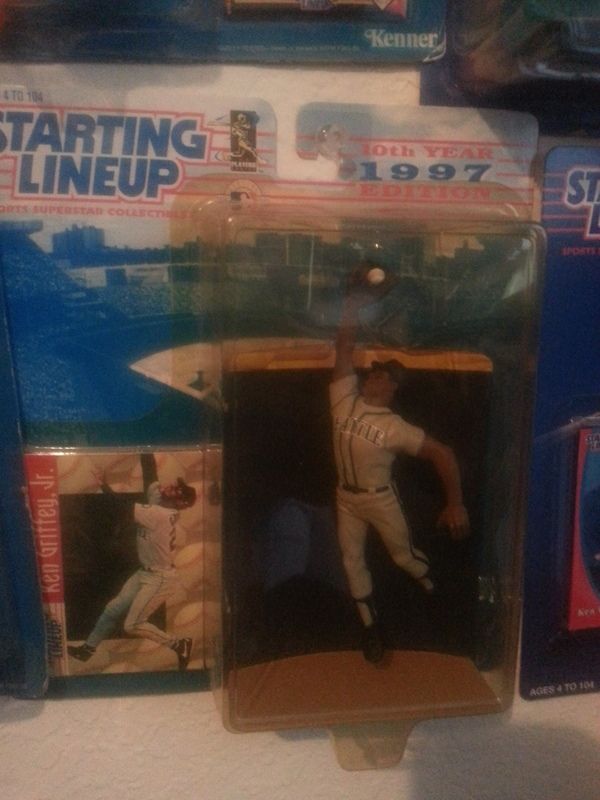 I have 12 different Griffey SLU's but this is by far my favorite. I absolutely LOVE the "robbing the HR" Pose, plus the fact that I actually found it at our local Wal Mart makes it extra sweet.
2009 McFarlane Sports Picks Ken Griffey Jr Mariners Clark Toys Exclusive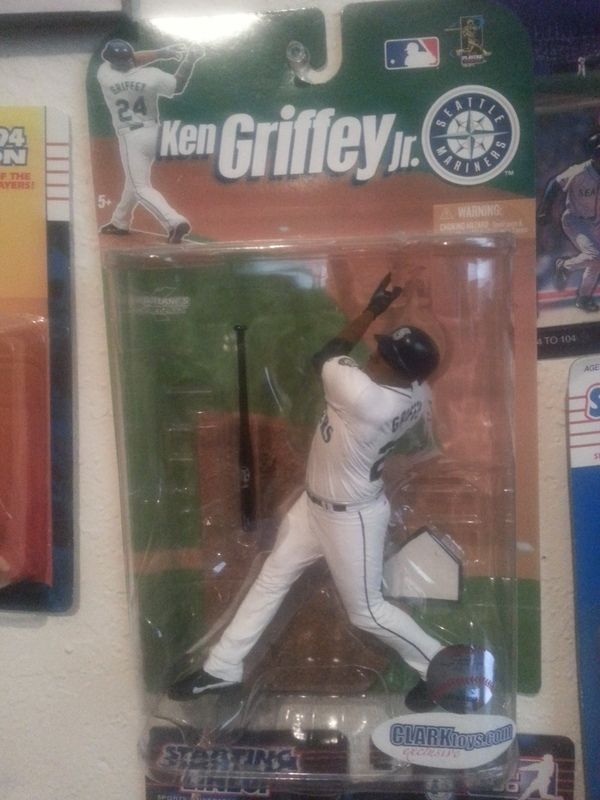 It's the only non Cowboys McFarlane figure I kept in my collection. Classic Griffey
2010 Ken Griffey Jr. "The Kid" Bobblehead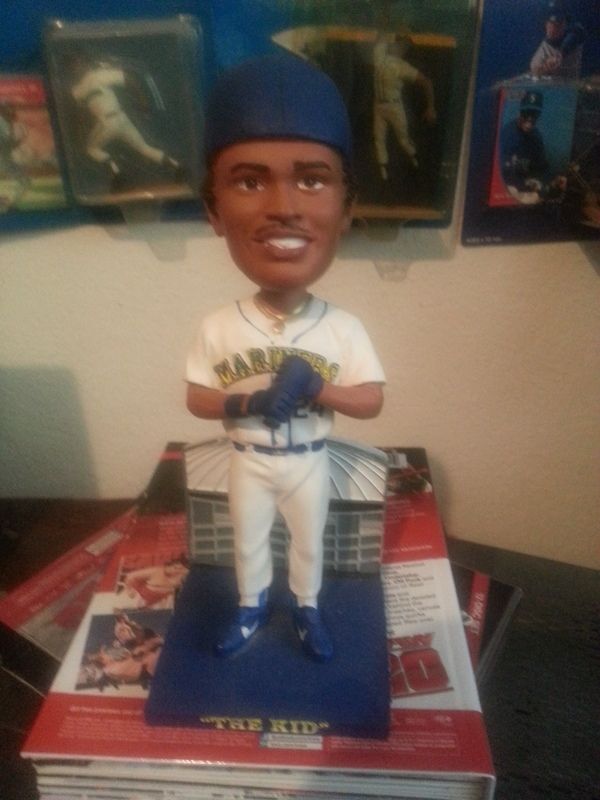 This was one of the Bobblehead giveaways during the 2010 season. They were given away April 16th, 2010. Unfortunately the bat broke off and I lost it, but it's not like I intend to sell it anyway. It's the only Bobblehead I own in my collection.
So now the card portion of the tribute. I picked out a few Griffey's that have extra special meaning to me because of the story or impact they have on my collection.
2001 SPX Update Winning Materials Trios Griffey/Sosa/Arod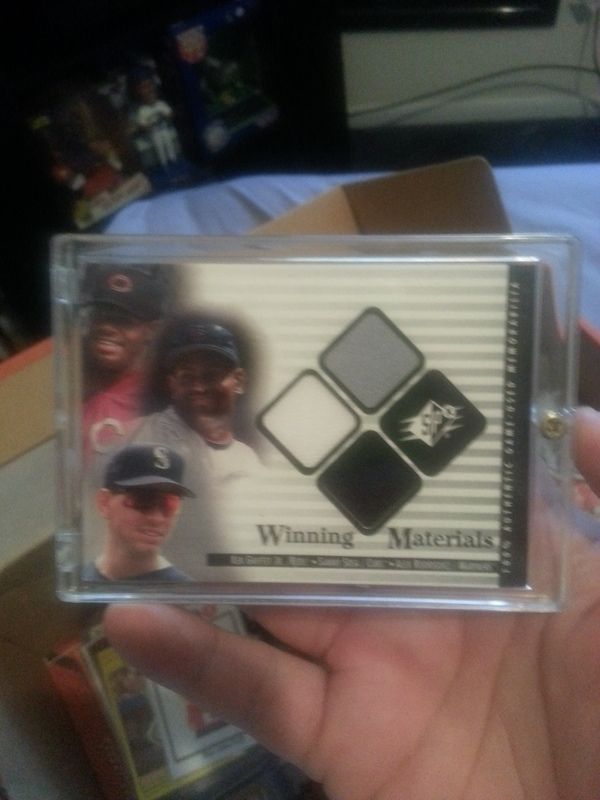 When I saw this card was made...I HAD TO HAVE IT. Remember the time frame, game used jersey cards (even ones with boring one color swatches) were still relatively hard to find. Also, this was before any the steriod stuff came out and destroyed ARod and Sosa's popularity. At the time, it was a card that featured game used jersey swatches of 3 future hall of famers all on the same card! It was a dream card for me! I remember buying it off Ebay for $75.00 (2nd most I had ever spent on a single card at the time, behind the Grant Hill Jersey Card I had bought earlier that year) from a seller from Canada that only had 10 feedback. I was a little worried (didn't have paypal back then) and waited for sooo long for the card to come in. Lo and behold though it did and it was STUNNING. I couldn't believe I owned this card. Nowadays, this card is barely worth anything, but will always have special meaning in my collection.
1989 Donruss Ken Griffey Jr Rookie Card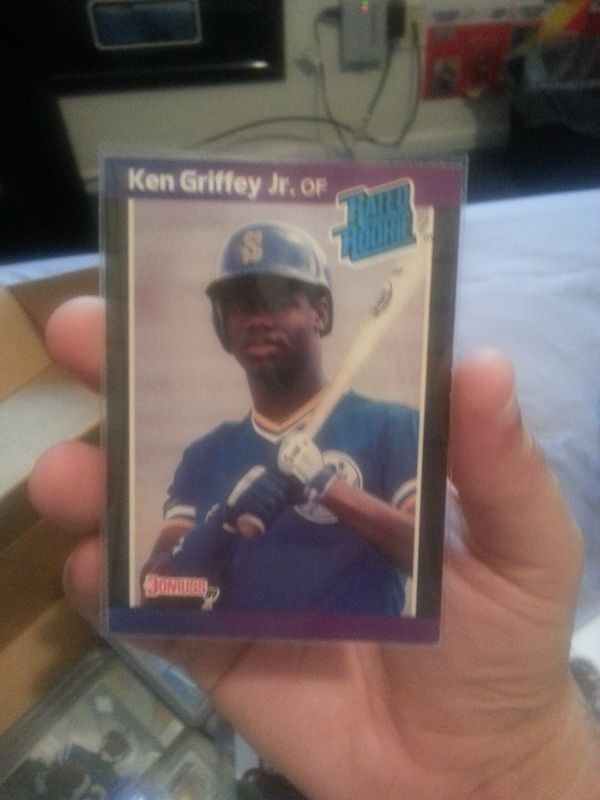 I couldn't afford the UD Griffey as a kid, so I had to settle for this one for the longest time. I paid 2 bucks for it a card show when I was a kid and I still have it. My first ever Griffey Rookie.
2003 Upper Deck Signed Game Jerseys Ken Griffey Jr
Not only does it show off Griffey's sweet sig (one of the greatest signatures ever) but the story behind it makes it a favorite. This was originally a redemption card, and I pulled it from two packs of 2003 Upper Deck. What makes it even more special, was I pulled it on my birthday as there was a card show that day. It was hard to wait, but when I got it in, it was well worth the wait. Best Redemption card I've ever pulled.
1989 Ken Griffey Jr Upper Deck Rookie Card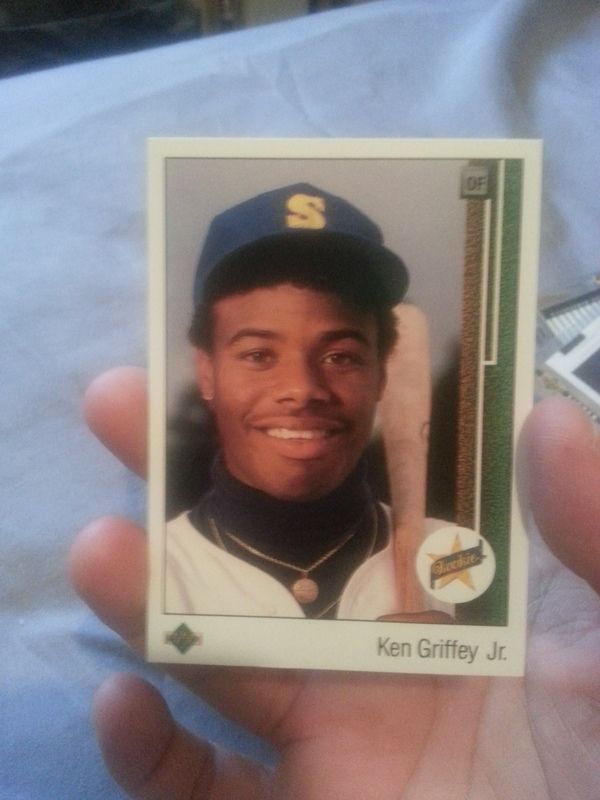 I mean...every collection has to have one right? There's really not a lot to say about this card. It speaks for itself. I bought this as a card show in Corpus and though I overpaid, it didn't matter...I owned one of the most iconic baseball cards of our time.
1997 Metal Universe Titanium Ken Griffey Jr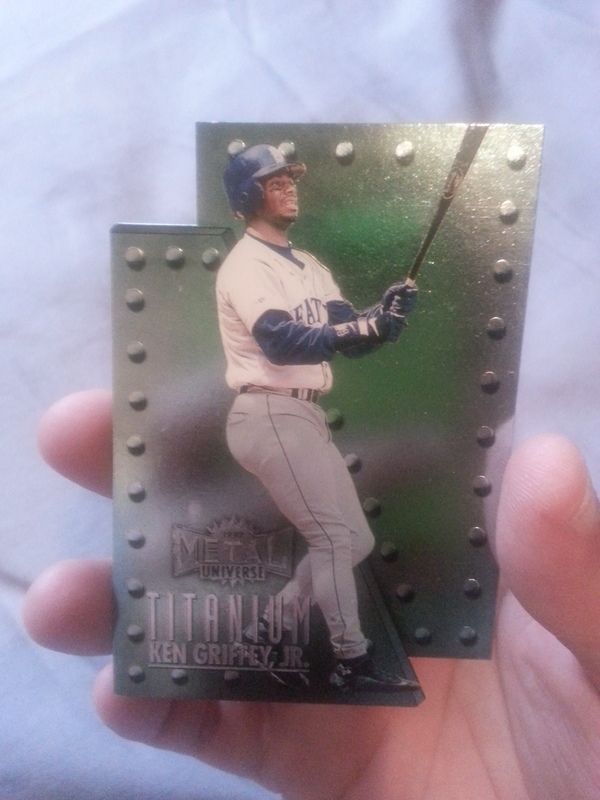 Oh man..the 90's had some AWESOME looking inserts and this was tops on my list. My friend actually pulled it from a Metal Universe pack, but he traded it to me (god knows for what, lol). I don't care what it's worth, it's such a cool unique designs. I wish cards like THIS would comeback today.
98 Circa Quick Strike Ken Griffey Jr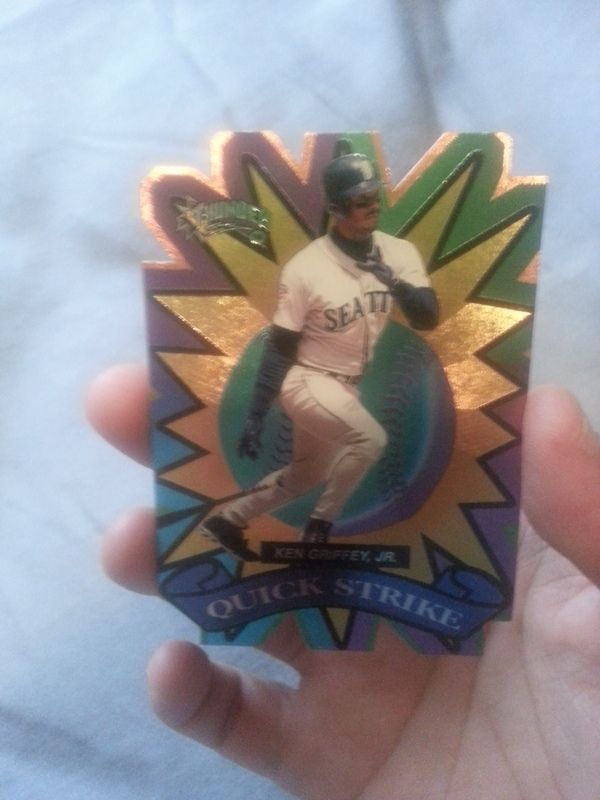 I bought this at a card show when I was a kid and it's one of my favorite Griffey inserts ever. The die cut, the bright colors, it's such a cool looking card. Again, the 90's were so awesome when it came to innovation.
1994 Pacific Prisms Ken Griffey Jr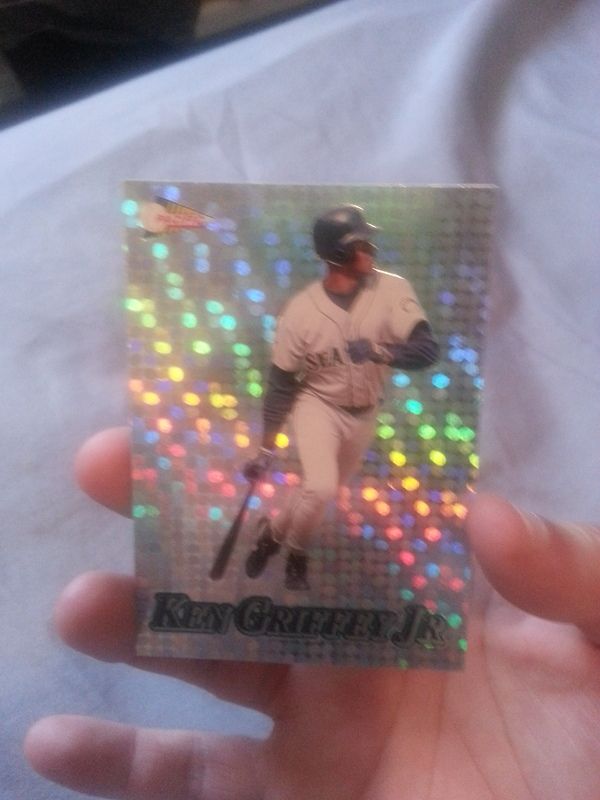 So this has a funny story with a happy ending. During Christmas season, Wal Mart had these Candy Canes stuffed with cards and packs of cards. Each Candy Canes had one of these Prism inserts. One of my friends at the time was a giant asshole who really didn't collect but found out I wanted them so he bought the Griffey and a couple that had Frank Thomas(lol, we were 10). Even though he had doubles of the Thomas, he was notorious for not trading. It was such a jerk move. Luckily, they weren't THAT hard to find, and I don't remember if it was at our Wal Mart or another one, my parents found them both and I got them for Christmas. I'll never forget the look on his face when I told him I got them for Christmas, priceless.
1995 Fleer Ultra Diamond Producers Ken Griffey Jr.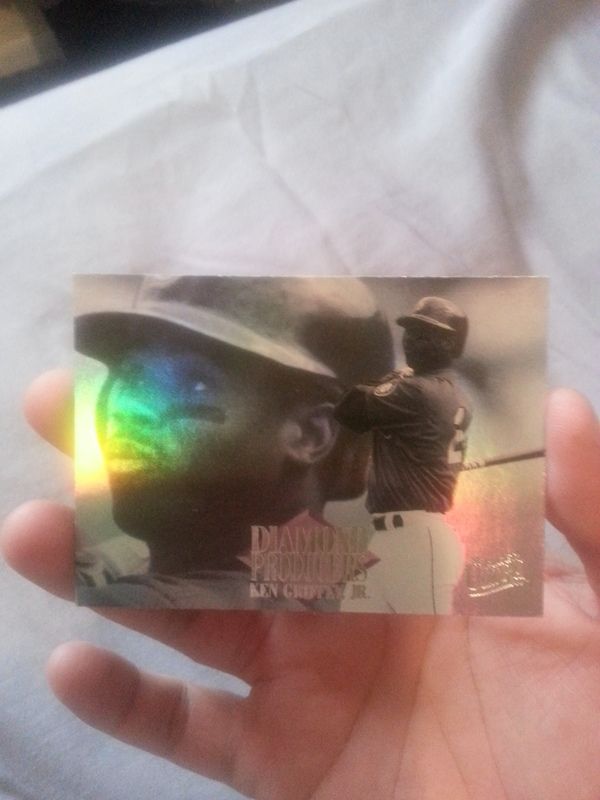 It's not that rare but man...it's such a standout card. I pulled this myself. Love the look of it. So simple and yet so powerful. Amazing card
1997 Upper Deck Collector's Choice Clearly Dominant Ken Griffey Jr
How can a low level Collector's Choice card be considered a favorite? Why the story behind it of course. I'll never forget pulling this card in the back of our car during a trip to San Antonio to look for Starting Lineup figures. I bought a pack at Wal Mart and as we driving to the next Wal Mart/Target/Toys R US etc...I ripped it open and pulled this. Even though it's low level, it wasn't an easy pull. 1:144 packs. It always brings me back to the good ol of days of ripping packs and hunting for SLU's.
So those are beyond cool, but I'm lucky to own a couple of items that the cornerstone of my little Griffey collection. It's beyond awesome to own these pieces of memorabilia. Here are my two favorite Griffey items in my entire collection
1994 Ken Griffey Jr Autograph Game Used Cap
It's one thing to own swatches of Game Used Griffey Memorabilia, but to own entire pieces? This is a cap Griffey wore in the 1994 season that he also autographed. It comes with a COA from his marketing and memorabilia company Unique Sports. This is one cap that will never touch my head!
1999 Ken Griffey Jr Seattle Mariners Autographed Game Used Bat
My favorite bat of my entire collection (even better than my Hank Aaron and Jeter in my opinion) This is an actual bat that Ken Griffey Jr. Used in the 1999 season. It's also autographed and is authenticated by both PSA/DNA (8 for game use) and Unique Sports, Griffey's memorabilia company that he used at the time. Such an amazing piece of history. It has Griffey's classic criss cross tape pattern, it's also got a crack in it. It's beyond awesome to own a couple of items used by one of your heroes. These items will stay in my collection forever.
Today is such a special day and if anyone deserves all the respect and accolades they are getting today it's Ken Griffey Jr. He's taking his rightful place among the greats.