The thrill of the pull is what make this hobby fun. I think part of the reason I got burned out and bored is because towards the latter stages of collecting I totally abandoned buying boxes. I strictly bought singles off EBay. While of course that makes the most since financially, it also takes the fun out of the unpredictability of ripping boxes! Yes, 9 times out of 10 you won't get near what you pay for the box, but that 10th time...sometimes is a doozy!! So I decided the first purchase I was going to make for my comeback was some good ol' fashioned wax boxes. I went with Prizm Jumbo's because I love refractor type cards and Prizm is the closest thing to refractors in Basketball and Excaliber because...well I honestly don't know why to tell you the truth! Haha! So here are the results!
Prism
Box 1
Autos-Sam Dekker, Cody Zeller
Orange Prizm- Chris Paul All NBA (#55/65)
Purple Prizm-Gerald Green (#09/99)
Light Blue Prizms- Richard Hamilton (#124/199), Trey Burke (#135/199), Marcin Gortat (#61/199)
Silver Prizms- DeMarcus Cousins All Star, Richaun Holmes RC, Elfrid Payton, Derrick Favors, Shaun Livingston, Andre Iguodala, Rudy Gobert, Marcus Morris, Dante Exum, Mike Dunleavy
Flash Prizms- LaMarcus Aldridge, Al Horford, Jeff Teague All Star, Richaun Holmes RC, Jason Terry
Ruby Wave Prizms-Tyler Zeller (#167/350) Zach Randolph (#145/350) Andrew Harrison RC (#235/350)
Emergent- Rondae Hollis-Jefferson, Nemanja Bjelica, DeAngelo Russell, Justin Anderson
Fireworks-Russell Westbrook, Dwyane Wade, Chris Paul, Carmelo Anthony
USA Basketball-Klay Thompson, Andre Iguodala
Point Men- Damon Stoudamire, John Stockton
Box 2
Autos-Al-Farourq Aminu, Joe Dumars
Fireworks-Manu Ginobili, Stephen Curry, Kevin Love, Kyrie Irving
USA Basketball- Anthony Davis, Andre Drummond
Point Men- Derrick Rose, Magic Johnson
Ruby Wave Prizms- Jordan Hill (#21/350) Mario Hezonja RC (53/350) Brandon Jennings (265/350)
Flash Prizms-Shawn Kemp, Clyde Drexler, Michael Finley, Raul Neto RC
Silver Prizms- Justin Anderson, Joakim Noah, Trey Burke, Markel Brown, Tyler Zeller, Thomas Robinson, O.J. Mayo, DeAndre Jordan All NBA, Evan Turner, Chris Kaman
Emergent- Walter Tavares, Sam Dekker, Kevon Looney, Frank Kaminsky
Light Blue Prizms- Dirk Nowitzki (177/199) Tim Duncan All Star (#181/199) Evan Turner (#72/199) Dikembe Mutombo (#109/199)
Orange Prizm- Lou Williams (10/65)
Overall Thoughts:
This was definitely a fun way to get back into the thick of things. I had a great time sorting through all the cards and getting all tons of different colored Prizm. They don't book for much, but are cool looking nonetheless. The autographs besides the Joe Dumars were pretty lame but an overall fun break that I really enjoyed!
Some scans of the Cards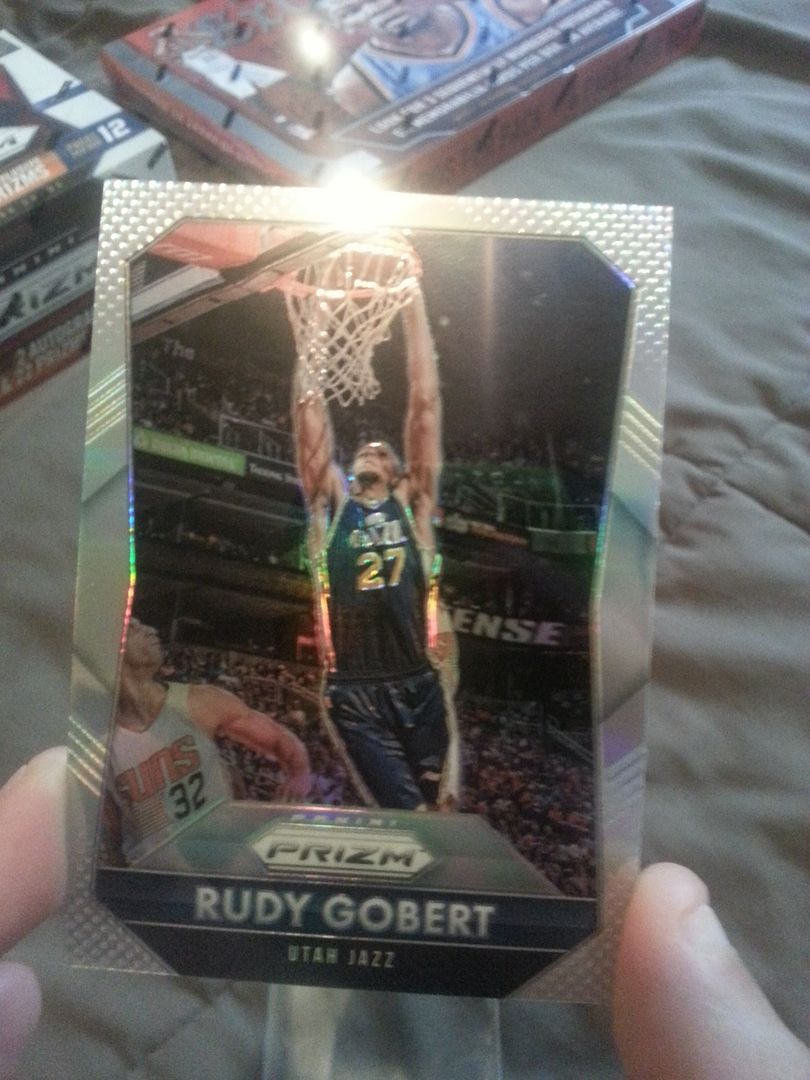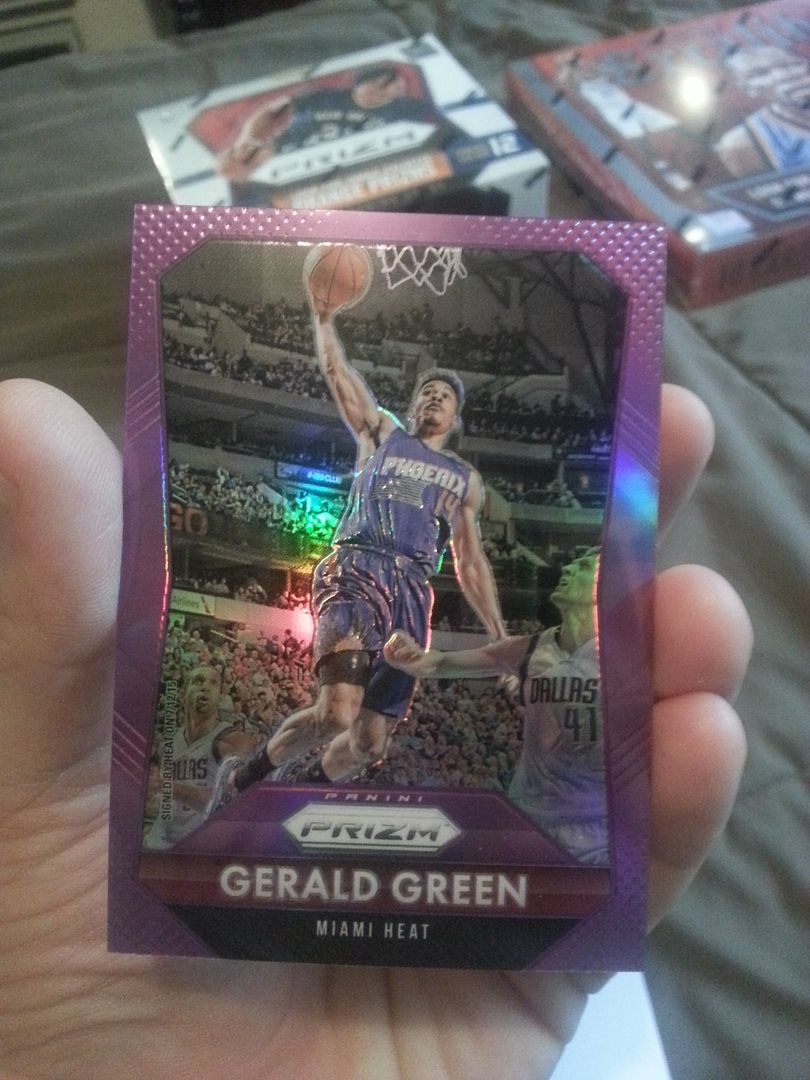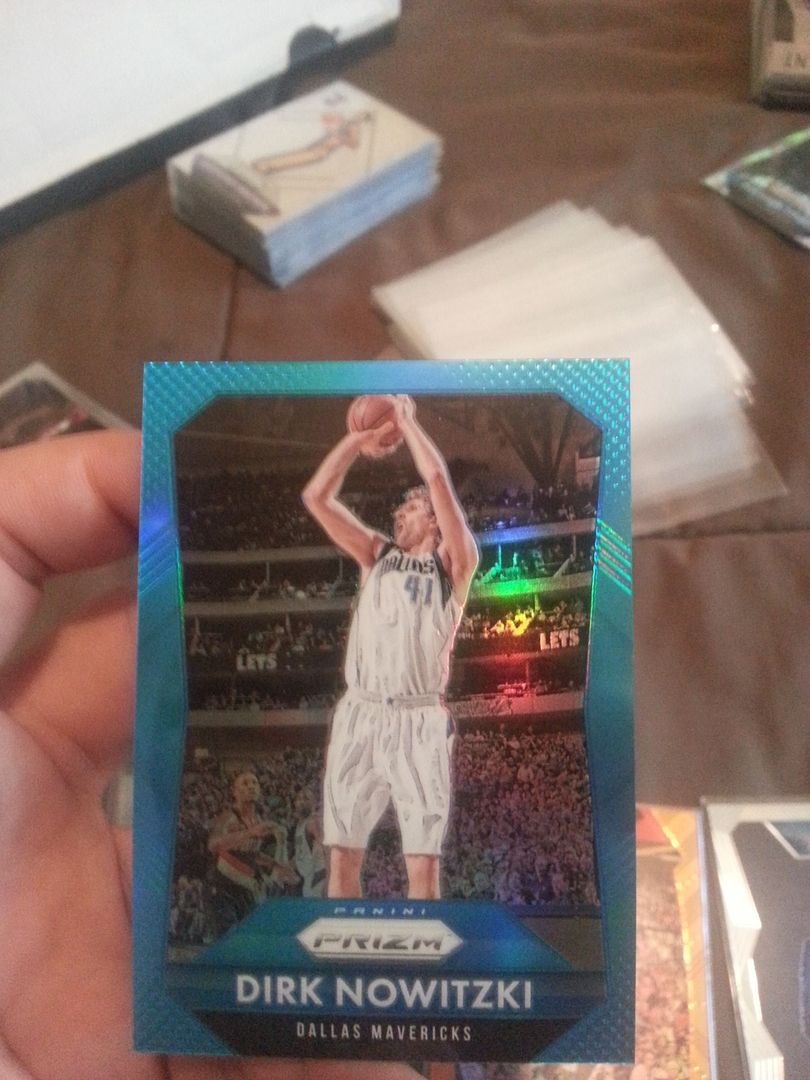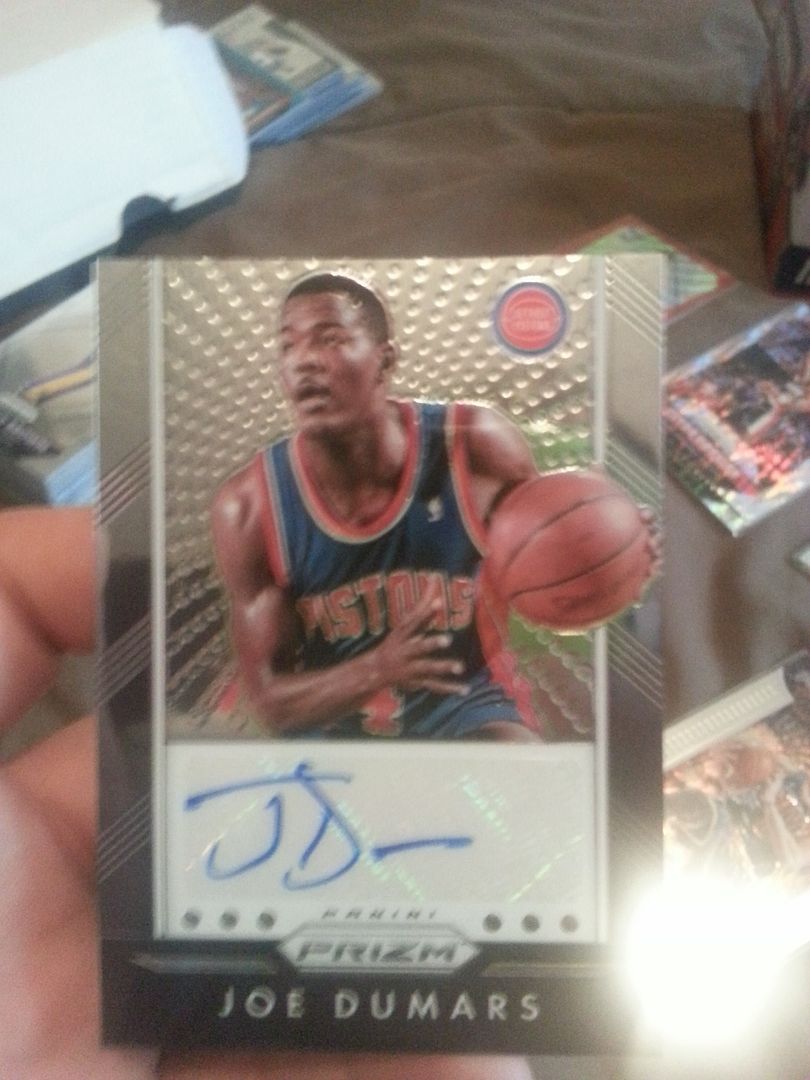 Onto the Excaliber box. So the Excaliber box comes with 6 packs, 10 cards per pack and 3 hits. Little bit more risky than the Prizm product, but the price point was still decent so I took a shot and hoped for the best. Here are the hits
Excalibur
Silver Parallel-Paul George (#1/70) Willie Cauley Stein (# to 70)
Jam Fest-KAT, DeAndre Jordan
Team 20/20-Justice Winslow, Nikola Jokic, Willie Cauley Stein
Team Titans-Manu Ginobli, Anthony Davis
Crusade-Karl Malone (#141/199) Mario Hezonja (#57/199) Jordan Clarkson (#42/199)
Memorable Memorabilia- Reggie Jackson, LeBron James
Rookie Rampage Autograph Jersey-KARL ANTHONY TOWNS!!!
Overall Thoughts: And this is why I'm back. I was SUPER excited right off the bat to pull an autograph rookie card of the reigning rookie of the year! What a great way to restart collecting. I know jersey cards aren't worth much, but hey if you're going to get one might as well be of King James! The Crusade insert cards are beautiful as well. Not a fan of the base too much, nor the other inserts they seem too bland. I like the product, but bias about the KAT pull aside, I'm never going to buy another box as the cards didn't really wow me much.
Pics of the top two hits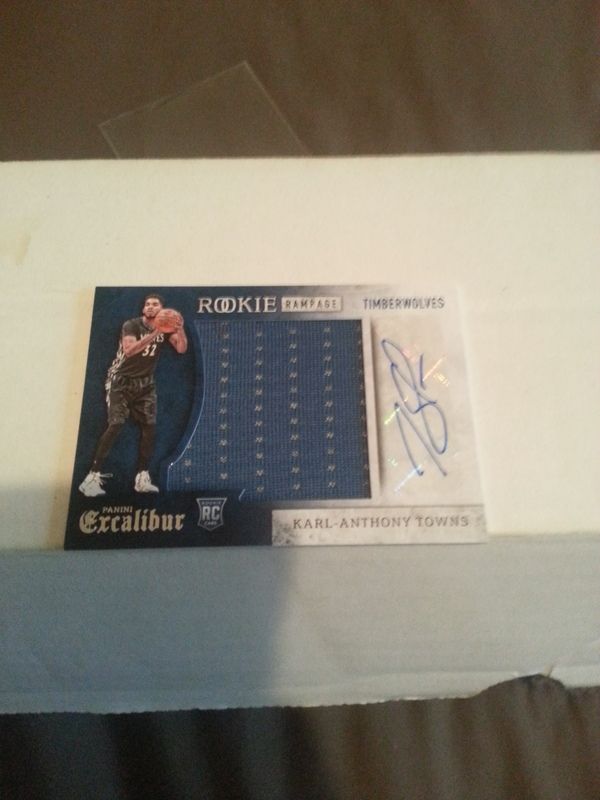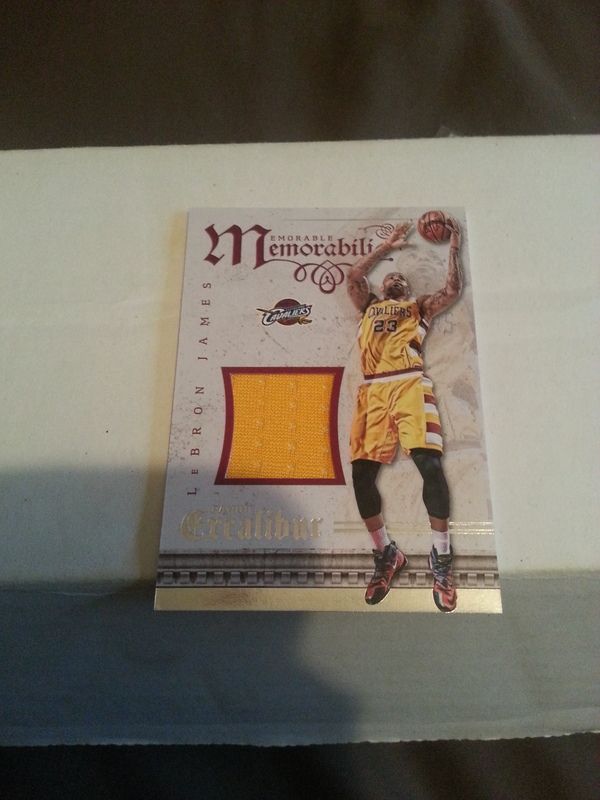 So how was the break as a whole. Very fun! The suspense of opening packs and the thrill of pulling something like the Karl Anthony Towns Rookie is what card collecting is all about! One thing I'd like to do after each box break I do, is keep track of my Top 5 Pulls and keep it as a running thing. So without further ado the very first Top 5 Pulls.
#1-Karl Anthony Towns Rookie Rampage Autograph Jersey
#2-LeBron James Memorable Materials Jersey Card
#3-Joe Dumars Prizm Autographs
#4-Reggie Jackson Memorable Materials Jersey Card
#5-Chris Paul Orange All Star Prizm (#55/65)
Next Review will be my 2 box break of Select and Gold Standard Basketball!