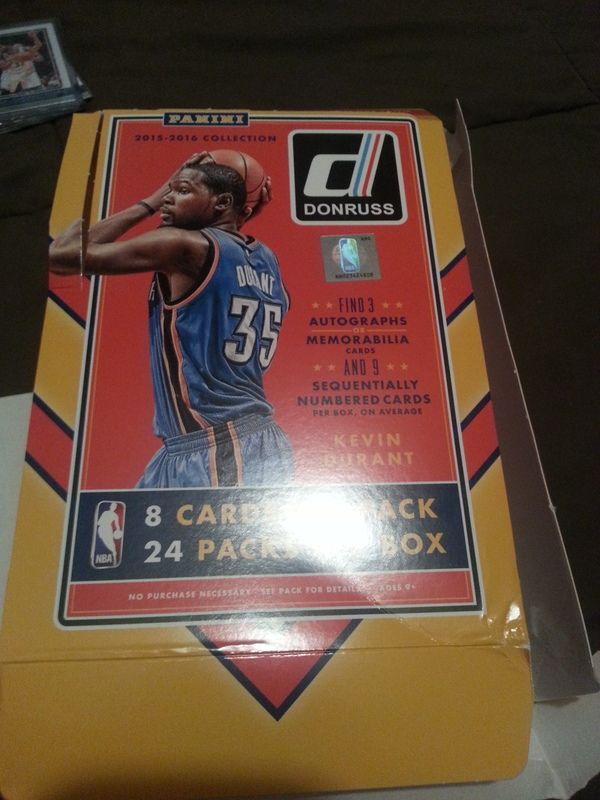 So Hoops was rather underwhelming, so now it's Donruss again but this time the 15-16 version. I had a blast opening up the previous year's version so I figured this would be no different. Again, 3 hits, and tons of inserts and my main goal is to pull the base rookies of Karl Anthony Towns and Porzingis. So here we go!
Rookies
Karl Anthony Towns
Kristaps Porzingis
Joe Young
T.J. McConnell
D'Angelo Russell
Devin Booker
Jonathon Simmons
Cameron Payne
Tyus Jones
Marcelo Huertas
Kevon Looney
Josh Huestis

Elite Series
Lebron James
Isiah Thomas
David Robinson
Russell Westbrook
Pete Maravich
Kyrie Irving

Elite Extra Edition
Lebron James
Klay Thompson
DeMar DeRozan
Kenneth Faried
Chris Paul
Dwight Howard

Elite Franchise Futures
Kelly Oubre Jr.
Myles Turner
Devin Booker

Scoring Kings
Stephen Curry
Hakeem Olajuwon
Chris Webber

Rebounding Kings
Larry Bird
Wes Unseld
Shaquille O'Neal

Passing Kings
Jerry West
Tony Parker
Deron Williams

A Die Cut Parallel of Tiago Splitter (#42/89)

Stat Line Parallel
Gorgui Dieng (#52/83)
Reggie Jackson (#40/145)

Elite Dominator
Oscar Robertson (#496/999)
Magic Johnson (#151/999)
Anthony Davis (#174/999)
Myles Turner (#291/999)
Frank Kaminsky (#260/999)

Press Proof Gold
Evan Turner (#10/10)

Swatch Kings Jerseys
Darren Collison (#061/149)
Bojan Bogdanovic (#136/149)
Timeless Treasures Auto/Jersey
KRISTAPS PORZINGIS #26/75!!
Overall Thoughts: Again...VERY fun to open and it certainly didn't hurt that for the 3rd time in my breaks I've pulled a Kristaps Porzingis Rookie Auto! I actually was putting aside the packs with the hits (it was easy to tell after opening the packs which packs had the hits) so I left the 3 packs with hits last. The first two hits were the Jerseys of Darren Collison and Bojan Bogdanovic (I know it's low end...but really? These guys get relic inserts in 2015-16 products?) and last but not least was the Porzingis! I really like the Elite Dominator insert was more plentiful than last year's version (I only pulled Chris Paul last year, this year I pulled 5 including Magic, The Big O, and Anthony Davis). I got my KAT and Porzingis rookies as well, which made me happy. Even got a Press Proof gold of Evan Turner # to 10. A couple Lebron inserts here and there and overall both Donruss products were way more fun to open than the Hoops as far as low end goes (and I'm not just saying that bc of the Porzingis, I didn't really pull anything great in the 14-15 box, they were both still more fun to me). So the Porzingis would've been a Top 5 hit had I not posted the Tribute break first but since the competition is pretty tough now, it's not going to knockoff my KAT auto jersey pull. Once again Donruss delivered the goods and at a very good price! Pics of the break time!
Base Rookies of Porzingis and KAT! I know I can just buy them, but when you buy a box why not pull them yourself?
The Splitter die cut parallel along with Stat Line Parallels of Gorgui Dieng and Reggie Jackson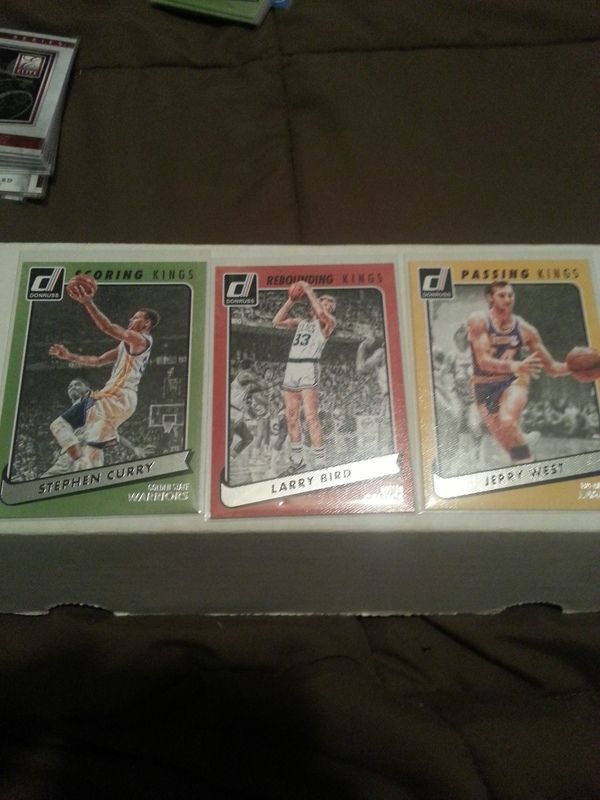 A look at the Scoring, Passing, Rebounding Kings Inserts. Not a bad trio!
Press Proof Gold of Evan Turner #10/10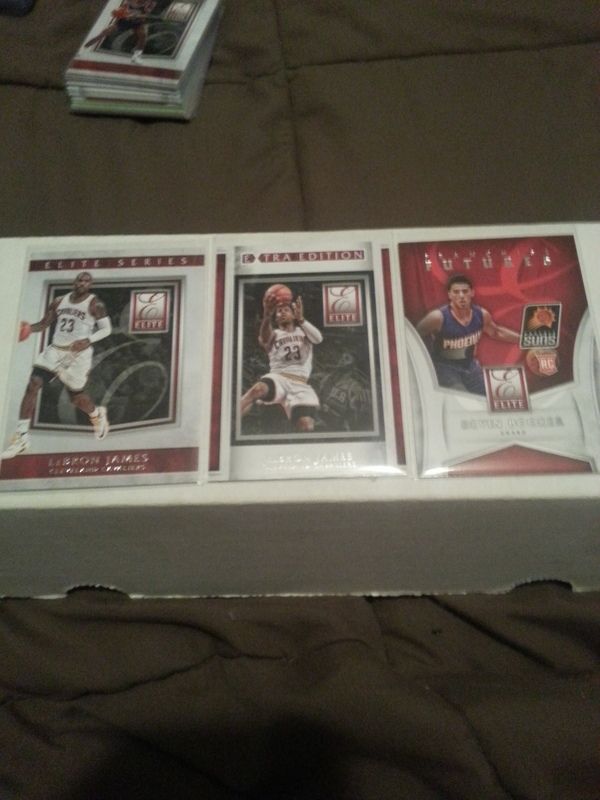 The Elite Inserts. Elite, Extra Edition, and Futures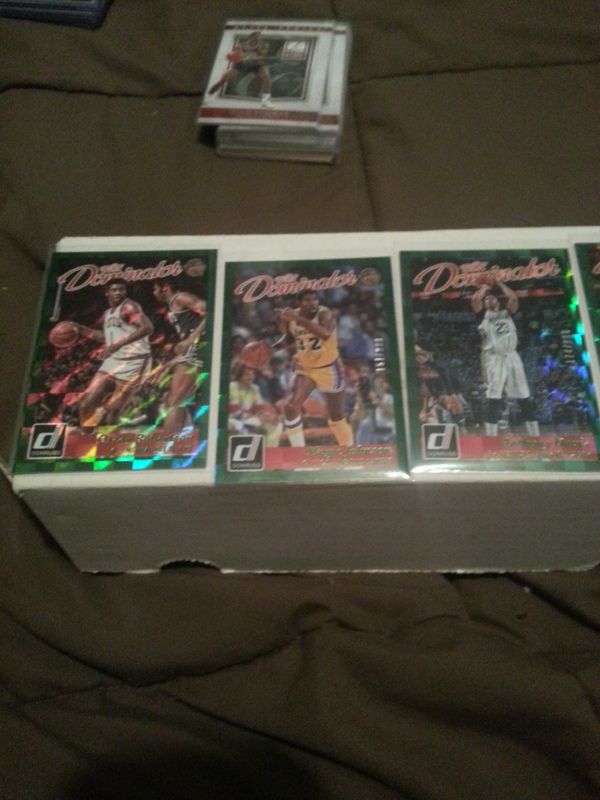 Probably my favorite insert set of the Donruss Series. Big O, Magic and Anthony Davis. Not bad!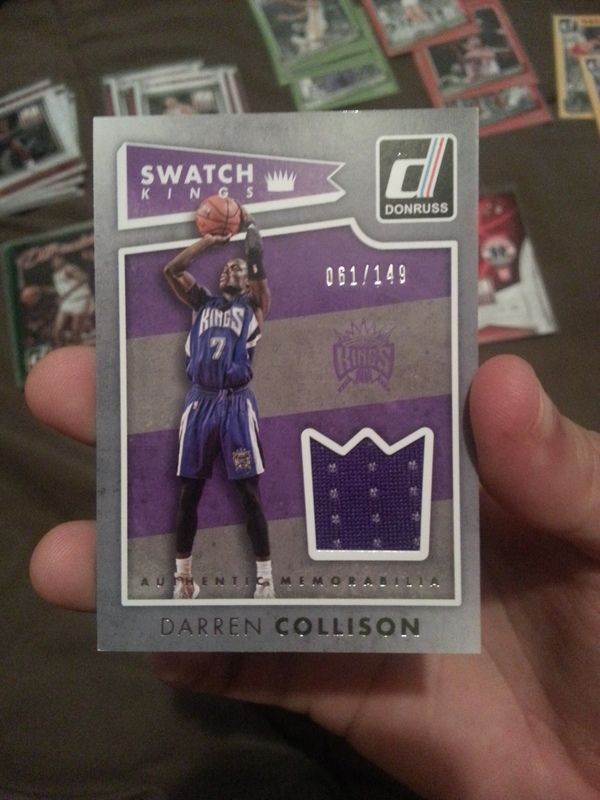 I know it's low end, but Darren Collison?!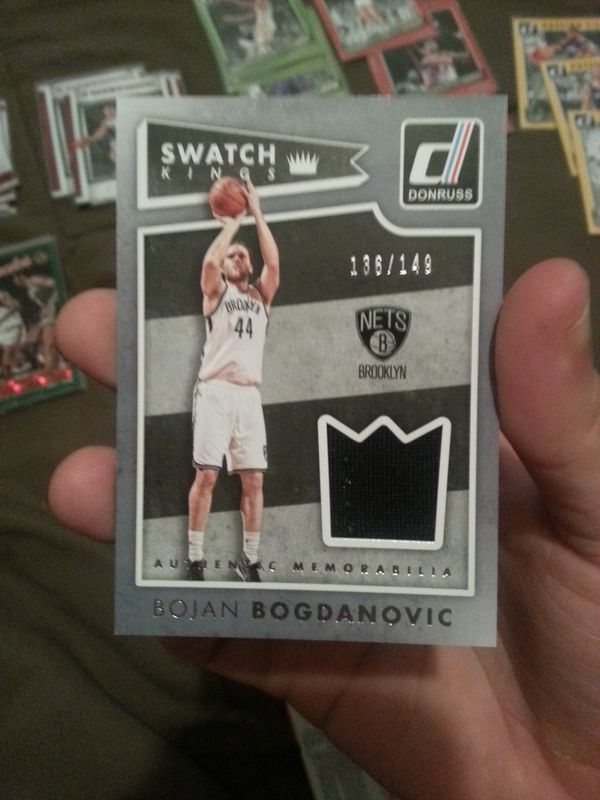 Maybe I shouldn't complain about Darren Collison....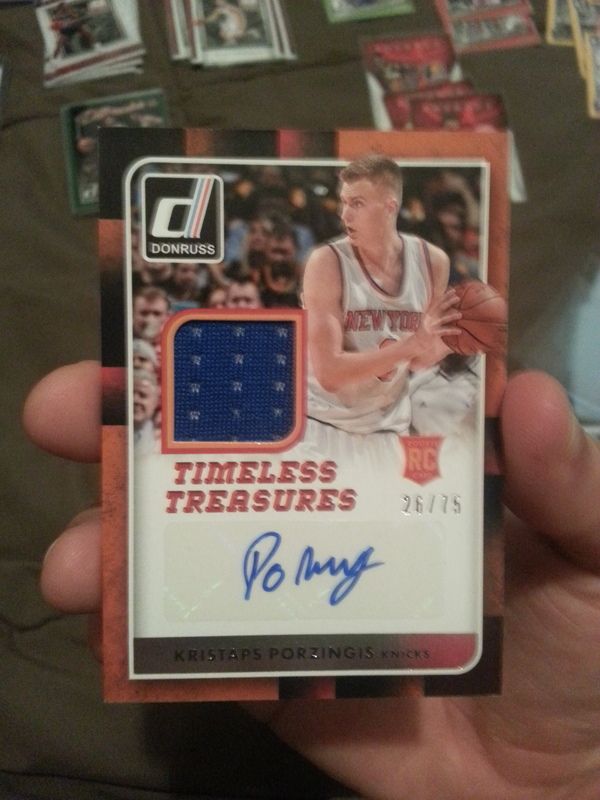 Yup...he's backkkkk! Here's one guy I don't mind haunting my packs!
Top 5 Pulls of 2016
#1- 2016 Topps Tribute Superfractor Autograph Alex Gordon (#1/1)
#2- 2016 Topps Tribute Milestone Relic Game Used Ball Kris Bryant (#5/10)
#3-15-16 Limited Gold Spotlight Dual Signatures Kristaps Porzingis/Jerian Grant (#8/10)
#4-15-16 Gold Standard Stephen Curry/Klay Thompson Golden Pairs Dual Patch (#12/25)
#5-15-16 Excalibur Karl Anthony Towns Rookie Rampage Autograph Jersey