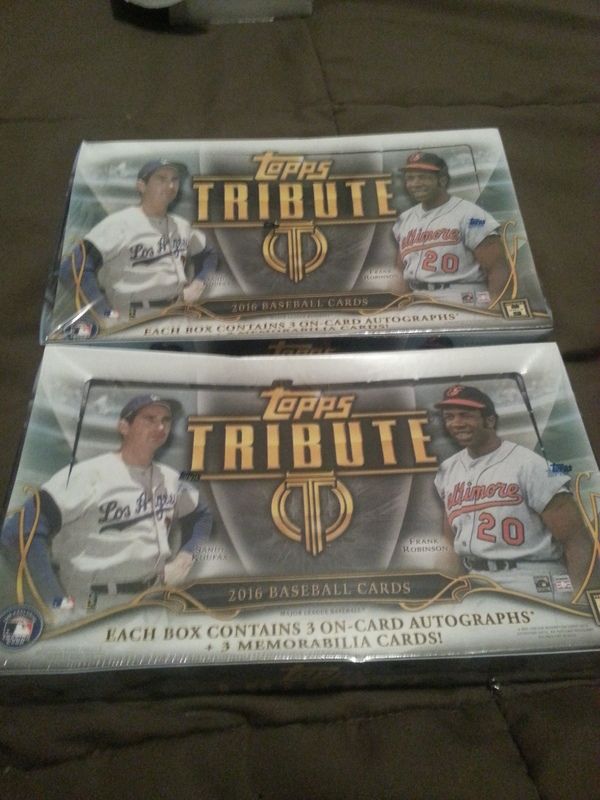 I was going to save this post for last, and go in order of the boxes I broke yesterday but there's no way I could do that!!! Yesterday was sooooo much fun. I literally broke open boxes from 9 A.M. until nearly 2 AM the next morning (I love to take my time obviously, lol). I had 15 boxes (4 Retail Blasters) to mow down and I saved this for my last break and boy never has "Save The Best For Last" had more of a true meaning than this!! So Topps Tribute is a high end offering from Topps that's kinda pricey, which makes it very risky. You get 6 hits, 3 being on card autos, 3 being relics. Obviously you're money is on the on card autos, but there are nice relics to be had as well. The set is gorgeous as you will in the scans, and I decided to bite the bullet and try a couple of boxes. Here are the goods!
Box #1
Green Parallel
Adam Jones (#81/99)


Relics
Kris Bryant (#30/196)

Orange Parallel Patch Relic
Juan Marichal (#1/25)

Stamp Of Approval Relic
Jacoby Ellsbury (#52/199)

Autos Green Parallel
Henry Owens (#51/99)

Autos Blue Parallel
Andruw Jones (#127/150)

Foundation of Greatness Purple Auto
Omar Vizquel (#48/50)

Box #2

Purple Parallel
Rafael Palmeiro (#04/50)

Stamp Of Approval Green
Michael Conforto (84/99)

Stamp Of Approval Jersey
Mike Trout (#87/199)

Blue Parallel Auto
Carlos Delgado (#12/150)

Purple Parallel Auto
Carlton Fisk (#11/75)

and THAN TWO HUGE HITS IN THE SAME BOX!!!

KRIS BRYANT MILESTONE RELIC CARD (#5/10)

annnnnd.....

ALEX GORDON AUTOGRAPHED SUPERFRACTOR 1/1!!!!
Overall Thoughts: WHAT A GREAT ENDING TO A GREAT OVERALL DAY OF BUSTING BOXES!! As you'll see throughout the week as I post my breaks, I did pretty damn good when it came to hits...but this took the cake. First of all the base cards....man they are so slick. I LOVE the look of them. Really high end. Amazing cards, can't say enough about them. So box by box breakdown. Box 1 was pretty good. It's not great per se, but I was happy with the hits. Hitting a Kris Bryant relic is never bad, the auto's were good (only downside being Henry Owens, no clue really who he is) and I love the Stamp of Approval Relic set because it has a hologram on the jersey swatch that you can authenticate on MLB's website to see what exact game the jersey is tied to. I have a Mike Trout Strata Auto/Patch similar to this and like I said before...LOVE this idea and really wish it would be utilized more! Gives you more of a sense of a confidence that you're relic card is legit. I've seen a ton of box breaks online so I knew that if a pack generally had only 2 cards, it meant I hit on a patch card. The Marichal is a beauty! Patch card parallel numbered to 25 of a Hall of Famer? Certainly can't go wrong with that. Overall, Box 1 to me, was a success. I've seen better breaks, but I've also definitely seen worse. Box 2....was...AMAZING!! I pulled two more Stamp of Approval relics and one of them was of Mike Trout! Combined that with auto's of Carlton Fisk and Carlos Delgado and it made for a nice well rounded box. Oh wait...but the other hits..what else (besides a Conforto jersey) made up the break. Again, I knew I had a patch of some sort when one of the packs only had 2 cards in it. I saved it for the end. I also knew but slowly pulling away the card before it, that one of the autographs looked...different to say the least. I decided to also leave that for last. What I ended up pulling....was AMAZING. The "patch" wasn't a patch at all...but it was a Milestone Relic Card of Kris Bryant numbered 5 out of 10!!! These are super tough pulls and the card contains a piece of a baseball used in Kris Bryant's first home run game!! I was beyond floored to pull this and thought this was definitely the hit of the night much less the Tribute boxes. But that last autograph that looked "strange"....what was it?? IT WAS A SUPERFRACTOR 1/1 AUTOGRAPH OF ALEX GORDON!! In the 20+ years I collected before taking a hiatus I'd never pulled a 1/1! The card is AMAZING and it putting an exclamation point on what was no doubt the most fun I've had opening cards since I got back in to the hobby!! Obviously, I love the ripping aspect of the hobby, but if Topps Tribute is too expensive for your taste, I highly recommend picking up singles of this stuff! It's super nice! Also if you can find the base cards cheap, pick those up too, because they are really pretty cards. I wanted to save this for last, but just couldn't, so the rest of my breaks are going to look pretty tame now in comparison (though I did pull some good stuff). Here are the pics of the cards from Topps Tribute!!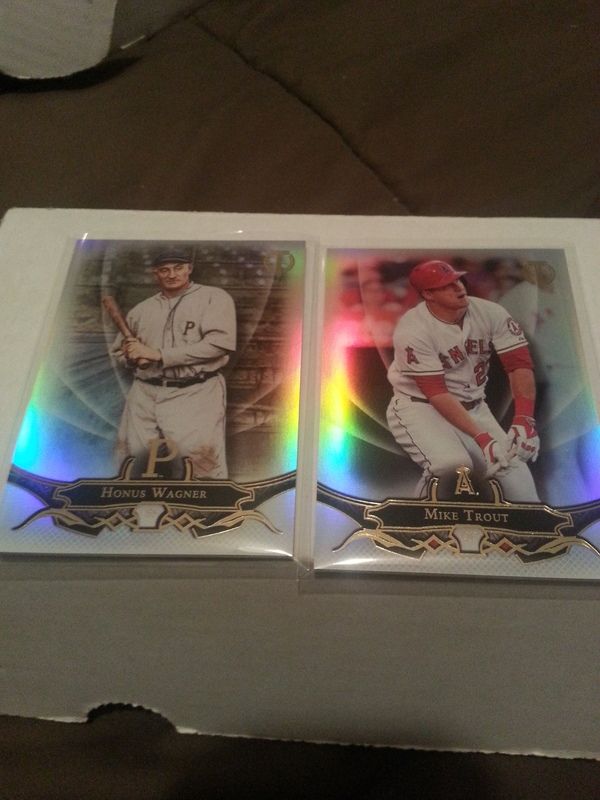 Just a look at the awesome base cards in the product. So shiny...so nice!!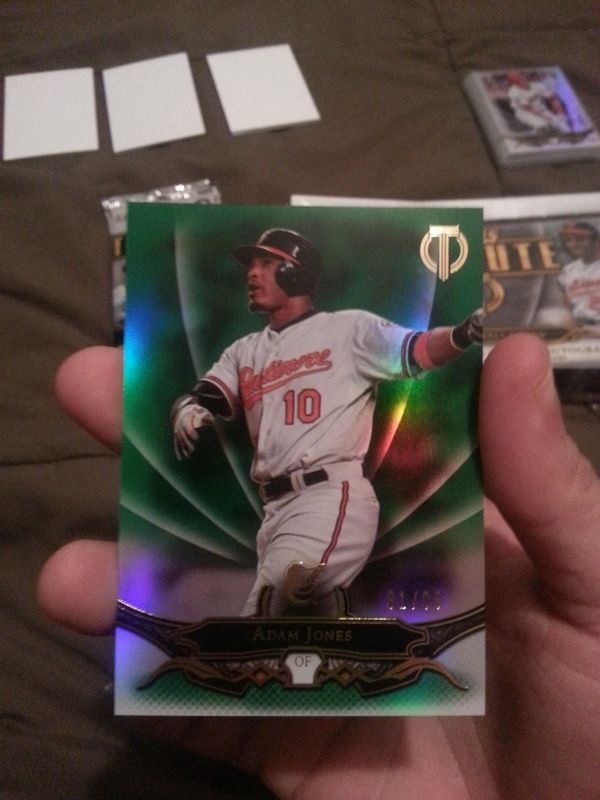 A look at the green base parallel. Again cards are absolutely stunning.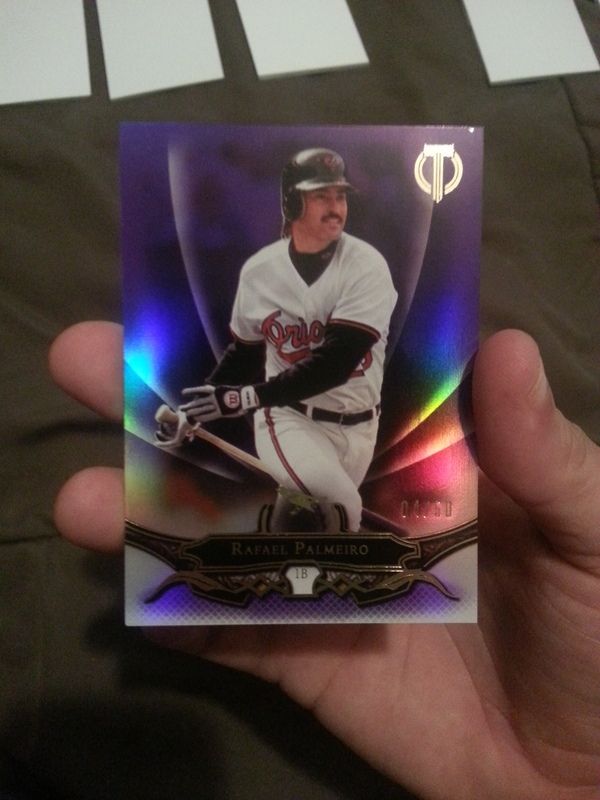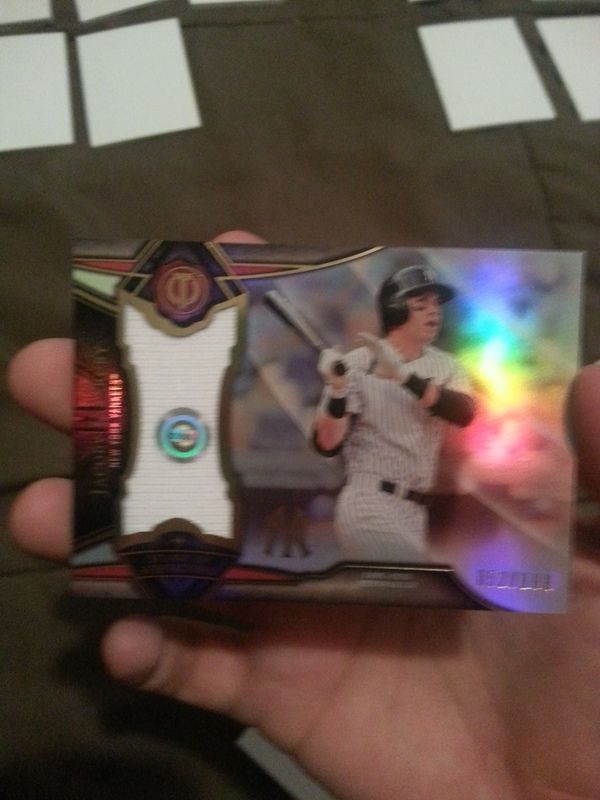 Sorry for the blurring scan. Stamp of Approval Jersey Cards have a hologram that ties to the game the jersey was worn in!!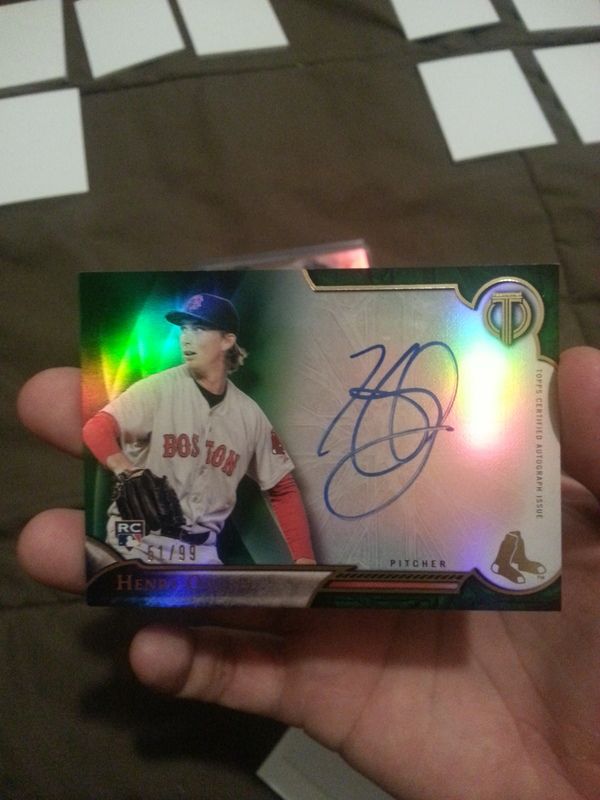 Meh..probably the worst hit of the two boxes..but hey for what I pulled, I ain't complaining!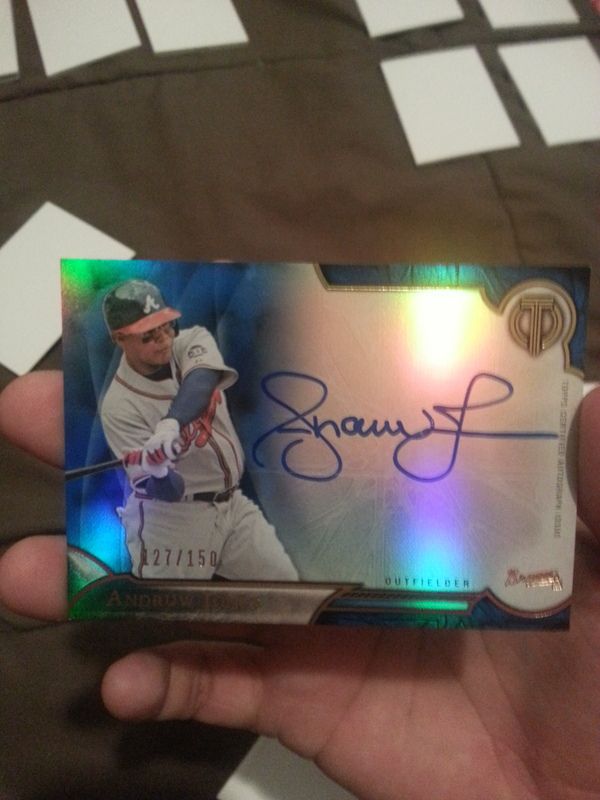 Andruw Jones Blue Auto Parallel. All autos are on card, no stickers!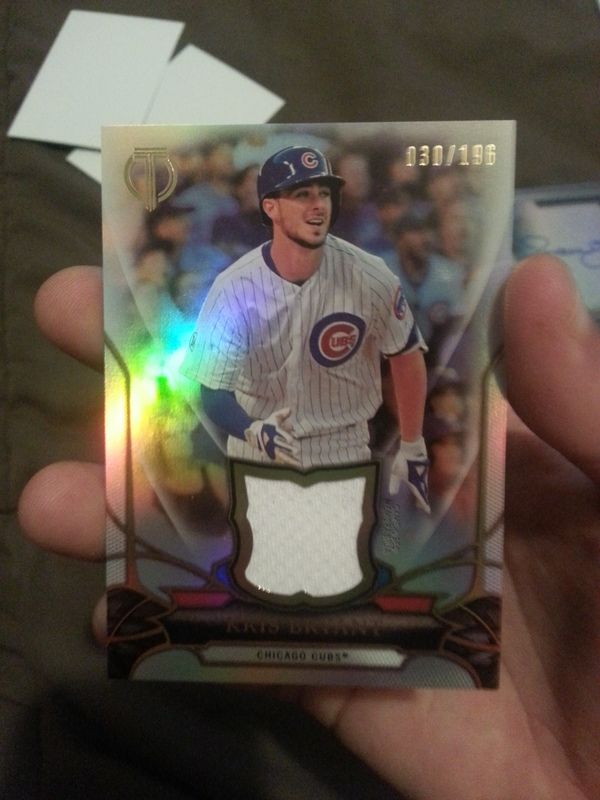 If you're gonna get a plain swatch...might as well be Kris Bryant!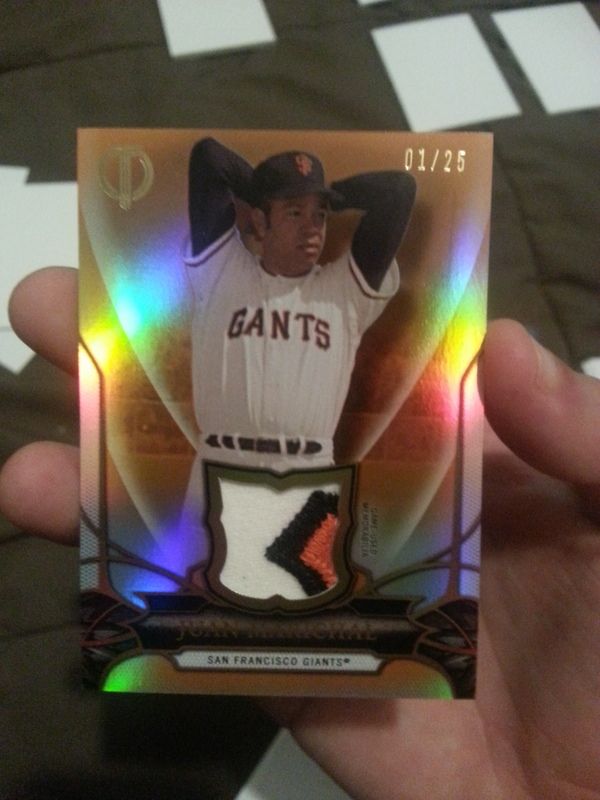 Love the Orange Refractor finish and the patch of a legendary hall of famer (also love the 1/25 numbering)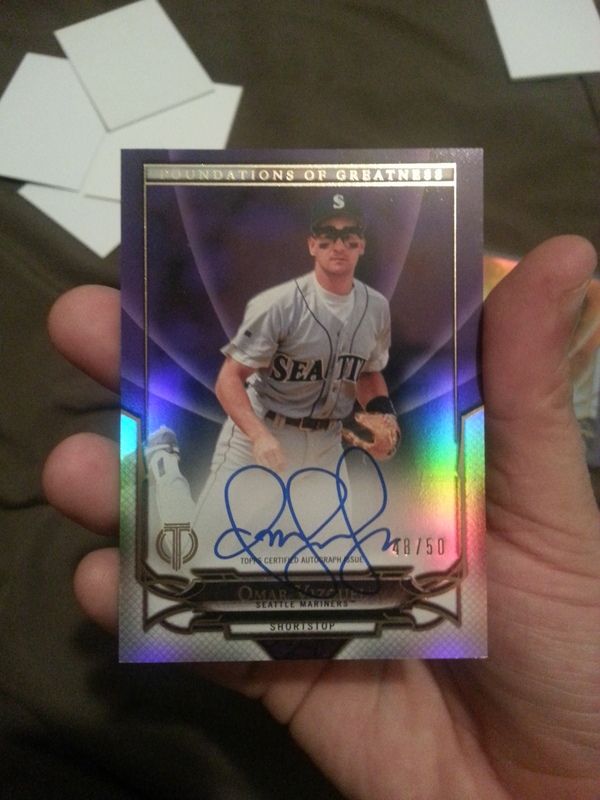 Beautiful Vizquel Auto numbered to 50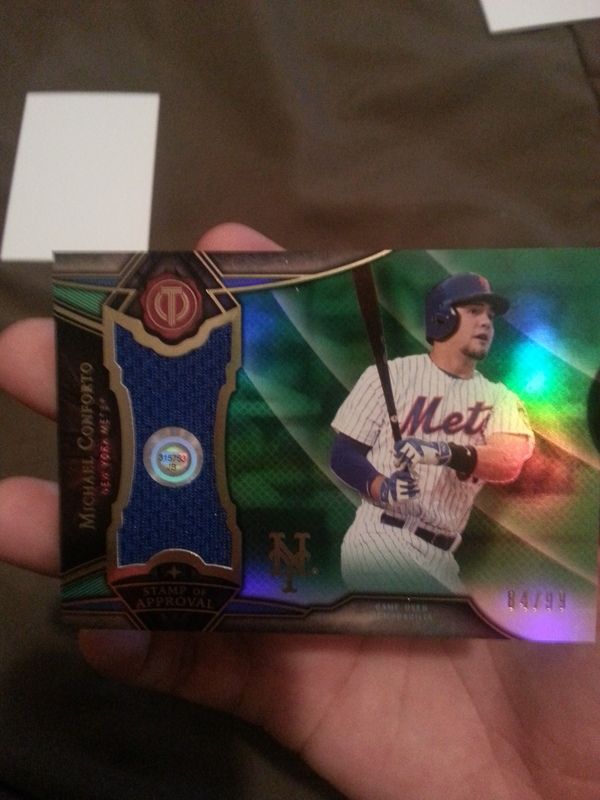 Another Stamp Of Approval Jersey
Another one, this time of Mike Trout! I really feel the holograms add value to your typical jersey card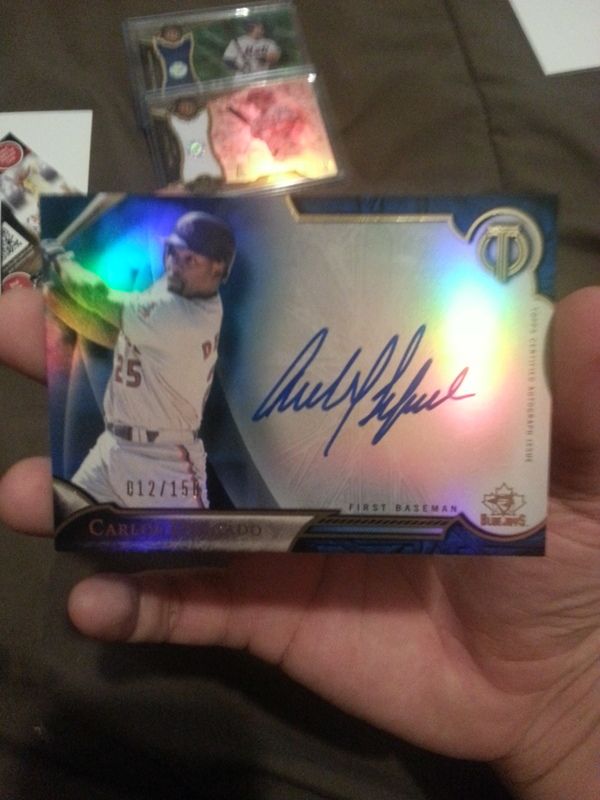 I sound like a broken record...but look at the card..player isn't too bad either!
Hall of Famer with a beautiful sig on a beautiful card! Can't go wrong with the original "Pudge"!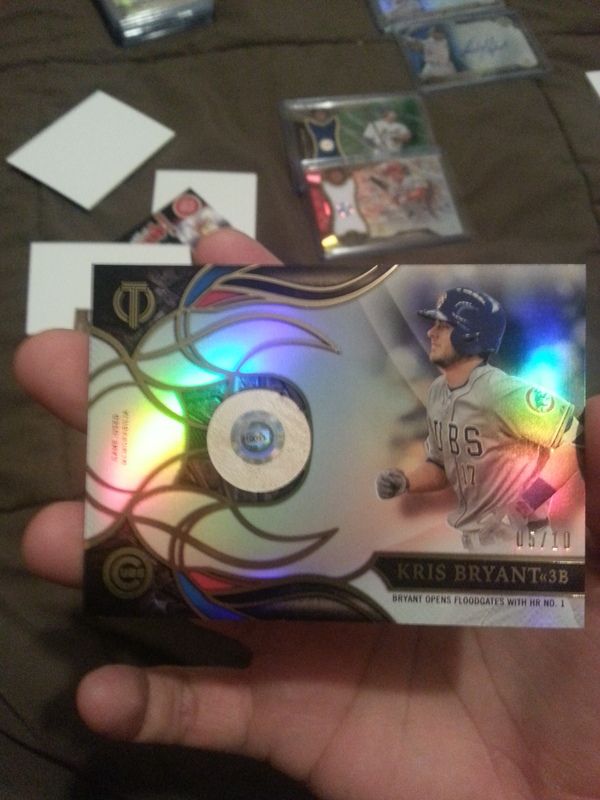 The first of the two big monster hits I hit in box 2! These are super rare (only 10 copies) and contain a piece of authenticated baseball from Kris Bryant's first HR game! Amazing looking!!!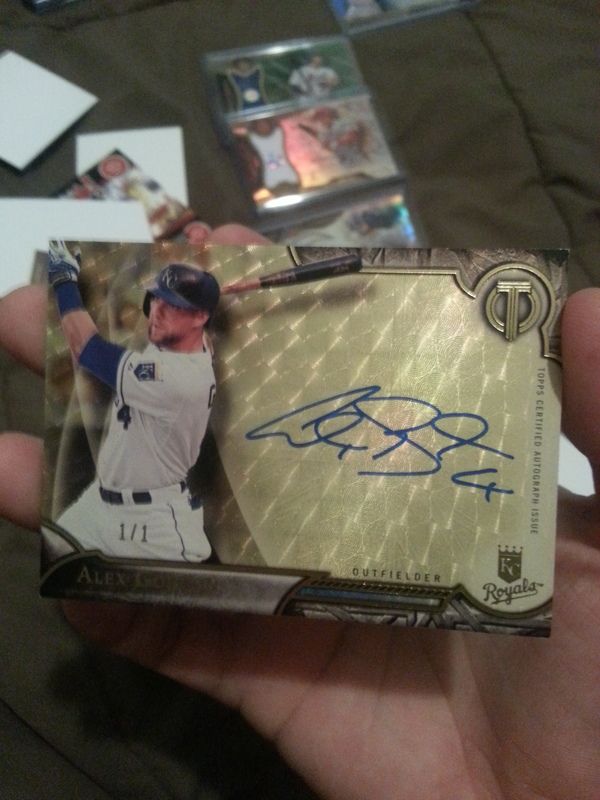 And here it is...in all it's glory! 1/1 Autograph Superfractor!! Beauty!!
Although the rest won't compare obviously, I'll be posting breaks of the other boxes I broke yesterday throughout the week!
Top 5 Pulls of 2016
#1- 2016 Topps Tribute Superfractor Autograph Alex Gordon (#1/1)
#2- 2016 Topps Tribute Milestone Relic Game Used Ball Kris Bryant (#5/10)
#3-15-16 Limited Gold Spotlight Dual Signatures Kristaps Porzingis/Jerian Grant (#8/10)
#4-15-16 Gold Standard Stephen Curry/Klay Thompson Golden Pairs Dual Patch (#12/25)
#5-15-16 Excalibur Karl Anthony Towns Rookie Rampage Autograph Jersey