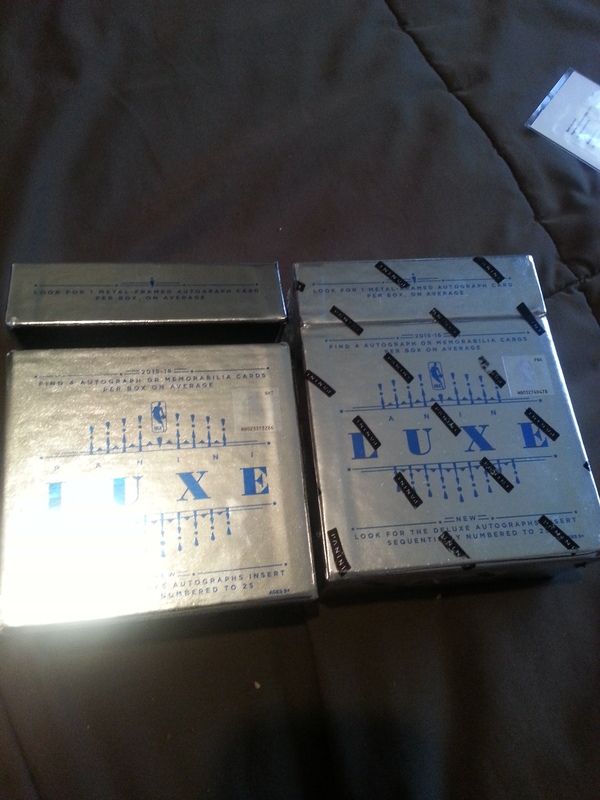 I wanted to try my luck with Luxe because I really like the metal framed autograph cards that you get 1 a box. I never tried though because of the price point. This was once a $200 per box (i.e. Pack) product and it blows my mind how Panini came up with that price point with this. Eventually it settled into $124.95 but even then that was too much for me to consider. Finally, Dave and Adams Card World was having a National Special on these and they were $109.95 a box. So now that it was priced like Gold Standard, I felt more comfortable taking a shot at these. Here are the results.
Box 1

Red Die Cut Jersey
Reggie Jackson (#38/99)

Sapphire Die Cut Jersey
Jerian Grant (#7/25)

Luxe Signatures
Bill Cartwright (#23/49)

Silver Metal Framed Auto
Robert Parish (#24/49)

Box 2

Luxe Memorabilia
Larry Bird (#32/99)

Luxe Rookie Jerseys
Devin Booker (#54/99)

Rookie Autograph Jumbo Jerseys
Jerian Grant (#16/35)

Silver Metal Framed Auto
Frank Kaminsky (#34/49)
Overall Thoughts: Here's the prime example of how ugly a break can get. Ugh...you might be looking at $25 worth of cards here. Two different low numbered hits of JERIAN GRANT doesn't help matters. Box 2 was better but that's not really saying much. The cards themselves look OK and I do like the framed autographs. All auto's are also on card which is good. I can't imagine paying $200 much less $125 a pop for this. That's the hobby for you though...you win some..you lose some. It happens. Here's a look at the "hits"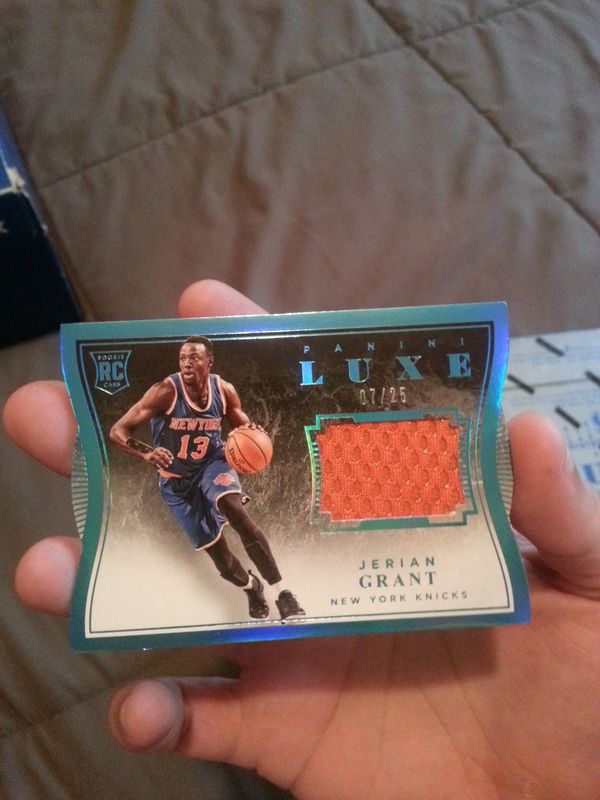 Great looking low numbered parallel..the player sucks though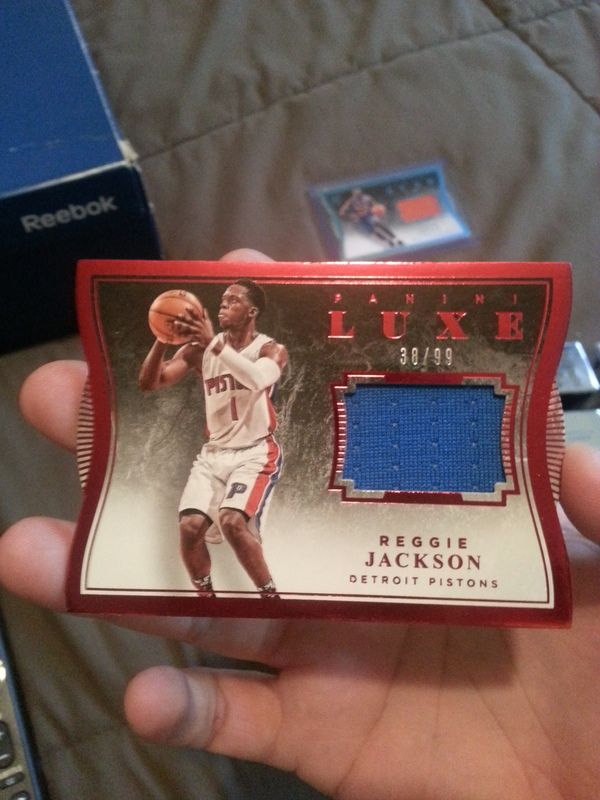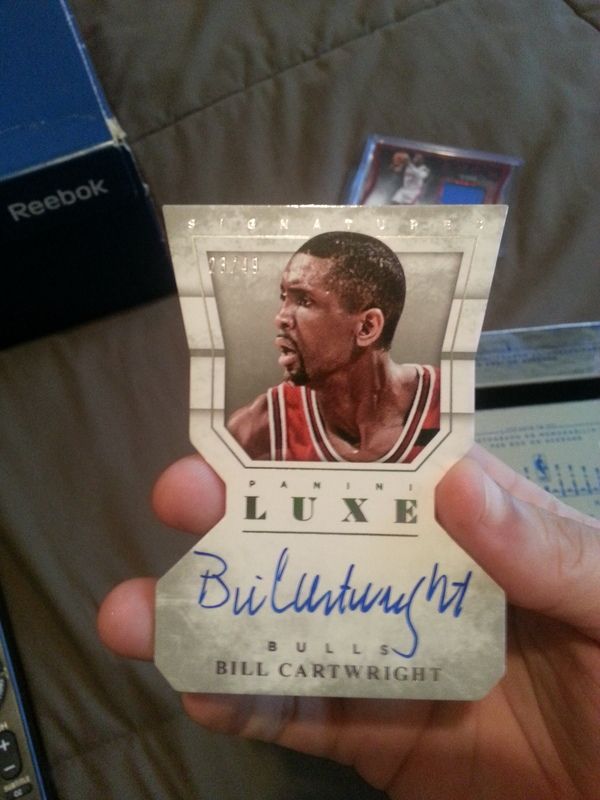 I'm fond of Bill from his Bulls championship days..but c'mon he ain't carryin no break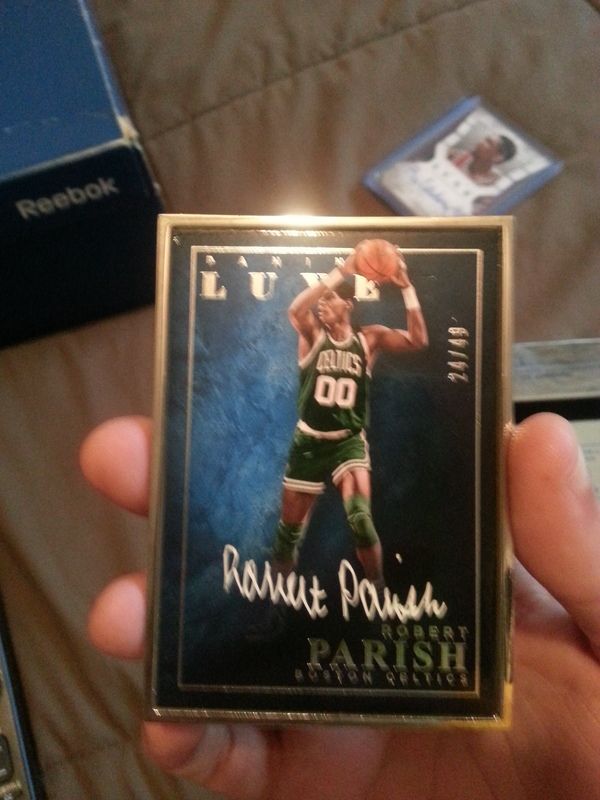 These are really cool and Robert Parish is a Hall of Famer...but it's not even close to make this break salvageable
So things picked up a little bit in box #2 with this Devin Booker Jersey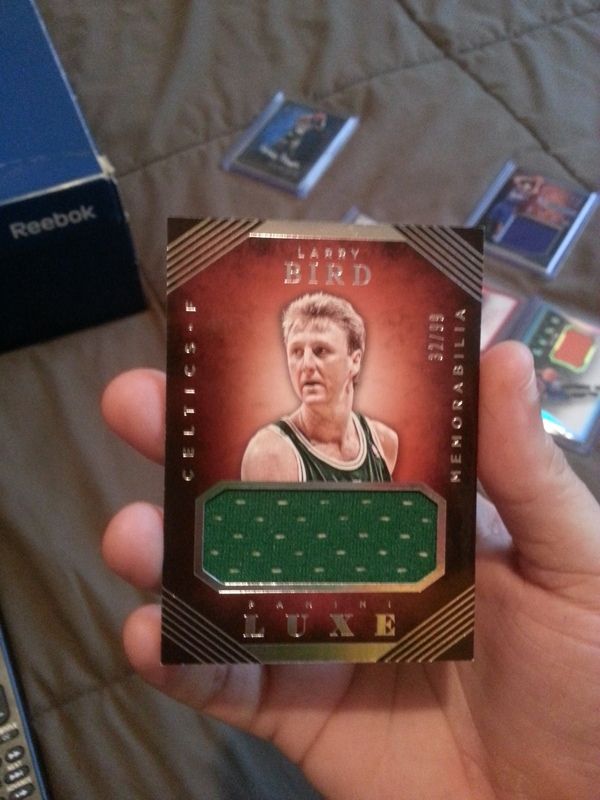 And then a Larry Bird Jersey card! Hey things are looking up!!
Only for Jerian Grant to show up once again and ruin the momentum.
And Frank Kaminsky for the anti-climatic finish...
Top 5 Pulls of 2016
#1- 2016 Topps Tribute Superfractor Autograph Alex Gordon (#1/1)
#2- 2016 Topps Tribute Milestone Relic Game Used Ball Kris Bryant (#5/10)
#3-15-16 Limited Gold Spotlight Dual Signatures Kristaps Porzingis/Jerian Grant (#8/10)
#4-15-16 Gold Standard Stephen Curry/Klay Thompson Golden Pairs Dual Patch (#12/25)
#5-15-16 Excalibur Karl Anthony Towns Rookie Rampage Autograph Jersey