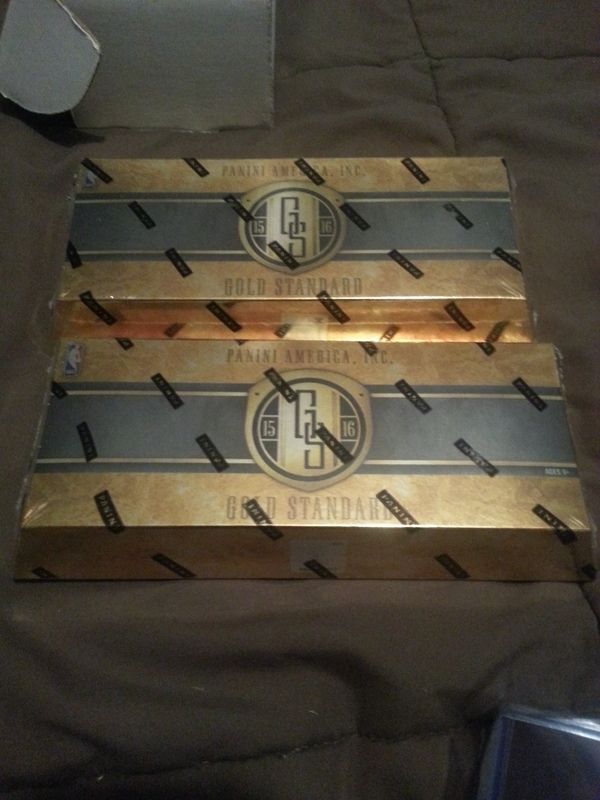 And we're finally on the last break of my 15 box extravaganza from Monday. Out of all the products I've busted so far, Gold Standard remains my favorite. I love everything about it including the packaging (resembling gold bars). The base cards are nice, and the so are the memorabilia and autograph cards. Now in my 2nd ever box break, you'll recall I bought a box and pulled 3 awesome cards (Curry/Klay Dual Patch, Myles Turner Patch Auto, and Porzingis Jersey Auto). I knew I was tempting fate, but I had to try a couple more. So was it worth it? Here's the results
Box #1

Base
Rajon Rondo (#224/299)
Trevor Ariza (#127/299)
Gary Payton (#134/299)

AU Parallel
Jeff Teague (#53/79)

Mother Lode Autograph
Spencer Dinwiddie (#82/99)

Triple Jersey Rookie Auto
Willie Cauley Stein (#53/99)

Gold Strike
Myles Turner Auto/Patch (#25/25)

Box 2

Base
Tim Duncan (#68/299)
Grant Hill (#184/299)
Ralph Sampson (#284/299)

AU Parallel
Zach Randolph (#57/79)

14 K Autograph
John Wall (#40/40)

Rookie Auto/Jersey
Myles Turner (#4/199) (I now have three different Turner Auto/Jerseys from this product!)

Golden Pairs Dual Patch
Andrew Wiggins/Kevin Garnett (Beautiful Card!)
Overall Thoughts: I really love this set!! I'm not going to lie I got a tiny bit scared when I saw my very first hit was Spencer Dinwiddie. Even THAT card though is at least nice looking. Overall I think I did well again. Two more Myles Turner Auto/Jersey/Patch Rookies (I know have 3 different ones and he has loads of potential) a John Wall Auto (which looks really sharp) and a sweet dual patch of Wiggins and KG. Very happy with the results! As a whole, last Monday was definitely a blast opening up packs all day. I felt overall I did pretty well with the Alex Gordon Superfractor, Kris Bryant Milestone Relic, Kyrie Auto Redemption, and Porizingis Auto/Jersey being the top hits supplemented with hits like the Turner Auto Rookies, Wall Auto, Carlton Fisk Auto and Dual Patch of KG and Wiggins. I probably won't break in that magnitude for a while, but I'd definitely love to do it again!! Here are the Gold Standard Break pics. Only showing the hits this time, since last break I showed the base and base parallels.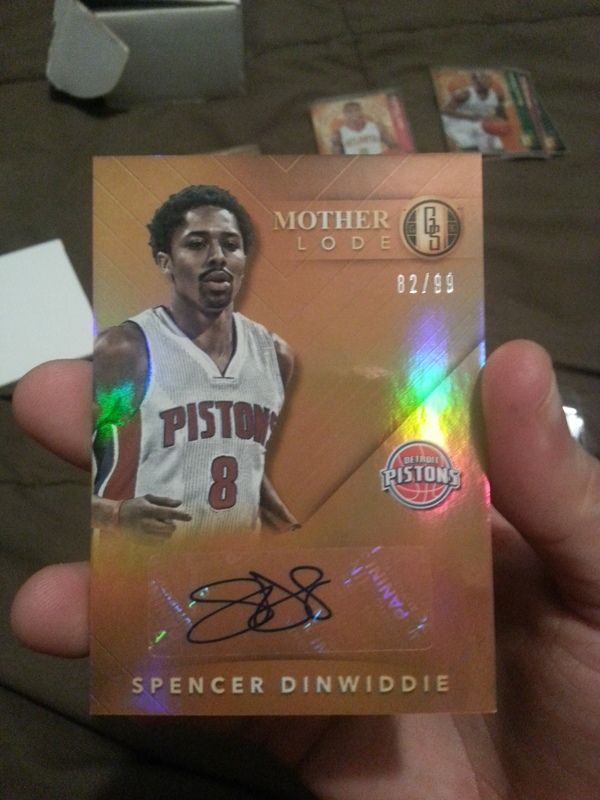 Thankfully the only real dud of the break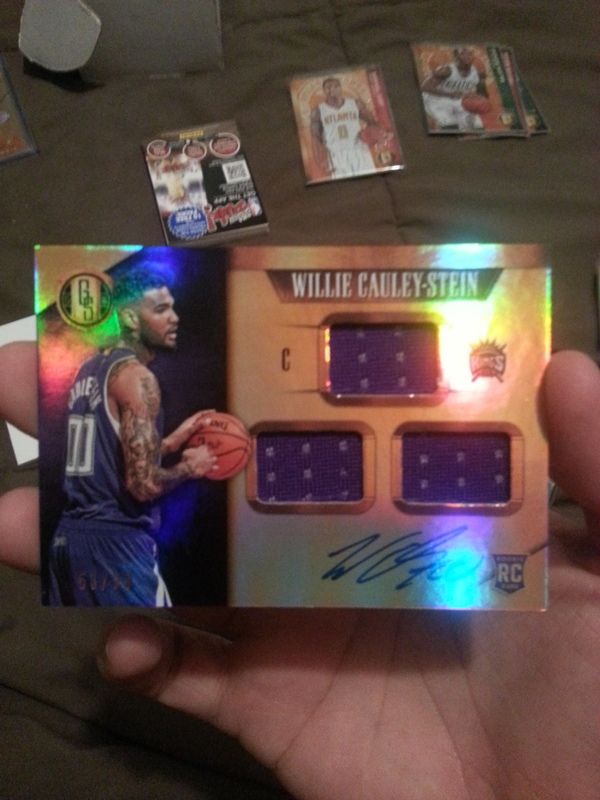 I'd say 2nd worst hit in the break, though it's not too terrible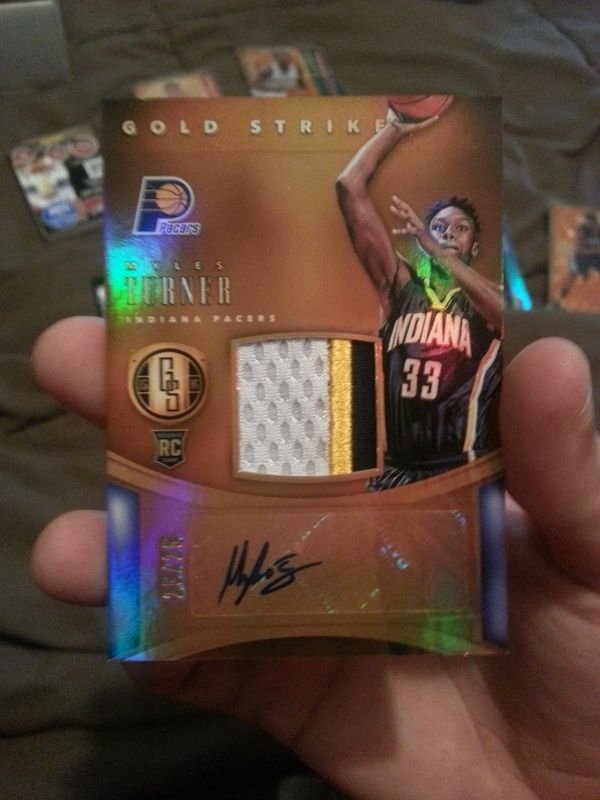 A different Turner/Patch Rookie Auto! Numbered to 25! If he takes it to the next level next year, these will be good to have!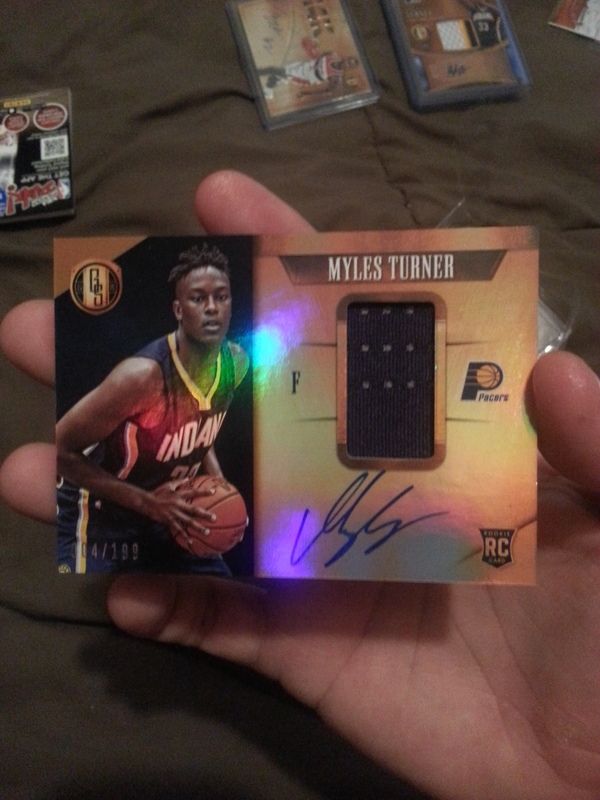 And here's Myles again! This time a jersey/auto variation!
A sweet looking autograph card of John Wall!
Love these Golden Pairs Patches!! Can't go wrong with Wiggins and KG!
Top 5 Pulls of 2016
#1- 2016 Topps Tribute Superfractor Autograph Alex Gordon (#1/1)
#2- 2016 Topps Tribute Milestone Relic Game Used Ball Kris Bryant (#5/10)
#3-15-16 Limited Gold Spotlight Dual Signatures Kristaps Porzingis/Jerian Grant (#8/10)
#4-15-16 Gold Standard Stephen Curry/Klay Thompson Golden Pairs Dual Patch (#12/25)
#5-15-16 Excalibur Karl Anthony Towns Rookie Rampage Autograph Jersey