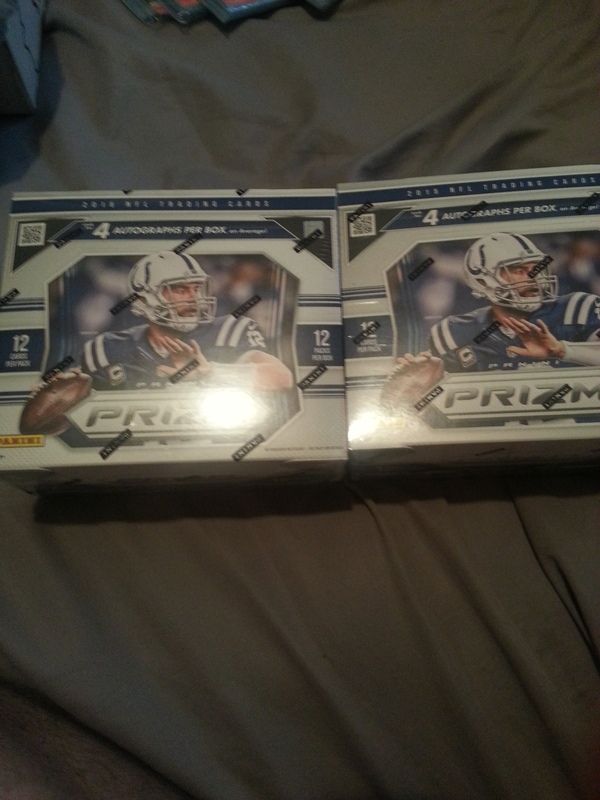 My very first box break I did when I got back into collecting was Prizm Basketball. To me, Prizm is a perfect mid end product to bust and it doesn't hurt that it's the closest brand to Topps Chrome there is. I had fun opening basketball, so I decided to give football a try. The price seemed right and I so I decided to try a couple boxes. Here's the results
Box 1
Air Marshals
Matthew Stafford
Colin Kaepernick
Helmets
Dez Bryant

Rookie Revolution
Phillip Dorsett
Intros
Richard Sherman
DeSean Jackson
Intros Prizms
Ben Roethlisberger
Prizms
Emmitt Smith
Roger Staubach
Duron Carter
Brent Celek
Terrell Davis
Red Prizms
Antonio Gates
Kwon Alexander
Demarcus Ware
Mojo Red
Brandon Marshall (#40/99)
Blue Prizms
Walter Payton
Ameer Abdullah
Purple Prizms
Victor Cruz
Vic Beasley Jr.
Green Prizms
Vincent Jackson
Tie Dye Prizms
Andre Ellington (#11/25)

Autograph
Stephone Anthony

Prizm Autograph
Jesse James (#350/350)

Green Prizm Autograph
Danny Shelton (#37/99)
Violet Mosiac Autograph
Marcus Murphy (#01/50)
Box 2

Air Marshals
Cam Newton
Peyton Manning

Intros
Larry Fitzgerald
DeSean Jackson
Intros Prizms
Richard Sherman
Helmets
DeMarco Murray
Bryce Petty
Prizms
Todd Gurley
Johnny Manziel
Ronnie Lott
Tamba Hali
Eli Manning
Purple Prizms
Josh Shaw
Cris Carter

Red Prizms
Latavius Murray
Marshall Faulk
Clive Walford
Green Prizms
Andre Johnson
Kwon Alexander
Green Crystals Prizm
Mark Ingram (#72/75)
Blue Prizms
Antwan Goodley
Patrick Peterson
Blue Wave Prizm
Eli Manning (#45/150)
Autographs
Jalen Collins
Violet Prizms Autographs
Kwon Alexander
Red Prizm Autograph
Owamagbe Odighizuwa (#109/299)
Green Crystal Prizm Autograph
Paul Dawson (#8/50)
Overall Thoughts: Very fun break. I'm an insert guy and I don't care if an insert is 1:3 packs or 1:360 packs, I want them to stand out somehow. I really love the die cut inserts in this set. All the insert sets are die cut, and they look great to me. Getting prizm versions like I did with a couple of the Intros make them pop even more. Speaking of Prizms, there's a ton of color in these boxes. I believe there are 12 parallels and though that seems like extreme overkill, I don't mind it one bit. I got a pretty good variety of colors whether it be with the base cards or autographs, which I'll get to in a sec. Rookies seemed to fall 3 per pack, but the rookie checklist is huge so the best base rookie I pulled was Marcus Mariotta, though I did pull a Todd Gurley prizm. No Jameis though, which was disappointing. So the autographs....you get 4 a box, but the odds are...they're going to be basically irrelevant. Why? The rookie autograph checklist is 100 players alone, which is more than likely what you'll get. At least in basketball you'll pull someone who's actually still in the league, or if you do pull a rookie the checklist is like 40 players. To be honest of the 8 autographs, I'd heard of maybe half of them. Now it's nice to pull auto prizm parallels, but if it's guys who are 3rd stringers or practice squad fodder than it's pointless. I understand football is a different beast, and I've seen a ton of box breaks of all products football and with the abundance of rookies in the league, there's a ton of lameduck hits. I was disappointed, not because I didn't pull a big auto, I just was hoping out of two boxes, one of the 8 autographs would be RELAVTIVELY decent. Basically they were just a filler, and though the prizm parallels make them stand out, it's not enough to overcome to player on the card. Like Stadium Club baseball, I'd go with assumption that autographs are going to be underwhelming, so if you do end up pulling a decent one, it will be a pleasant surprise. Overall though, for a mid end break, it's very fun. Prizm parallels galore, cool looking inserts, and a chance at some good autographs, it's definitely worth busting if you need a football fix but don't want to blow a ton of cash. Here's pics of the hits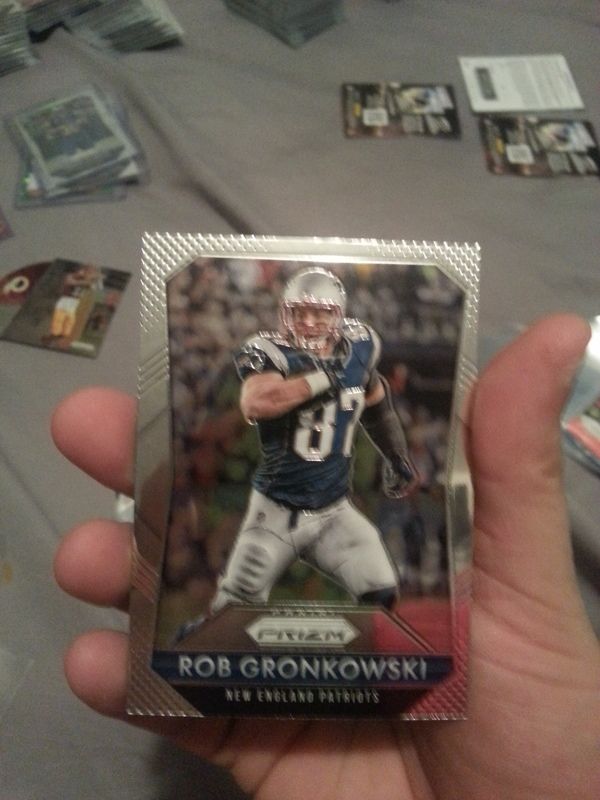 A look at the base cards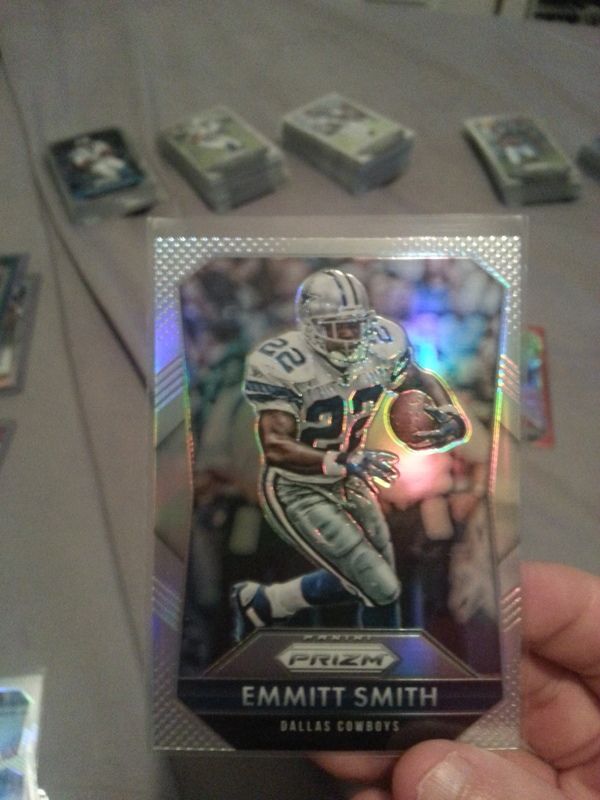 A regular prizm, glad it was Emmitt!!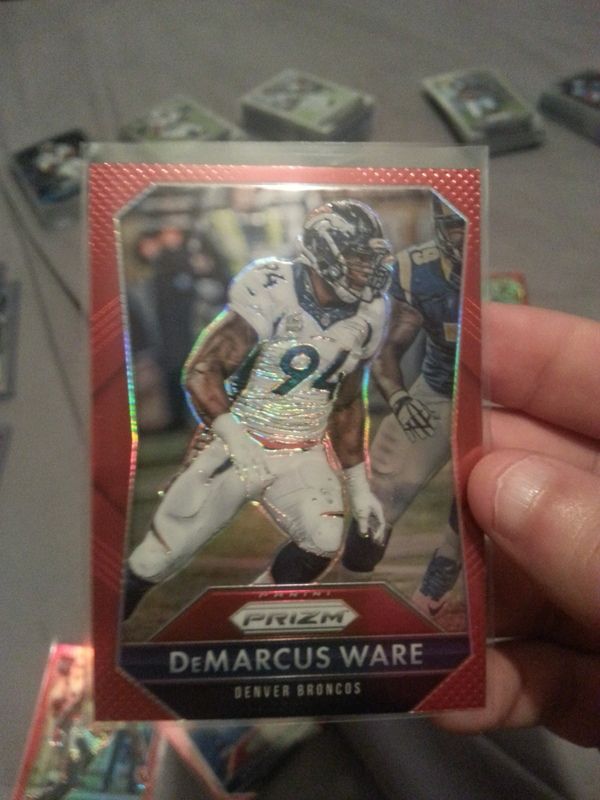 Red Prizm, which along with the regular prizm, Blue Prizms, Green Prizms, and Violet Prizms aren't numbered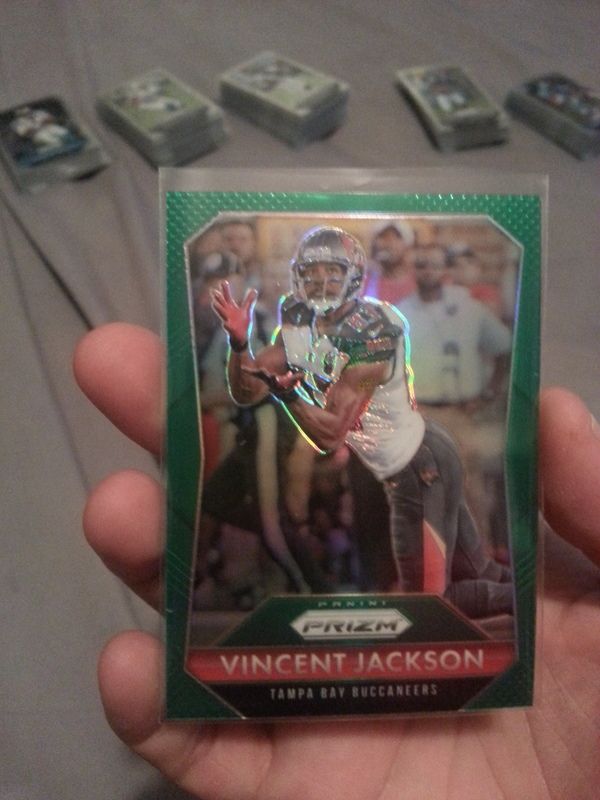 Green Prizm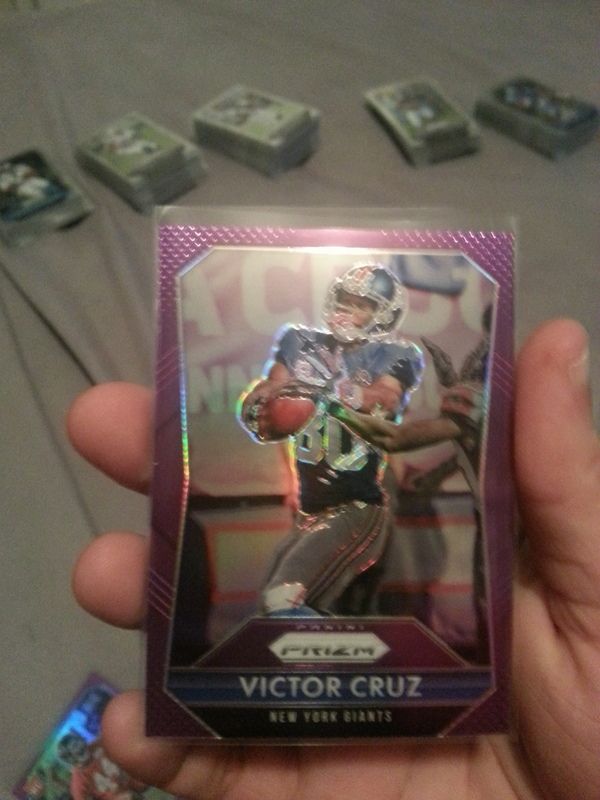 Purple Prizms, which are Jumbo Box exclusives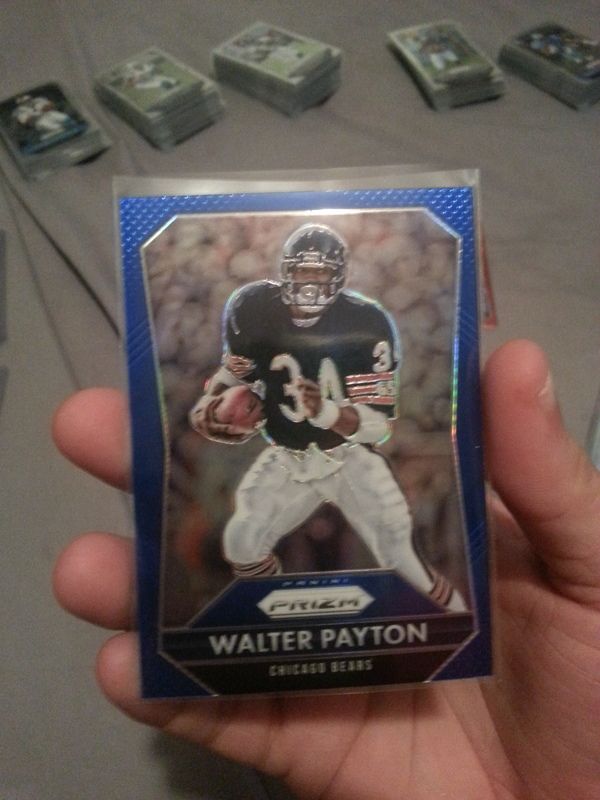 Blue Prizm, really love this card of Sweetness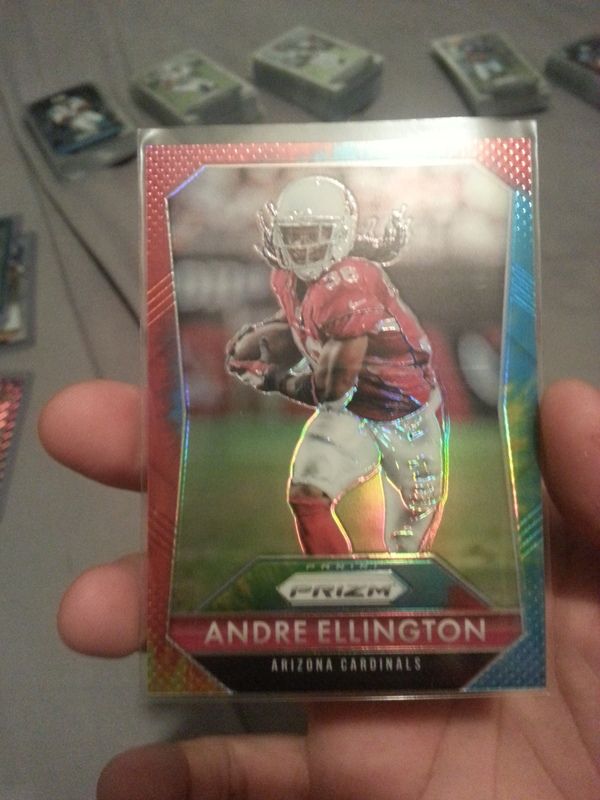 Tie Dye Prizm # to 25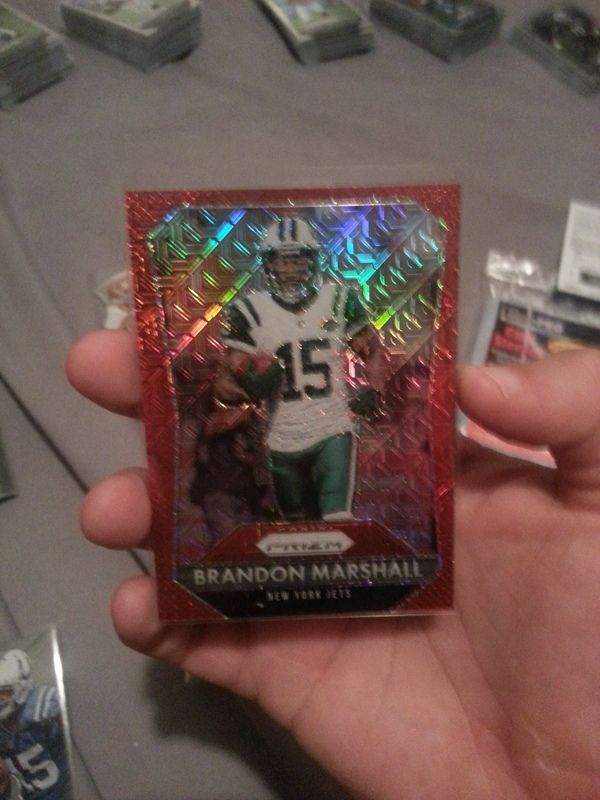 Mojo Red Prizm numbered to 99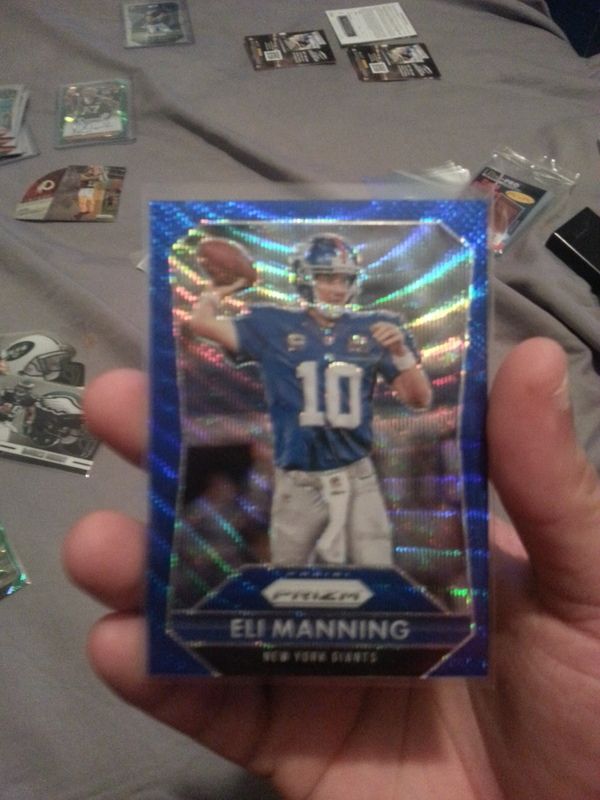 Blue Wave Prizm numbered to 150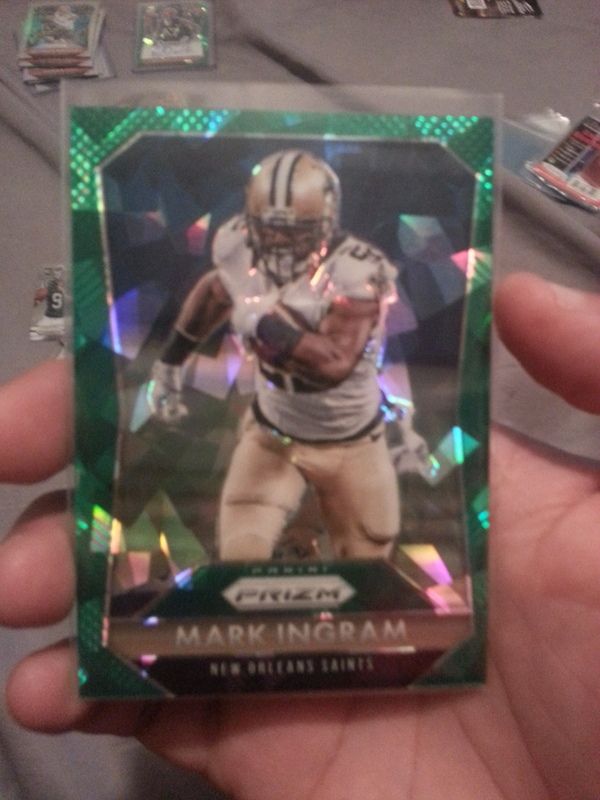 Green Cracked Ice Prizm numbered to 75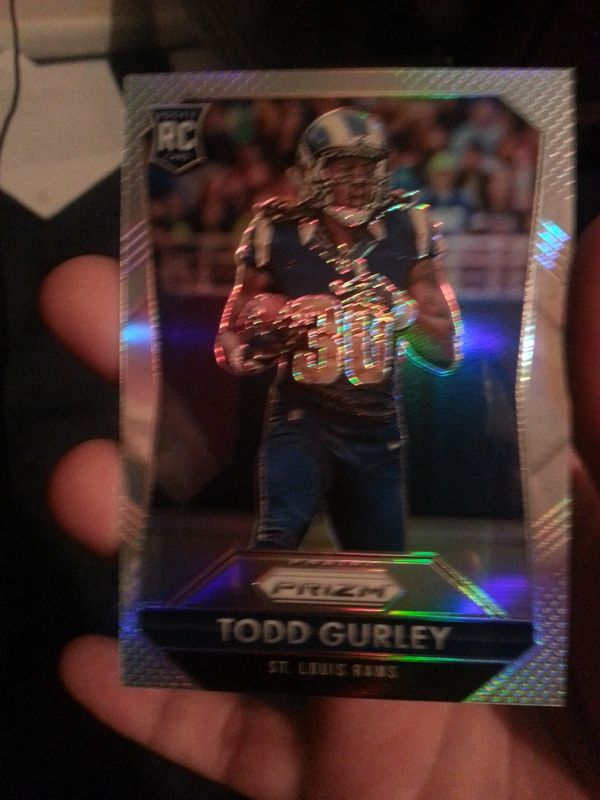 Todd Gurley Rookie Prizm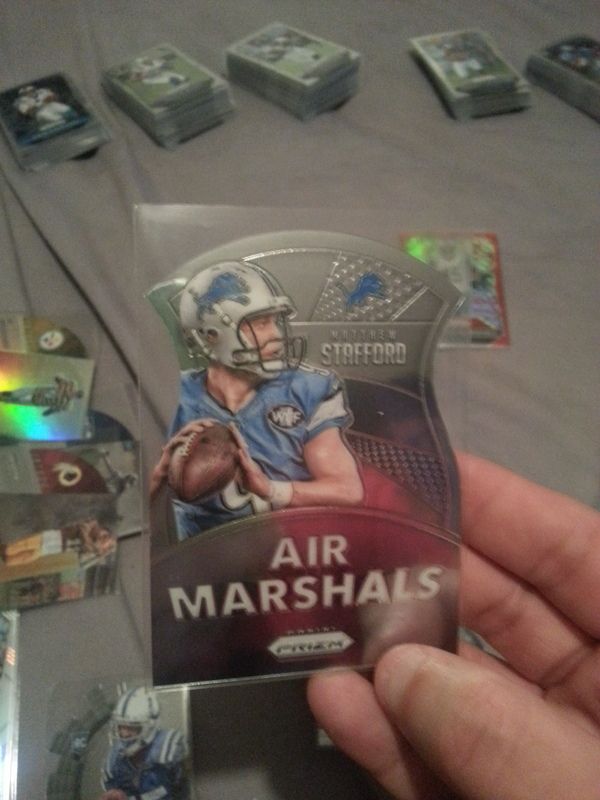 Air Marshals Insert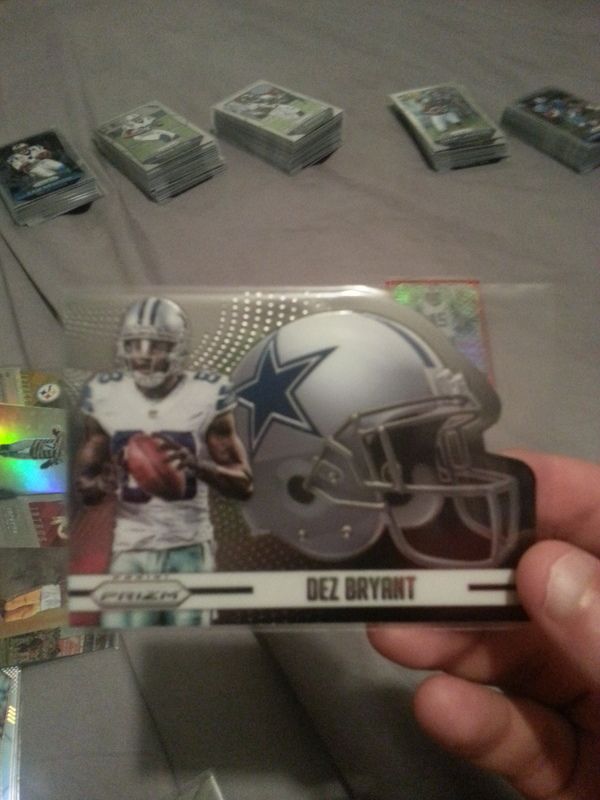 Helmets Insert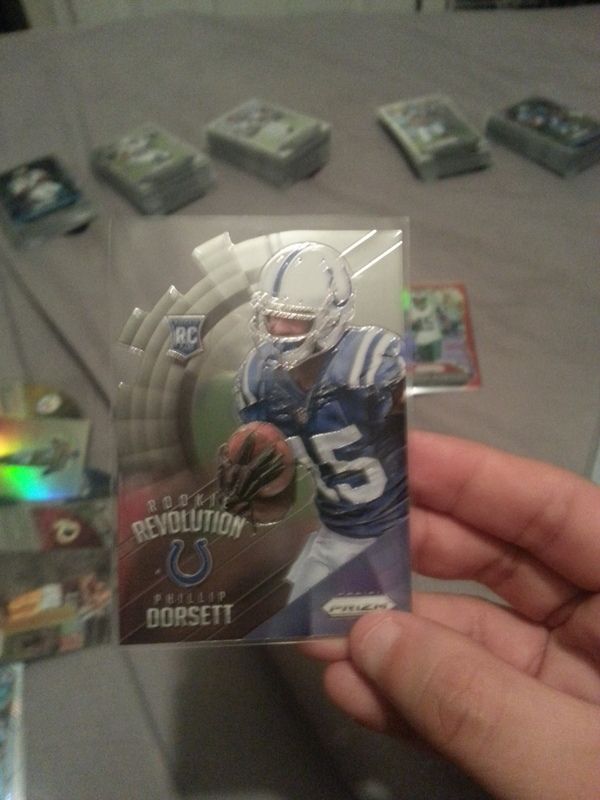 Rookie Revolution Insert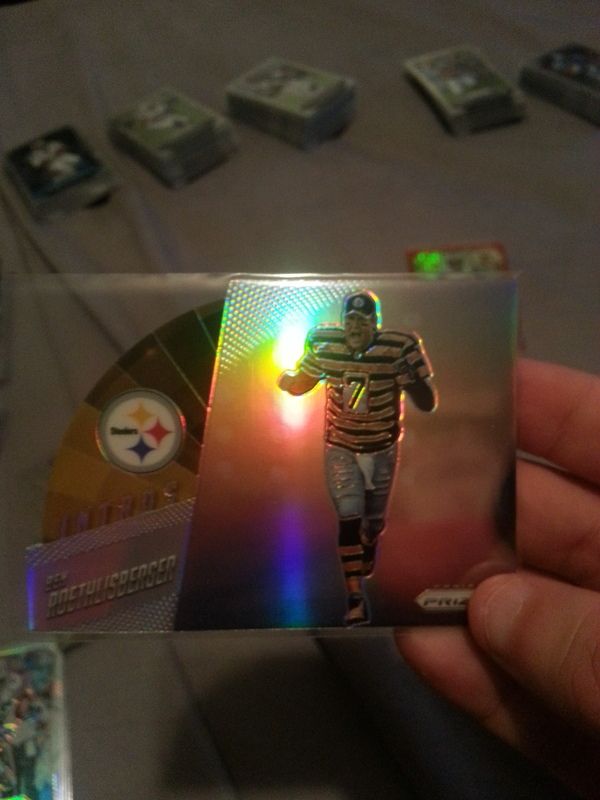 Intros Prizm Parallel Insert, there are also regular Intros without the Prizm finish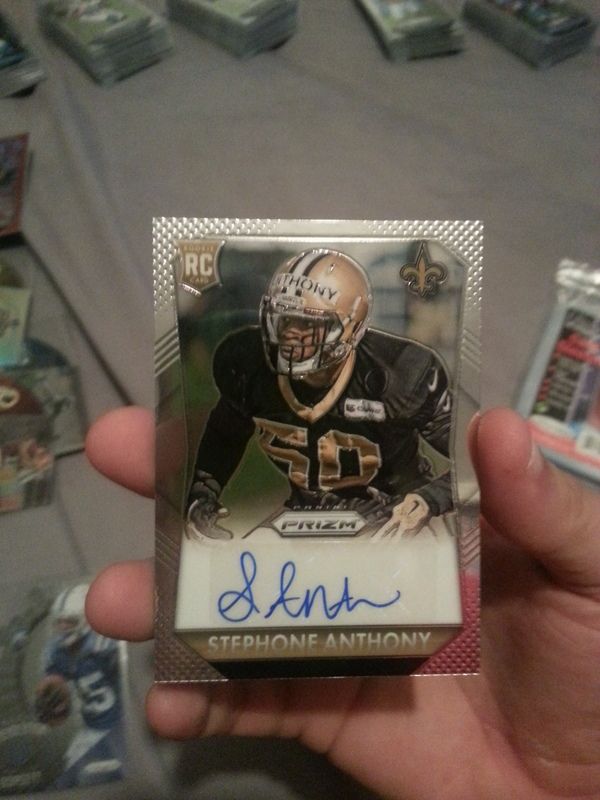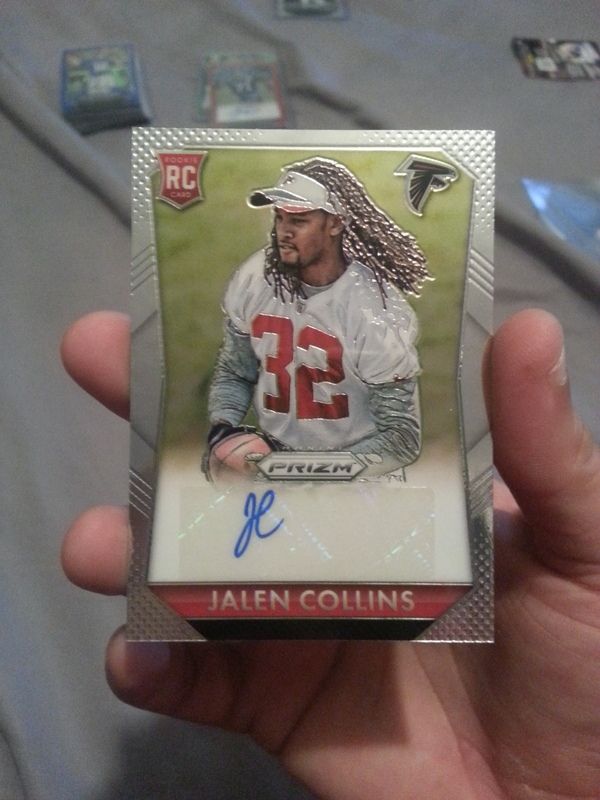 The Base Rookie Autos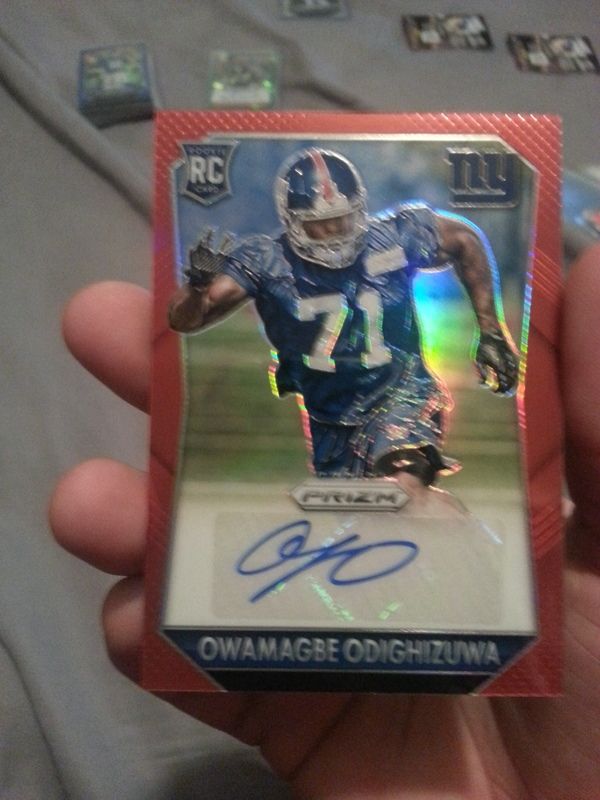 Red Auto Parallel numbered to 299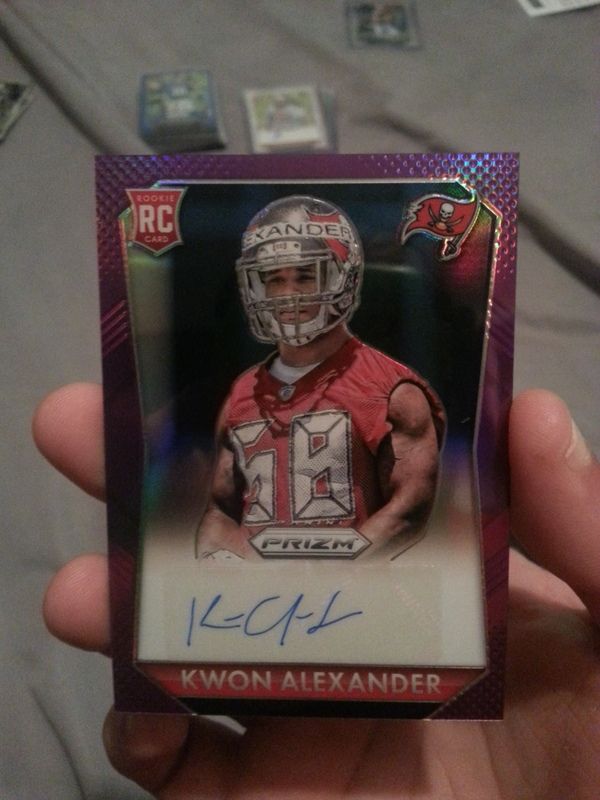 Purple Prizm Parallel Auto-Jumbo Exclusive, Not Numbered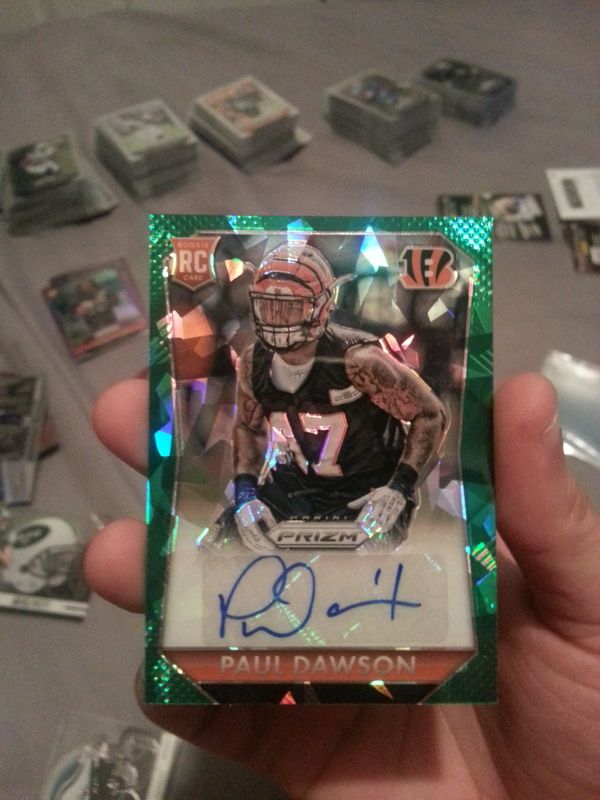 Cracked Ice Auto Parallel Numbered to 50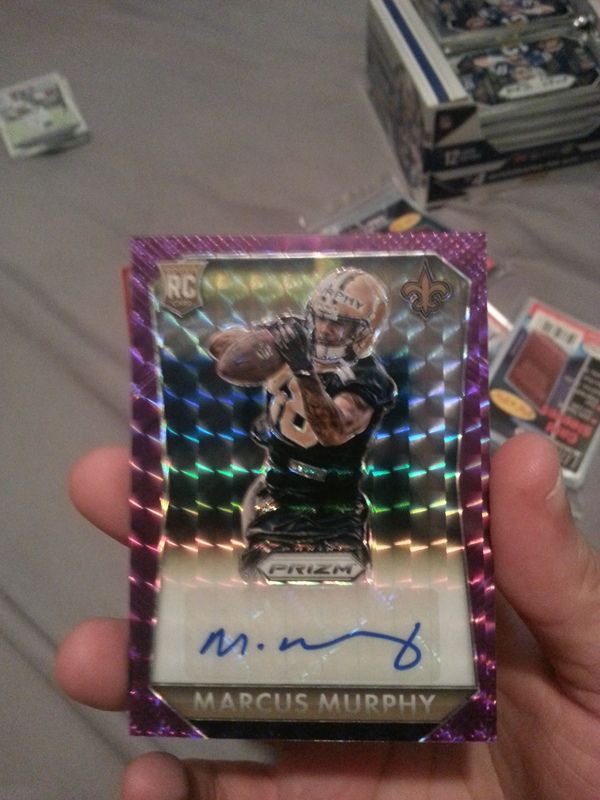 Purple Mosiac Autograph Parallel numbered to 50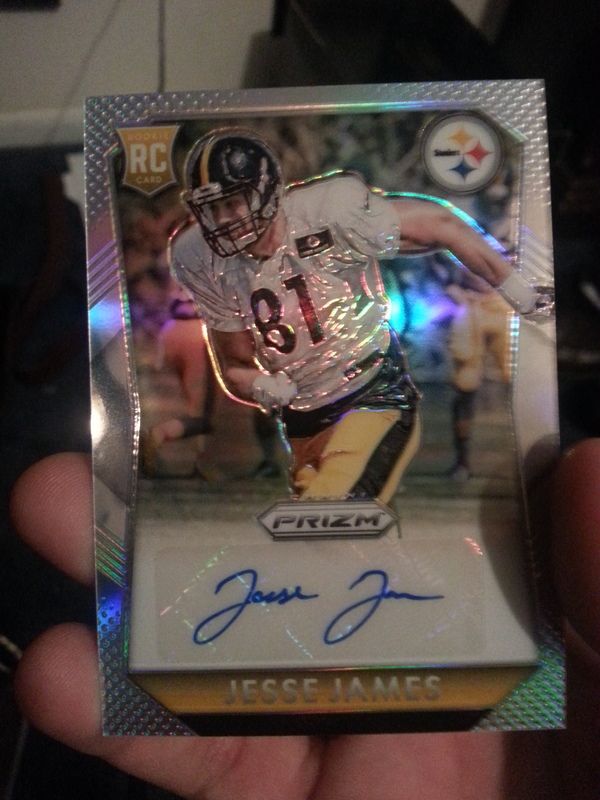 Prizm Auto Parallel numbered to 350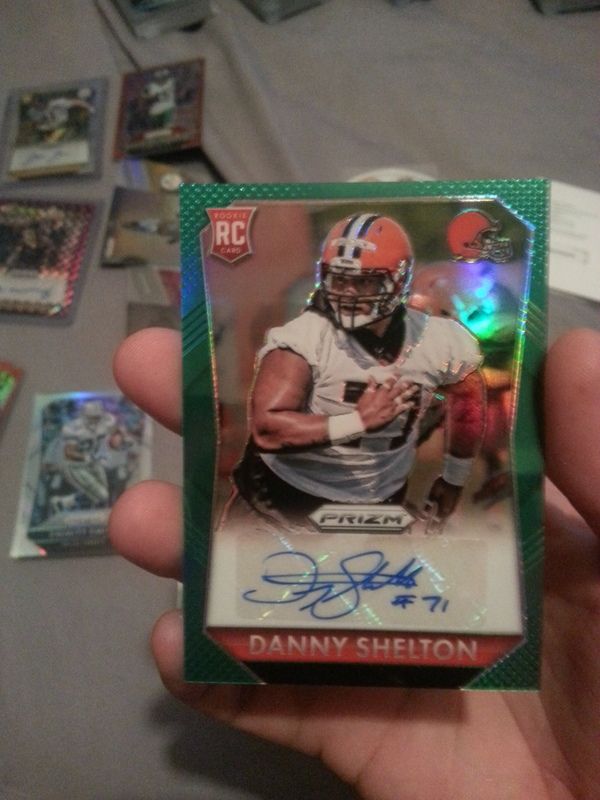 Green Auto Parallel numbered to 99
Top 5 Pulls of 2016
#1- 2016 Topps Tribute Superfractor Autograph Alex Gordon (#1/1)
#2- 2016 Topps Tribute Milestone Relic Game Used Ball Kris Bryant (#5/10)
#3-15-16 Limited Gold Spotlight Dual Signatures Kristaps Porzingis/Jerian Grant (#8/10)
#4-15-16 Gold Standard Stephen Curry/Klay Thompson Golden Pairs Dual Patch (#12/25)
#5-15-16 Excalibur Karl Anthony Towns Rookie Rampage Autograph Jersey