Got a couple of maildays that came in this week. Thought I'd show them off. Here are the goods!!
2016 Topps Undisputed Sasha Banks Autograph #24/50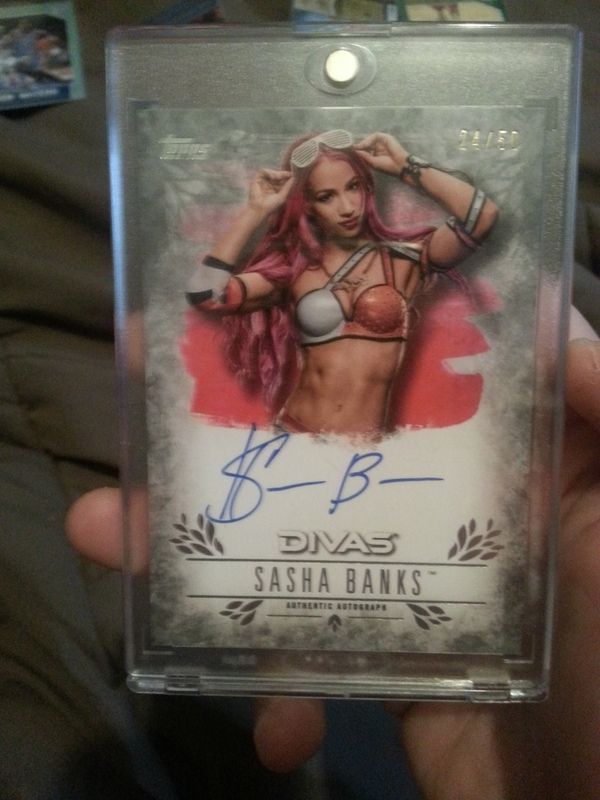 I don't add wrestling cards very often but I saw this auto of the current WWE Women's Champion and had to get it. Numbered to 50 and on card, it's a nice autograph of "The Boss" of the WWE
96-97 Topps Holding Court Refractors Michael Jordan
So I'm definitely kicking myself over and over for getting rid of all my Jordan cards when I got out of collecting 5 years ago. I had a decent amount of nice 90's inserts and though I did well selling them, seeing how well they sell now, makes me wanna cry...not so much for the extra dough, but because they were such cool looking MJ's that it'll be very hard for me to reacquire them without paying and arm and a leg. You gotta start somewhere though, and this card brings my official Michael Jordan Card Count to 1. I used to own the regular version of this card when I first collected, and when I saw this on auction, I had to get it. I love Topps Finest Refractor Technology, and though this was an insert in the regular base Topps brand, it was still made like a Topps Finest Insert. Beautiful card. It's gonna be tough, but I'm hoping to slowly build up my MJ collection once again....one card at a time.